Lowcountry Style Tiny Home Provides Guest, Design Studio Space
A low-country-inspired farmhouse cottage lives larger than its small footprint thanks to a crisp white palette, lots of natural light and a smart floor plan.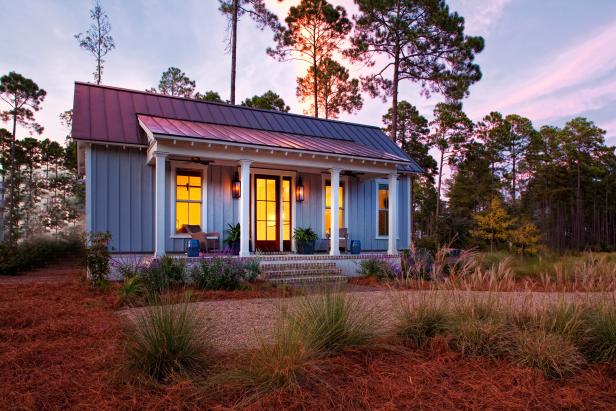 Small Farmhouse-Style Cottage Features Simple Landscaping
This 690-square-foot low country cottage exudes farmhouse charm with its board and batten siding and standing seam metal roof. Simple landscaping complements the home's unassuming style.
What did your clients want?
They wanted a small-scale, one- or two-story space with hardwood floors, lots of natural light, high ceilings, a front porch and a farmhouse/country/modern style.
Is this farmhouse the main house or a guesthouse?
It was built as a guesthouse and design studio. It is one of three residences to be built in a phased-construction project. It was designed to live almost as a main house until the main home is constructed.
What was your biggest obstacle?
How to maintain a sense of space in 690 square feet and compartmentalized living spaces without hallways.
I worked and reworked the plan: changed entrances, porch sizes, kitchen elevations, ceiling heights, and converted regular doors to pocket doors or sliding barn doors.
What was your favorite room to design?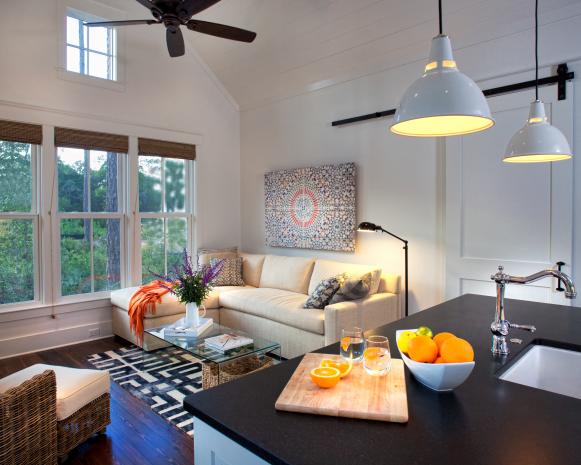 Small Living Room Feels Bright, Open
Large windows fill the small living room and kitchen with natural light, creating a bright, airy atmosphere that works to make the space feel larger. The custom sectional is designed to sleep an extra guest.
My favorite — and the most difficult — was the great room. I wanted it to look nice, function really well, remain tidy at all times and be able to sit six for drinks. A tall order, but we accomplished it!
Why did you use vaulted ceilings?
I immediately realized we needed this feature to create the airiness we craved within a small footprint. Once we decided on the vaults, we added the wood beams, shiplap and recessed LED lighting, which is eco friendly. We also added two small, square fixed windows at the very top of the front and rear gable to allow even more light to come in.
What inspired this design?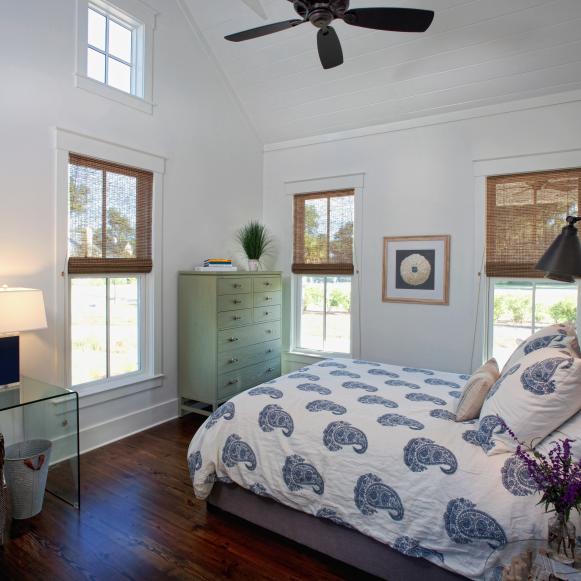 Breezy White Bedroom With Woven Wood Shades
White walls, large windows and a vaulted ceiling make this bedroom feel light, breezy and open. Reclaimed heart pine floors offer warmth and contrast. Woven wood shades allow light to filter through while still providing shade and relief from heat.
I looked at several low-country-style homes and kept returning to this style. I started sketching and then our architect, William Court, came aboard. We worked together to create the space, and he was very patient with all of the rework I requested until I felt it was perfect. We have actually painted the farmhouse white since the shoot and it is even better than before – so fresh! We now have a carriage house — a two-car garage with a 450-square-foot apartment above with lots of amenities — plus the cottage still awaiting the main house.
I knew I wanted white, light and dark wood, and dark blue accents, with everything else neutral, textural and organic feeling.
The position of the windows facing the lake and the structure itself actually dictated the furniture layout.
How does natural light open up the space?
There is nothing better than natural light — it's bright all day long so we never have to turn on the lights. The combination of the light and the white paint is magical.
What is your favorite feature?
This house makes me happy every time I see it — it seems to get better with age, as the natural prairie-style plantings grow in. It looks more complete with the carriage house that is almost finished just across from it, with the lake in front and a park on the other side where no one will ever build.
My favorite feature, hands down, is the tall windows and the vaulted ceilings, which just make it seem so much bigger than it actually is. My other favorite elements are the things no one sees, including the "hidden" microwave and toaster, the "hidden" washer/dryer and the "hidden" storage.
Why did you use white shiplap walls?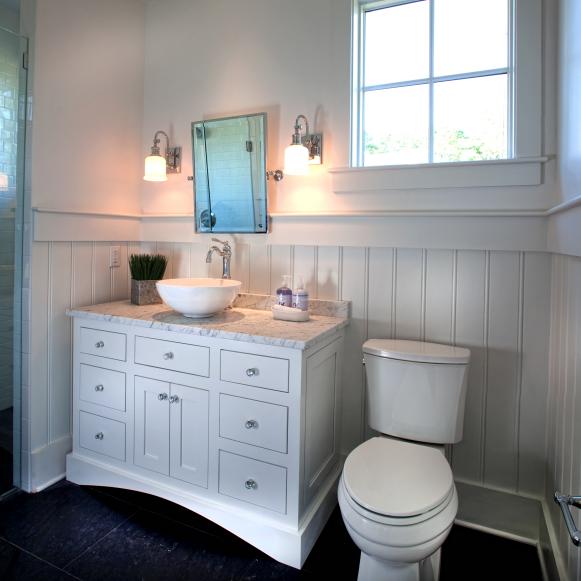 Farmhouse-Style Bathroom With Lovely Beadboard Wainscoting
Dark porcelain tile floors provide contrast against the crisp white beadboard in this small bathroom. A large vanity with a farm-style vessel sink and faucet offers ample storage space.
I knew from the beginning I was going with white walls and a white-gloss shiplap ceiling. I wanted something to ground the space and be a great counterpoint to the dark relcaimed-wood floors, which were locally sourced.
How did you create a functional small space?
Every piece purchased was bought for a reason, first and foremost for functionality. A glass desk keeps things feeling open, a dresser with lots of drawers doubles as a TV console and storage space, and a custom sectional can be used for overnight guests.
What "hidden gems" are in your design?
Some "hidden gems" include the washer/dryer behind the barn door, the built-in fridge/freezer, a walk-in closet with built-in storage, and all except the front door are pocket doors.