Connecticut Horse Farm Cottage Restored to Former Glory
Designer Kelly Mittleman transforms a farm cottage suffering from years of neglect into a charming getaway with strategic structural changes and thoughtful cosmetic upgrades.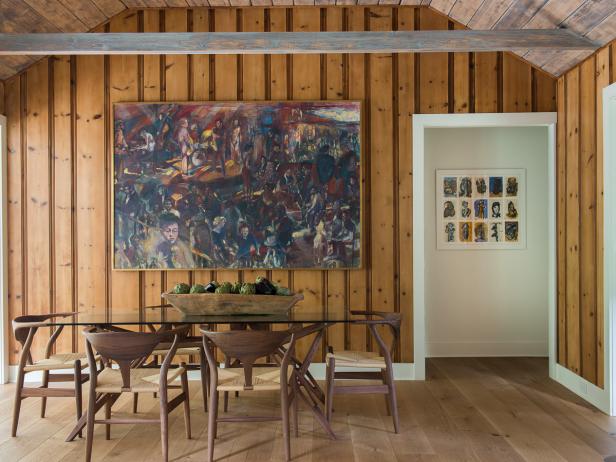 Wood Panel Dining Room
Knotty pine paneling is original to this cottage's living and dining space and was kept natural to maintain the modern country feel. The natural wood provides a backdrop to the owner's colorful artwork depicting a jazz club scene.
When she first laid eyes on the neglected caretaker's cottage located on a thoroughbred horse farm, designer Kelly Mittleman didn't want a thing to do with it.
"Initially when we looked at it, we were like, 'We're not touching this,'" says Mittleman, principal at Kelly and Co. Design in Redding, Conn. "It was a total junk pit."
At first, the new owner of the property, who purchased it from a family who had owned it for the previous 23 years, wasn't interested in putting much effort into restoring the cottage either. But his interest in the 1,600-square-foot home grew over a few weeks, and he asked Mittleman to reconsider what it would take to restore it.
Looking at the home with a fresh eye, Mittleman was moved by its pastoral setting and charming layout. The open-minded approach by the owner helped too.
"There was a pregnant pause for a couple weeks, and then he came back and said, 'What would you do here?' That's always scary for the client, because cost was definitely a factor," she says.
Once they peered under the contact paper covering the floor and into the dark corners of the home, the 1930s-era cottage offered a few happy surprises.
Extending across the full footprint of the two-bedroom home was an open, unused attic space. But rather than finish the attic into more living space, Mittleman opted to raise the ceiling of the bedrooms and kitchen.
Mittleman opted to move a wall and doorway to turn a small, dark and dingy room into a bright, cozy space for watching television.
That structural changes completely transformed the entire home.
"We were able to take this cramped space and really open it up and give it charm where there was none," Mittleman says. "We felt really lucky."
In the main living area were knotty pine walls in relatively good shape that added more period-appropriate charm.
Coats of Farrow and Ball paint on the kitchen cabinets and on walls and trim throughout the house freshened up the home even more. Mittleman pulled in colorful artwork from the homeowner's collection and objects found in the property's barn to adorn the walls.
The two bathrooms were completely remodeled. Mittleman outfitted one bathroom with a custom-made shower door and stone floors with radiant heat. The other was given a mosaic-style floor to honor the homeowner's Indian heritage.
The refreshed cottage has served as a small retreat for the homeowner, a guest house and even an Airbnb rental.
"He's had prizewinning authors and design teams from Anthropologie. Music videos have been recorded there," Mittleman says. "That, to me, is a testament as to why things don't need to be grandiose. Cozy and sweet is impressionable."