Two Trailers Become Tiny Texas Home With Bohemian Flair
Two trailers were connected to create a tiny home that lives larger than its footprint. Color and a mix of styles gives the home a bohemian feel, while a spacious porch is perfect for entertaining under the Texas sky.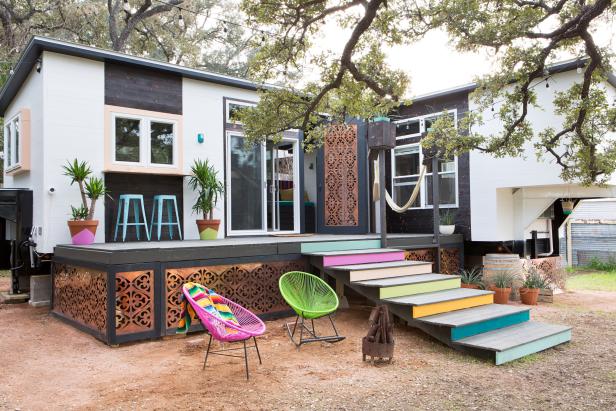 Tiny, Colorful Eclectic House in Texas
This tiny house is 370 square feet. Kim Lewis Designs painted the stair risers leading up to the trailer to create a whimsical, eclectic vibe!
Molly Winters Photography
What did your clients want? Is the home portable or is it stationary?
They wanted a place where they could entertain friends, keep goats and run a winery business all from the kitchen island. The tiny house is moveable, so it can be moved as their family needs change. A bathtub was required for the lady.
Given the small footprint, what was most important to your client?
We really wanted to focus on providing a place to entertain guests, but also maintain privacy. The porch between the two trailers was the answer — with the folding copper panel doors, we were able to create a space that could transform the tiny home from an entertaining area to a private oasis. The built-in bench was originally designed with the owners' two dogs in mind, but was quickly overrun by the growing family of goats.
How did you make the home functional?
The homeowners are bright business entrepreneurs who love to entertain and feast with their family and friends. The layout needed to provide a space for entertaining and working at home, yet still be an oasis to retreat after long hours working. We separated the tiny house into two trailers, one for living (kitchen, sitting area) and one for resting (bedroom and bathroom). Dividing the spaces provides a physical break between living and working.
Even with the smaller footprint, utilizing two trailers allowed us to keep the ceiling higher and windows taller, which makes the tiny space feel larger. Lots of windows let in natural light, creating more volume in small spaces.
What was your biggest obstacle?
Every construction site has its challenges, doesn't it!? I would say the biggest obstacle we had was on the outside of the home. We wanted to be sure the homeowner had an extensive area to lounge outside, doubling the "feel" of the square footage. We added a deck off both trailers to pull it all together. Knowing they may move the tiny home someday, we wanted to be sure they could also take the deck with them. So we built the deck in 4'-wide sections and used custom French cleats on the side of the trailer to essentially "clip" on the deck pieces. This entire deck can be broken down and thrown into the back of a large pickup truck. As part of the deck, we built a pop-up outdoor sofa. After installing it, we realized the design was a bit too heavy to make it super functional.
What inspired this design? How did you make it pet friendly and indoor/outdoor livable?
I LOVE the inspiration for this space. My client and I have the same taste, so while shopping I knew if I loved it, she would, too. That's the best kind of client. The inspiration was a mix of bohemian style and vibes from this quirky little West Texas town called Marfa. The homeowner had a cool collection of midcentury furniture already, which fit the space really well. For color palettes, we featured eclectic textiles from Guatemala and Turkish rugs. One of my favorite features is the front steps — I called these my "Candy Land stairs." We built them wide enough for people to sit on. The colorful steps set the tone for the whimsical interior.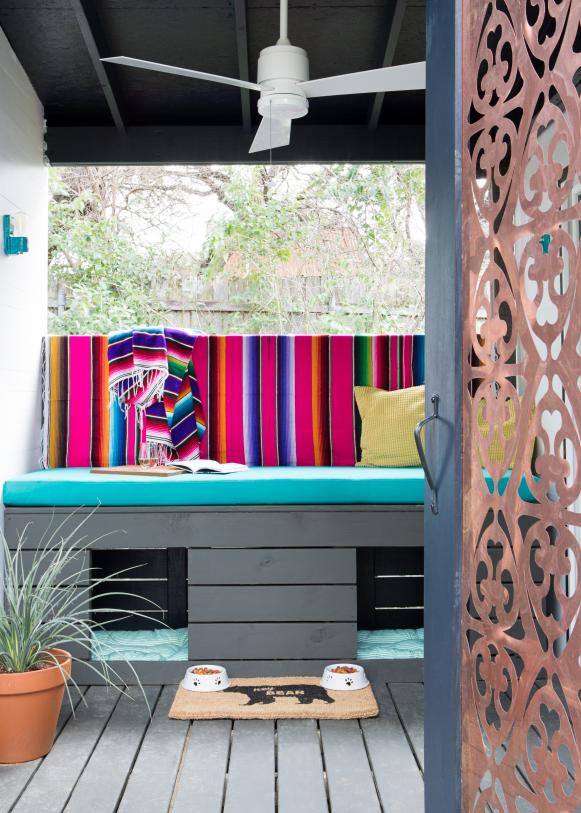 Pet-Friendly Porch
Keeping in mind their love of kayaking and entertaining winery guests, Kim Lewis Designs fulfilled the clients' desire for an indoor/outdoor space. The porch features a place for the pooches! Built-in benches offer lounge seating, but space underneath is super valuable, so built-in dog beds were added.
Molly Winters Photography
Pet friendly was certainly a requirement. The homeowner had two medium-sized dogs and a growing family of goats. With tiny homes, you have to utilize every single square inch. The built-in bench between the decks became an opportunity for dog beds and shelter from the sun. Then the goats took over that space.
Most tiny-home owners I work with really thrive on having an indoor/outdoor lifestyle.
How did you create transitions between rooms?
We really carried the colors and textures throughout the space. For example, the black ceiling became a feature that tied the spaces together. Painting the ceiling and back wall of the kitchen created an optical illusion in the space, elongating the appearance of the interior. I'm a fan of using texture on the walls to create dimension and character, so we ran white painted shiplap throughout.
How did you choose the color palette?
We started with a neutral base color, then added the unexpected whimsical moments with color. I also love using unexpected color on architectural features inside spaces to carry the eye, creating lines and focal points. For example, check out the diagonal beam that runs from the bedroom to the inside of the bathroom. We painted this a soft peach color against the black and white base.
The homeowners knew they wanted two trailers. The husband is actually really tall, so a lofted bedroom you typically see in a tiny home would never have been comfortable for him. Using two trailers allowed us to create the 375 square feet without going up with a lofted bedroom.
What was your favorite space to design?
Honestly, I love this entire home. Probably the most challenging was the outdoor area, as I knew they would spend a lot of time there. Between the folding doors, connected roofline and patio, built-in bench, built-in sofa and hanging hammocks, we put a lot of thought into this space. Even the kitchen island is a cart meant to wheel out and use for grilling.
Was there a particular element that tied the design together?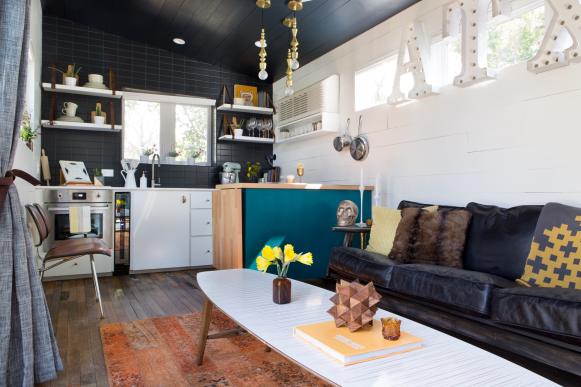 Tiny, Eclectic Living Room & Kitchen
Kim Lewis Designs seamlessly blends the living area and kitchen together in this tiny home in Texas. A chic black-and-white color scheme ties the two spaces together with color accents and patterns that aren't too loud.
Molly Winters Photography
The essential piece of furniture was the homeowners' midcentury surf table. This HAD to fit. Most tiny homes would not have fit this table, so part of me felt like we were designing the home around a coffee table.
What is your favorite feature?
I'm proudest of the kitchen island cart I designed for this space. It was all about multifunctionality. That one piece of furniture features: a two-burner stovetop; pullout pantry drawer; refrigerator door; butcher-block countertop; flip-up tabletop for dining — and working at home; and is on casters to wheel outside, creating an indoor/outdoor cook surface with a 220-volt portable connection. This piece of furniture is a workhorse, and solves so many needs for a tiny-home owner.
Was the surfboard coffee table already owned by the clients?
Haha, yes! They brought that coffee table with them from Colorado. It was the non-negotiable piece that had to fit.
How did you choose the pendants for the kitchen?
I knew I wanted brass. With the straight lines of the black matte subway tile and shiplap siding, I knew I wanted something a bit more feminine and delicate in shape. With our higher than average ceiling height for a tiny home, I saw the opportunity to use pendants to carry the eye down, providing more lighting to the work surface of that custom kitchen cart.
What makes this project uniquely yours?
People know me for my use of and taking risks with color. Before I owned my own design firm, I ran the design team for an international design television show (ABC's Extreme Makeover: Home Edition). On that show I had a lot of opportunities to play with color and push boundaries. Life is too short for beige. There is a psychology in color — it affects our mood, and the vibes of a room in so many ways. The "Candy Land" staircase is a perfect example of how this space is uniquely me.
What "hidden gems" are in your design?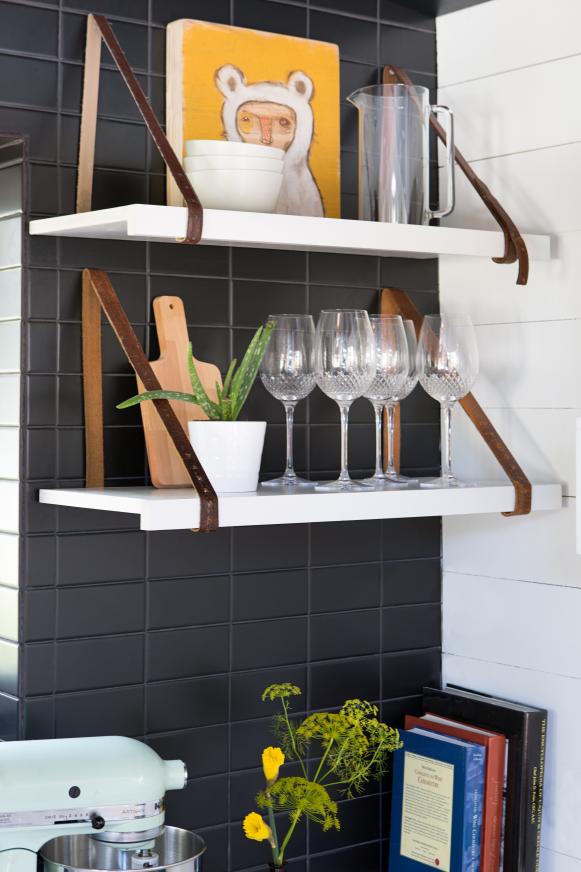 Custom Kitchen Shelves With Vintage Leather Belt Supports
Kim Lewis Designs used vintage leather belts to hold up the shelves in the kitchen.
Molly Winters Photography
Budget-friendly tricks are some of my favorite things to share. For the kitchen shelves, I found vintage leather belts in a boutique off South Congress in Austin for $17 total. We used these to anchor the shelves on the wall. Details like this make my heart sing.