Small Beach Cottage That's Big on Style
Located in Ipswich, Mass., this sunny beach cottage features clever space-planning tricks that prove good things do come in small packages.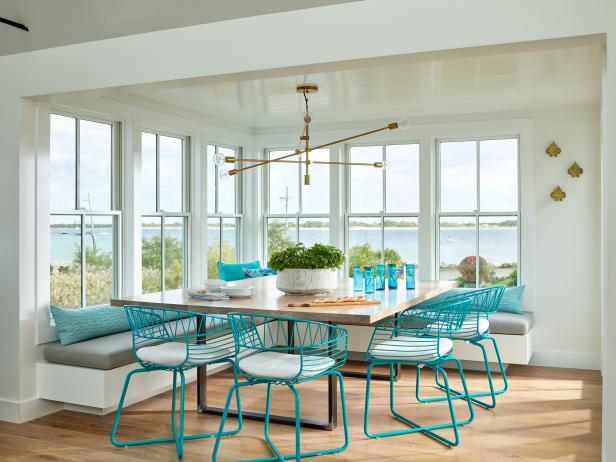 Modern Coastal Dining Room with Corner Window Seat
A corner window seat with plenty of pillows is the perfect solution to fitting as many people as possible into this small dining space. Designers thoughtfully hid outlets and USB ports along the window seat so devices always have a convenient place to charge up. The massive custom dining table with steel base easily accomodates the family for meals or just hanging out. The ceiling is clad with shiplap to help play up the coastal feel, and a modern brass light fixture is the perfect finishing touch.
Featuring sweeping views of the surrounding dunes and sea, this coastal cottage maximizes the home's small footprint with smart storage solutions, dual-purpose furnishings and a watery color palette that brings the outdoors in. Designer Kristina Crestin, our 2019 HGTV Designer of the Year, answers our Q's on what makes this custom-built home a standout, plus gives her tips for making the most of the space you have.
What was the main item on your client's wish list?
Kristina: "For this project, the driving goal was a big open kitchen, living and dining space to fit everyone. This home is all about the beach and activities, so bedrooms could be tiny and weren't as important since no one needs to spend time there. So fitting a family of five in a small footprint was the goal."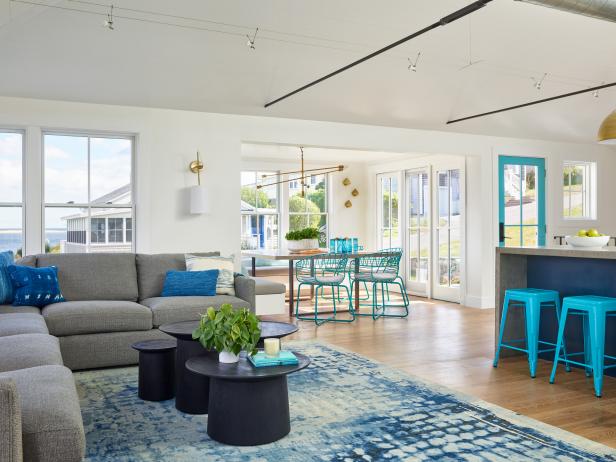 Open Floor Plan Dining Living Kitchen with Modern Coastal Aesthetic
This open plan design allows for maximum square footage for people and entertaining. Spaces were planned to take advantage of the windows and water views. The spaces share an open ceiling space clad with shiplap, adding to the coastal vibe. Tech Lighting was added across the space with many heads so that at night, light can be tossed up to the ceiling to keep the room from feeling cavernous.
What influenced your color choices?
Kristina: "Our location by the ocean. In New England, the ocean is a deep blue and we wanted to bring a modern blue into the space that didn't scream at you. So we worked for a deep-blue-almost-black tone to repeat around the house. Because it's a beach house, we didn't want to abandon a sense of fun so the pops of turquoise add that fun element. Finding the dining chairs happened first and we selected the other turquoise tones after that."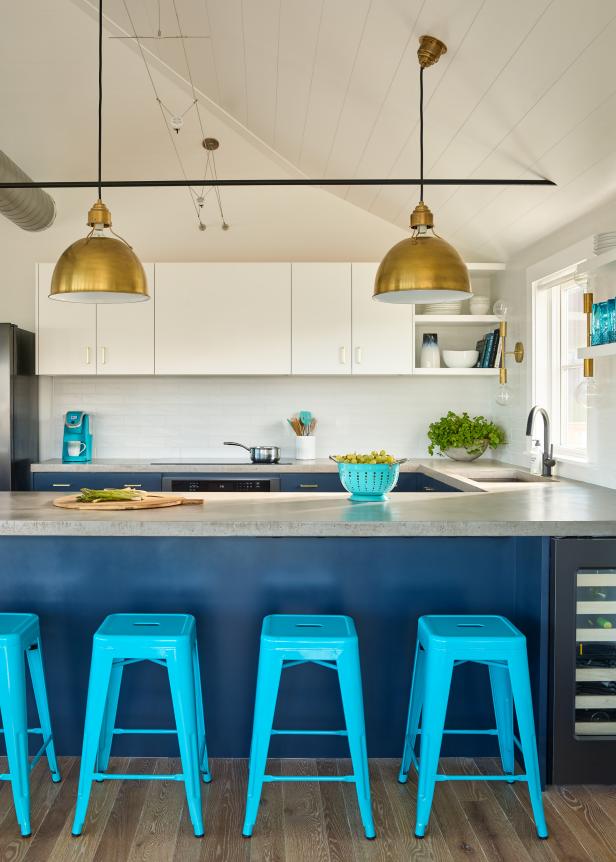 Modern Coastal Kitchen with Concrete Countertops and Turquoise Blue Stools
The clean, sleek look of this kitchen is achieved with navy blue and white cabinetry and a white subway tile backsplash. To add a modern element, thick concrete counters were poured on site to avoid any seams. Bright, turquoise blue stools and accessories are a fun pop of color. Brass dome pendant lights installed over the counter shine brightly against the white shiplap ceiling.
What makes this home unique to your client?
Kristina: "In this case, I love that the location is the site of the homeowner's grandparents' former cottage. There was no way to work with the existing structure, so this house is new construction but I love that we were able to reuse the site."
Small Beach Cottage with Cute Porch
This cute coastal cottage has plenty of windows to let in natural light. Just past the porch seating area, a bright blue door is welcoming.
What was the inspiration for the style of this home?
Kristina: "I'd call this style modern cottage. The homeowner was looking for a modern feel. Talking through color to bring in the coastal feel was a starting point early on as we didn't want the home to be a modern palette of all black, white and grey and not relate to its waterside location. The deep saturated blue color for the kitchen was a key decision to balance all the white. We repeated that color in the mudroom and again in the bunkroom when we found an abstract watery wallpaper that we used along the back wall. Pops of turquoise layer into the interior as it's a favorite color of both mine and the clients. The dining chairs were picked early on as a way to bring color and pattern to this space, repeating that color on the kitchen counter stools and the front door. The color pops up again on the mudroom sliding door. It helps the color palette be a little less serious."
Navy and White Kitchen with Brass Lighting Fixtures
This U-shaped kitchen offers a huge amount of storage below and some white upper cabinets that blend into the wall space. To keep the space clean and sleek, the ventilation hood was tucked behind a false cabinet panel. A thick, site poured concrete counter with waterfall edge was poured on site. Brass pendants and sconces complement the navy blue lower cabinets for that modern feel.
What was your biggest design obstacle and how did you address it?
Kristina: "The site constraints were very limiting but the architect, Benjamin Nutter, did a great job of siting the house in a slope so it ended up as a split-level that takes advantage of the slope. While he was doing schematic planning, we were working though room layouts, kitchen location, bunkroom design ideas and seeing what we could push/pull on the interior to get all the function the homeowner wanted as well as nail the modern cottage aesthetic. One of my big concerns was feeling like you were walking into a basement on the lower level. I actually pushed the lower hall wall back into the bunk room, widening the hall which made a big impact with a small square footage change."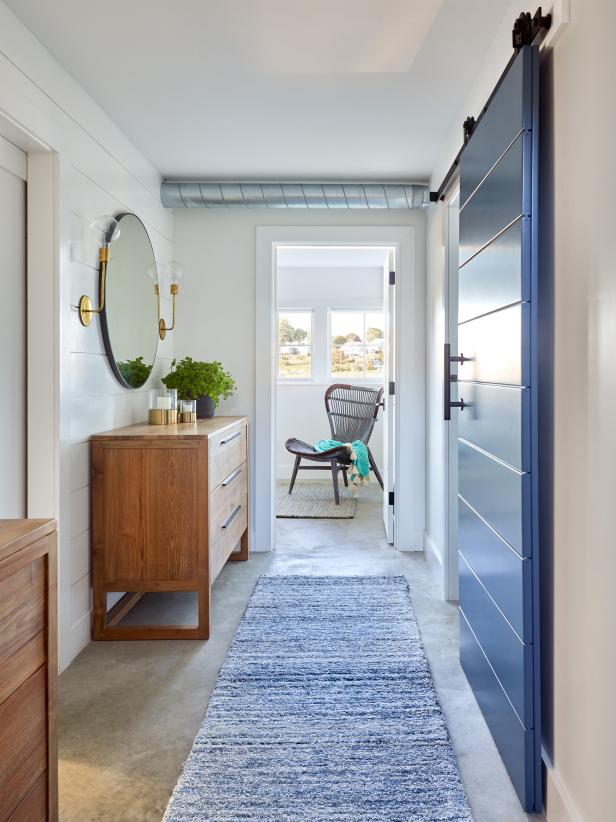 Hallway with Concrete Floor and Exposed Pipe
To further play up the industrial modern cottage vibe in this small beach house, a concrete slab floor and industrial HVAC vent running through the ceiling were left in place. Shiplap was added to one accent wall to bring in that coastal element. A blue painted sliding door opens into the bathroom and brings a little bit of color to this space.
How did you work in more functionality?
Kristina: "In the bunkroom, we added a pair of queen beds under the XL twin bunks to maximize the small space. We also added loads of closet space to tuck all the mess behind."
Bunk Room with Wavy Wallpaper and Rope Ladders
So many elements of this bunk room design are just awesome. The wavy wallpaper on the back wall is really fun and gives the room an underwater effect. Rope ladders provide access to upper bunks; the turquoise rope coordinates perfectly with the wallpaper and oak steps were custom fabricated. For storage, closets are on either side of the room, both with blue sliding barn doors with black hardware. The pendant light is made from pieces of plastic that attach to a frame, so it's durable in case of kid mishap, but also resonates with the watery feel.
Kristina: "Also, the mudroom does double duty as a pantry. We made the pantry doors a sleek white slab so they would disappear and I conceptualized a jumbo pegboard wall paneling for the rest of the room, making it an intentional but playful moment. The pegs move around and are our hooks. We also fabricated longer pegs for movable shelves. A bench to drop things and outlets at the bench for charging make the space very utilitarian. One of the pantry cabinets is a vacuum/broom closet and the other two act as a pantry unit."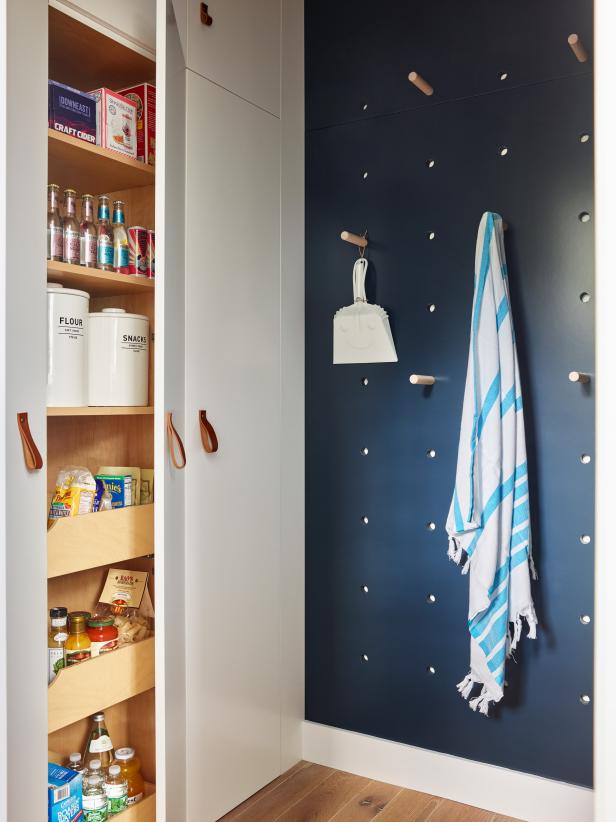 Mudroom with Pantry Space with White Cabinetry and Black Pegboard
White, modern slab face cabinets hide a decent amount of pantry space and utility closet and feature great leather handles. A giant pegboard allows flexibility for whatever storage needs may arise. Pegs can be rearranged to hold towels, hats, life vests, etc.
What are your favorite furniture elements?
Kristina: "Flow and an open space were important to the clients so we have a run-on sectional. The footprint of the home was limiting; the sectional takes advantage of the long space and leaves it open to the kitchen area for plenty of seating. The hanging chair in the corner is just my favorite. It's placed to take advantage of the ocean view, where you can put your feet up on the window sill and just lean back."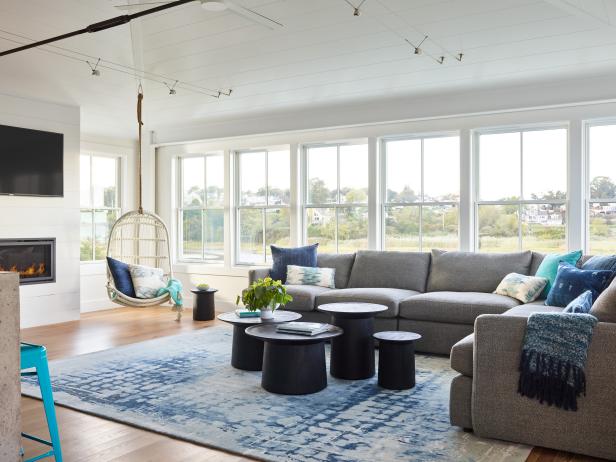 Living Room with Wall of Windows
This room is all about the view, but in this small beach cottage, every inch counts. Designers decided to go with an extra long sectional (for the sitting space) and a fun hanging chair in the corner. The rest of the floor plan was kept open so that people can be sitting at the many turquoise stools at the island as well as the living space without additional furniture in between. A fun assortment of various sized tables is an uncluttered look.
What was your favorite space to design in this home?
Kristina: "My favorite space — it's a toss up! I love the bunkroom and its clever use of space. How we layered the bunks and got the two queen beds in toe-to-toe."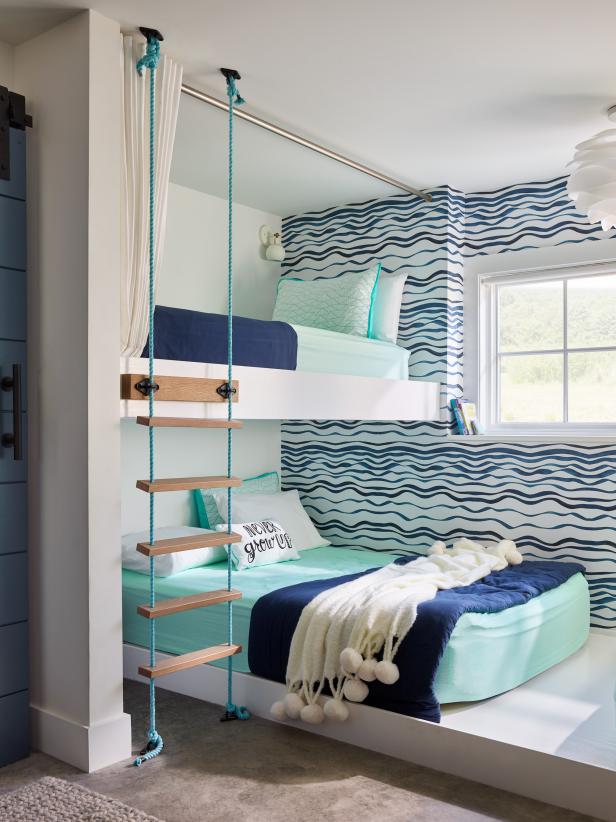 Watery Bunk Room with Turquoise Rope Ladders and Wavy Wallpaper
Wavy wallpaper and aqua and navy linens make this bunk room an underwater adventure. A site-built platform supports the lower queen mattress and X-long twin above. The turquoise rope is perfect for the rope ladder and the wallpaper is such a beautiful blue and fits the theme perfectly.
Kristina: "The dining room is another favorite. Everyone loves a good window seat and the views are best in this nook. The graphic patterned chairs that bring in that pop of turquoise that I love, especially when paired with a dramatic overscale chandelier. A friend built the custom table for us with steel legs and a thick oak top that fits the space perfectly."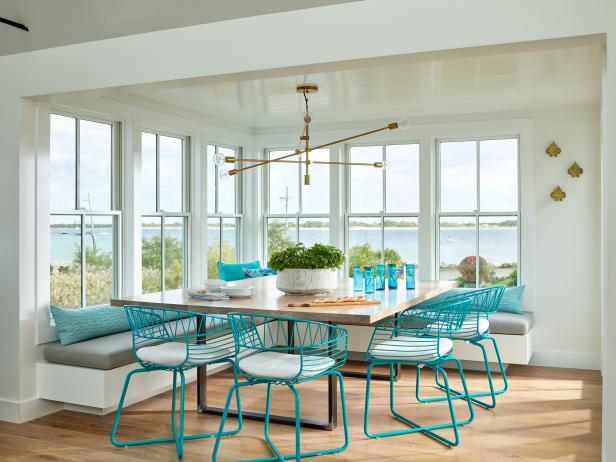 Modern Coastal Dining Room with Corner Window Seat
A corner window seat with plenty of pillows is the perfect solution to fitting as many people as possible into this small dining space. Designers thoughtfully hid outlets and USB ports along the window seat so devices always have a convenient place to charge up. The massive custom dining table with steel base easily accomodates the family for meals or just hanging out. The ceiling is clad with shiplap to help play up the coastal feel, and a modern brass light fixture is the perfect finishing touch.
What are the hidden gems that contributed to the success of your design?
Kristina: "The hall bathroom shower niche is a favorite small detail of mine. This bathroom does heavy lifting as the everyday hall bath off the living space. It actually has a door through the shower to an outdoor shower. We decided on a curbless shower to make the space feel as large as possible and affixed a frosted glass partition to keep water off the toilet area. We wanted a graphic punch so the back wall is black tile and I wanted a niche to run wall to wall and integrate with tile coursing. I love how the black-and-white tile weave together in the corner."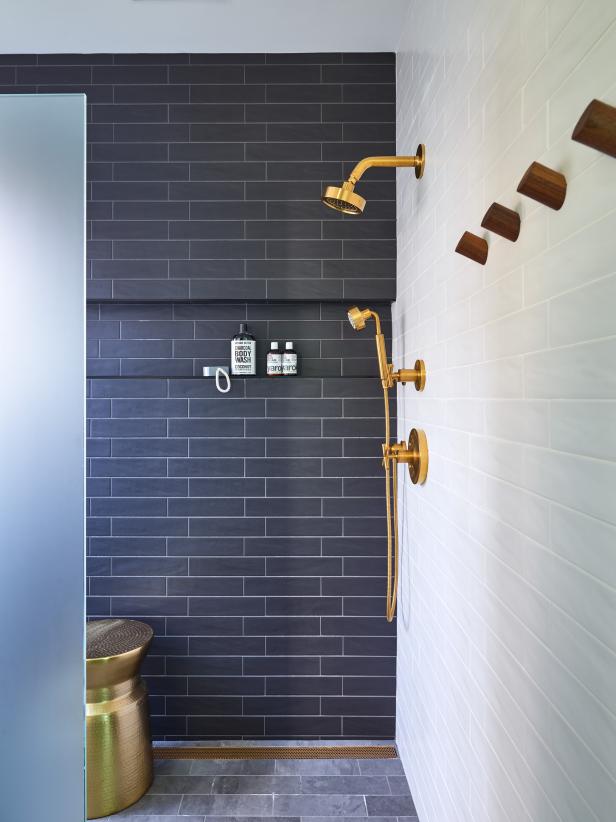 Walk-In Bathroom Shower With Niche and Pegs
This white walk-in shower features an accent wall of black, with a neat wall-to-wall niche that perfectly fits into the tile coursing. Satin brass fixtures were chosen to make a modern statement. Jumbo walnut wedge hooks are the perfect place to hang towels.
Kristina: "And, in the shared lower bath, I love the look of the thick concrete countertop but what I love more is that we tucked drawers in the apron below. The space feels open and airy with just a shelf below that's lined with bins and towels for bonus storage."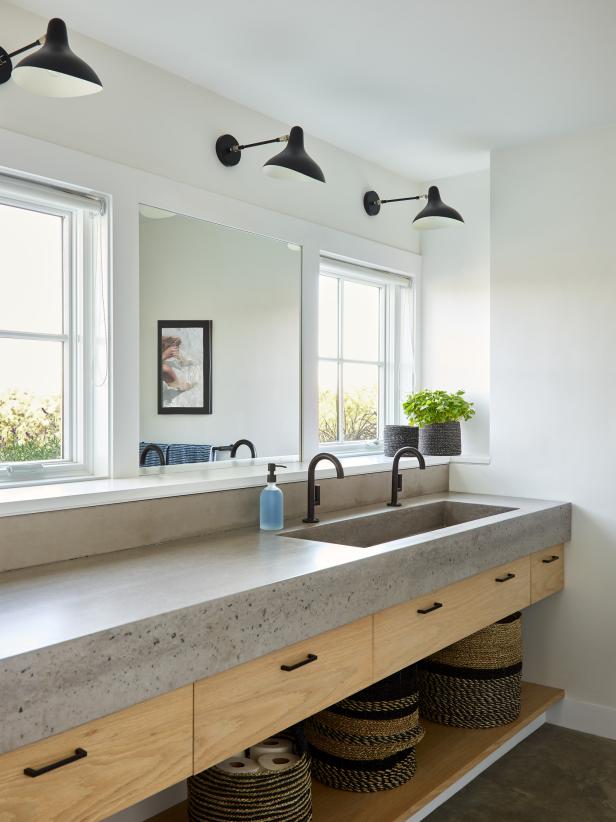 Bathroom With Concrete Counter and Floor
A light wood vanity is topped by a gorgeous think concrete counter and sink with dual faucets.Colorful baskets add storage for extra towels or toilet paper.
This charming beach cottage may be small on space but it's big on design ideas.