Rustic Country Farmhouse With Industrial Elements
This rustic country-style farmhouse was updated with both vintage accessories and industrial elements to create a look that was both fresh and "lived-in."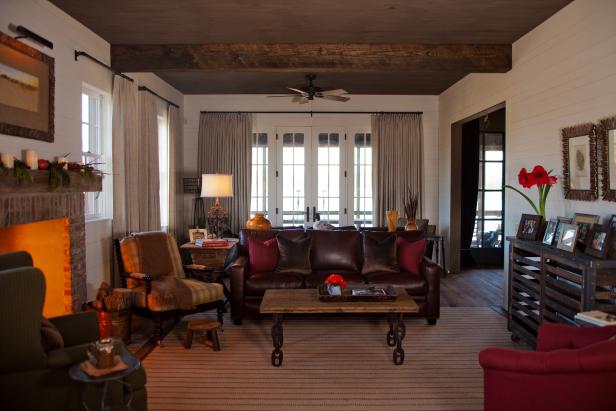 White Farmhouse Living Room Boasts Cozy Furnishings
A brown leather sofa anchors this beautiful farmhouse living room. An industrial wood and metal side table showcases family photos, while a neutral striped rug brings warmth to the living area.
What were your clients' main goals for this farmhouse?
The clients have two children attending the University of Auburn and wanted a second home where they could be closer to them. This home is a new structure that was designed and built as a guesthouse the clients could live in before they decided how to proceed on their main home. However, the clients have enjoyed this house so much that they haven't started construction on the main home yet.
What was the inspiration for the home?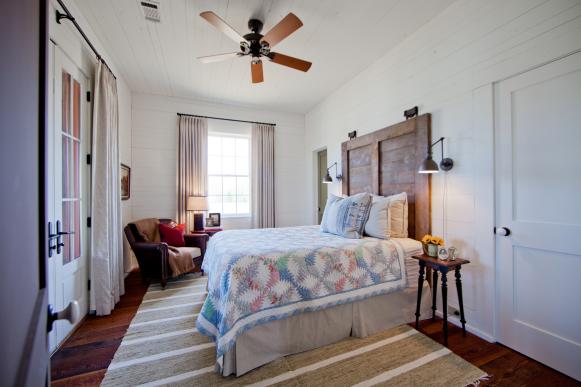 White Farmhouse Bedroom With Wood Shutter Headboard
White walls and linen curtains make this farmhouse bedroom feel fresh and light. A pastel quilt, wood shutter headboard and French grain sack pillows add homespun charm to the simplified space.
I wanted to create a bespoke vintage feel in this farmhouse. Because it was a new structure, I had to make it feel like it was old and incorporate things from antique markets and vintage inspired fabrics. I even used quilts from a client's grandmother to really make the design of the space feel like a rustic farmhouse. I had custom furniture made from industrial parts and old barn wood, such as the barn door headboard in the bedroom.
What was your biggest obstacle, and how did you overcome it?
Because of an abundance of rain at the time, the design team had issues getting the furniture into the home on schedule. The soil was thick and mucky, making it challenging to enter the house and bring the new furnishings in.
How did you make transitions without losing the individuality of each room?
There are no hallways in this home. Rather, each space is a pathway into the next, making it a sort of "dogtrot style," where one main passage connects two halves of the home. Every room has the same flow, and it was essential that all the spaces work together. I used reds and blues that really stand out against the white walls. Too much pattern makes a space busy, but keeping colors and patterns simple gives the home a clean look and feel.
What was your favorite space to design in this home?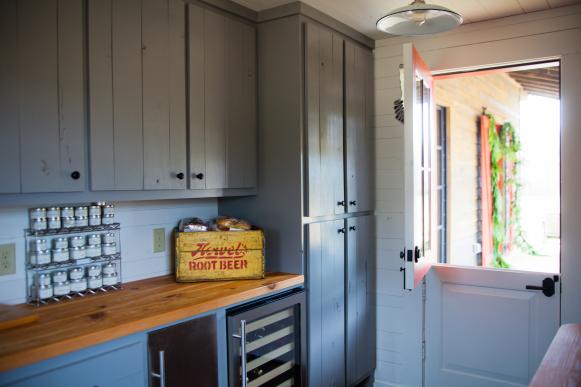 Gray and White Farmhouse Pantry With Ample Storage
Gray cabinets, butcher-block countertops and white walls combine to create a beautiful neutral pantry in this farmhouse. An under-counter wine cooler provides extra storage, while a Dutch door opens to bring the outdoors inside.
I loved designing the butler's pantry off the kitchen. This home's unique kitchen features a sort of "back-kitchen" that houses the refrigerator, laundry, pantry and a door leading to the porch, making carrying groceries in an easy task. Its location also allows the homeowners to keep the messier aspects of the kitchen hidden from view.
Is there a central pattern, material or color in the home?
The charm of this space comes from having a mix of furniture and patterns that create a vintage feel. I wanted the furnishings to appear as though they had been collected over time, rather than put together all at once.
How did you add modern elements into the rustic farmhouse look?
The appliances in the kitchen area are more modern, but they're paired with vintage custom furniture pieces and light fixtures. The light fixture over the kitchen island is made by The Urban Electric Company, which has a fresh approach on older fixtures. I tried to not clutter the space, but paired modern home elements with vintage pieces to create a clean space that looks rustic.
Why did you choose white for the ceiling and shiplap walls?
I wanted to keep things clean and bright. The white surfaces allow for brighter colors in the decor, and they help make the home feel light and airy.
How did you use the natural light throughout your design?
Natural light is essential to a good design, especially when using dark colors as in the living room of this space. The light coming in through the doors and windows is evident throughout the home.
What were some essential rustic details in the design?
The custom furniture really adds rustic detail to this space and prevents anything from looking too new. Because the furniture was custom-made with reclaimed materials, it helped in achieving a farmhouse look.