Revamped Cottage Bathroom
Designer Rachael Franceschina transforms a small, cottage-style bathroom into a spacious master bath.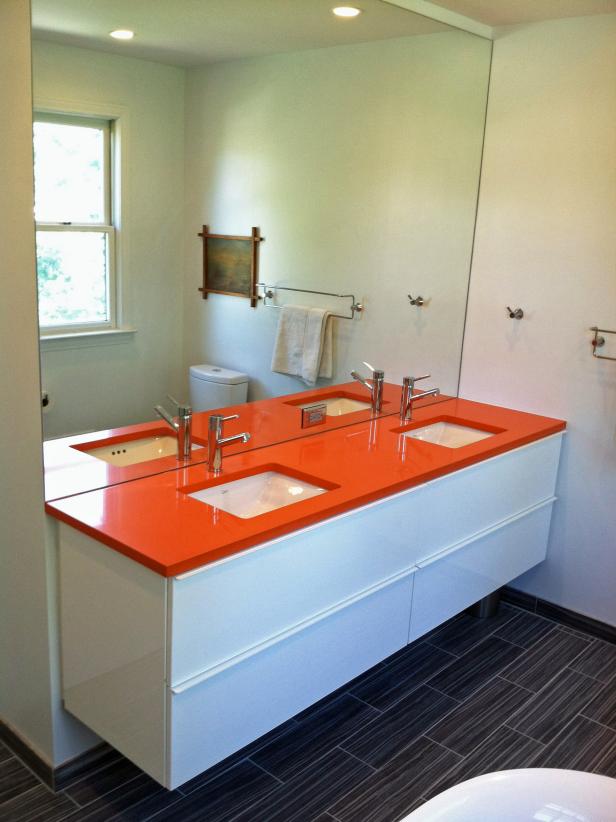 Modern White Bathroom With Bold Orange Countertop
Photo Courtesy of Betsy Maddox
Photo Courtesy of Betsy Maddox
Designer Rachael Franceschina renovated a small bedroom and half bath into a master bathroom in an English-style cottage. Operating on a small budget in a tight space, finding the most affordable fixtures and materials for this project was a challenge.
Franceschina shares how she used smart space planning and design to transform this cottage bath.
What did the homeowners want most from this remodel?
They wanted the addition of a master bath. We accomplished this by converting the smaller bedroom that was adjacent to the half bath into a full bath and closet that opens into the master bedroom.
What proved to be the single largest issue in this project?
The space is actually small for a master bath, so we used white for the walls, tub, and subway tile in the shower. The mirrors go the full length of the wall to the top of the vanity, which allows more light to reflect within the space, making it feel larger.
What obstacles did you face and how did you address them?
Tight space dictated a lot of our decisions. One solution was to relocate the tub's faucet to the opposite side and then shift the tub closer to the window wall. We replaced sinks that fit the cabinet with a Caesarstone countertop and undermount sinks, which called for the contractor to get creative. He designed a nice reveal detail at the sides, hiding the space between the wall and the back of the vanity. In addition, the sink depth needed to be shallower than typical sinks, so we had to do research to find the correct size.
What did you learn from this remodel?
To push the envelope ... if you can make a case for better design, then do it and don't feel intimidated.
What are the "hidden gems" that made this project a success?
We had a tight budget for this bathroom, and the freestanding tub we originally specified was too expensive. The owners found an inexpensive bathtub on Amazon.com. Having never used this option before, we will consider it for future projects with limited budgets.