Family Home with Colorful, Contemporary Vibe
The Butter Lutz team designed this family home and infused it with color, giving the space its own personiality and youthful pizzaz.
Contemporary Living Room With Pastel Art
Pastels get mixed in with bold animal prints in this living room dedicated for the kids of the family. The entertainment center is brightened up with cabinet interiors in turquoise blue.
What were the main items on your client's wish list?
The clients wanted unique designs that reflected each child's interests and a kid and dog friendly entertaining space - all turned around in less than 8 weeks.
What improvements did you make to add functionality?
The client has a large blended family, with a very active lifestyle. They hold time spent with loved ones very dearly. They entertain friends and family often, so we needed to create a space that would allow them to come together as a family; to relax and enjoy time together.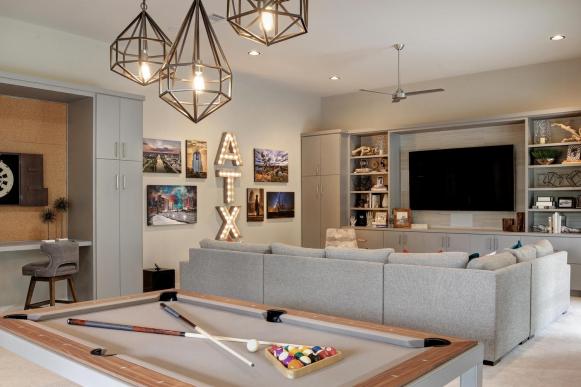 Neutral Transitional Family Room With Pool Table
This family room is decked out to be fun for everyone with a big entertainment center, a pool table and a comfy sectional.

The large downstairs game room was an empty giant cavern of space. We sectioned the room into three main quadrants and added built-in storage. We were then able to turn the space into a multi-functional and highly used space. Each area (pool table, bunks, tv and gaming area) has its own unique identity, similar to the children, yet comes together harmoniously as one.
What was your biggest obstacle?
Like any remodel, this particular project presented it's own set of challenges and compromises. This house is grand, nearly 7,000 square feet. We touched nearly every space to some degree. It was our goal to ensure that every person would truly feel at home, so it was very important to have all the voices heard. It was very enjoyable to be able to work so closely with them and create a sanctuary together. Giving the blended family a space they can share together, yet also giving each member their own dedicated personal space that reflected their taste, was a fun, yet challenging, obstacle to overcome.

Another obstacle we encountered, were the time constraints. We primarily used local retailers and online sources in order to pull together a design that was unique and reflective of the clients lifestyle. We had crews working around the clock, often in unconventional sequences, to get this project completed within the short 8 week timeframe.
What was the inspiration for the contemporary style?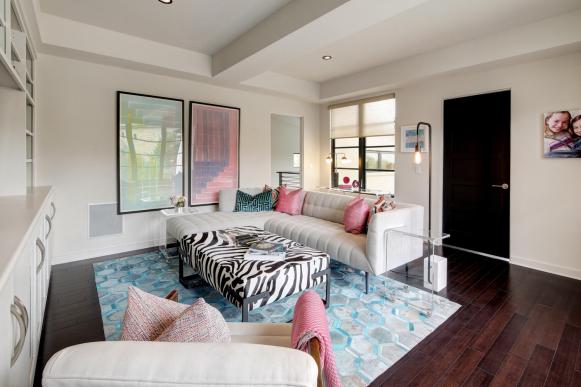 Multicolored Contemporary Living Room With Blue Rug
A zebra print ottoman commands attention from the center of this chic living room, a space for the kids of the family to hang out and entertain friends.
Designing spaces for young adults presents its own set of challenges, because as a designer you strive to create spaces that are fun and reflective of the clients personality. We know teenagers change their minds daily, so the challenge becomes creating a classic design that they will not grow out of in a few months, but rather a space that evolves with them through middle and high school.
 We were tasked with creating a haven of comfort and creativity that reflected their love of travel and different cultures. An inspirational space that was comfortable and livable for their young family and one that gave them a sense of peace. We took this inspiration to heart and added in layers of textures and colors, which immediately gave the space a sense of depth and history.
What was your favorite room to design?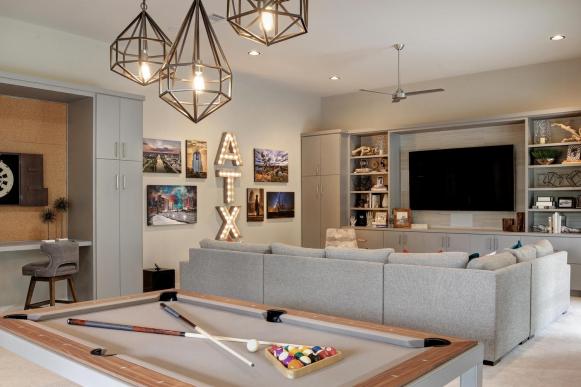 Neutral Transitional Family Room With Pool Table
This family room is decked out to be fun for everyone with a big entertainment center, a pool table and a comfy sectional.
The large gameroom was such a great transformation, it's hard to not put this at the top of our list - though we love every room in this house like it is our own! Seeing a cavernous empty space transform into the epicenter of family time made this valuable space fun to design.
Is there a pattern, material or color that's repeated throughout the home?
This home's design mantra could be "Unity Through Diversity". Though, there's not one single element that is exactly repeated throughout the home, the same mood of comfortable creativity permeates each space in a lively way.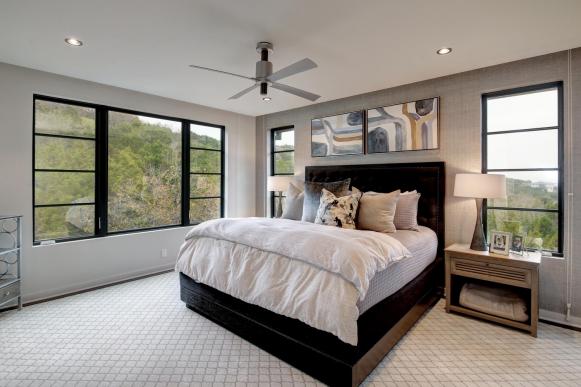 Gray Contemporary Bedroom With Black Bed
So many windows make this sophisticated bedroom feel as though it's perched in the treetops. The black bed helps anchor the light gray-and-white palette.
During the construction design, our approach was to simplify much of the finishes and unify the space. The client collects world travel art pieces and has a love of the great outdoors, we craftily opted to cancel out all the noise and color in the finishes and create a more soft, neutral background. With our stone selections, paint palette and wallpaper, we let the accessories and art tell a story. By doing this, we were able to interject a deeper, more textured palette of blue tones through the fabrics, rugs and wallpaper. I think incorperating this is when a home truly begins to transform, to develop its own personality and home style.
What is the most memorable part of this project?
Looking back at this project, when we initially walked through the house, the inevitable echo filled the empty hallways. Given the timeline, we were unable to formally present our clients with a vision and take them shopping. Since we were pressed for time, trusting each other was key. Every designer strives to gain the client's trust; it's a struggle we know to be all so real.
At the end of the day, we were able to reflect the family's personality and home style because of their trust in us. There is no longer the stagnant echo looming around the corner, but rather voices in the kitchen, sound of dog collars running down the stairs and lacrosse sneakers parked by the back door. The home is full of family and love - all of which, were started with a client's trust.
What was the inspiration behind the ATX marquee letters?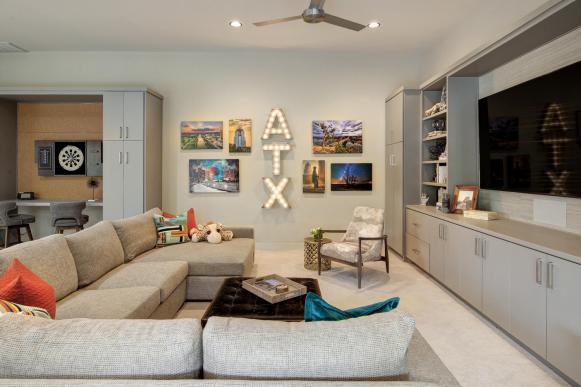 Gray Family Room With Marquee Letters
Marquee letters and photos add to the fun vibe of this family room. A large sectional makes sure everyone has a prime view for movie and game nights.
The clients wanted the game room to reflect the great city they live in, so we used local photographers work to showcase the Austin skyline and the marquee letters gave it a fun factor.
What do the built-ins add to your design?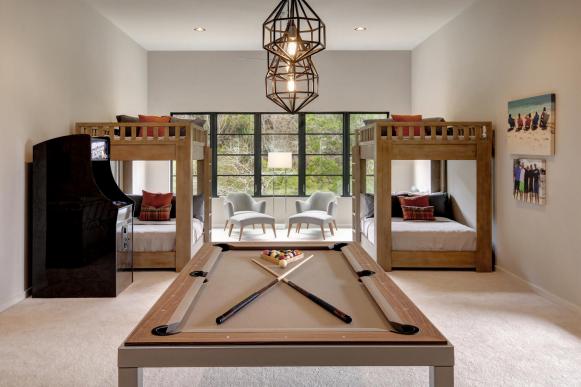 Game Room With Two Bunk Beds
The kids can have all their best friends over for a sleepover thanks to not one, but two bunk beds and a game room that's stocked with fun.
The home had built-ins existing upstairs, in the gameroom and in each of the kid's bedrooms, which proved to be great storage. We added wallpaper to the back of the shelving to give added depth and texture, and styled the shelves with special accessories that reflected the individual personalities. We added the built-in bunk bead units in the downstairs gameroom as a way to segment the already large space into designated areas.
How did you select the moon phase artwork in the boy's bedroom?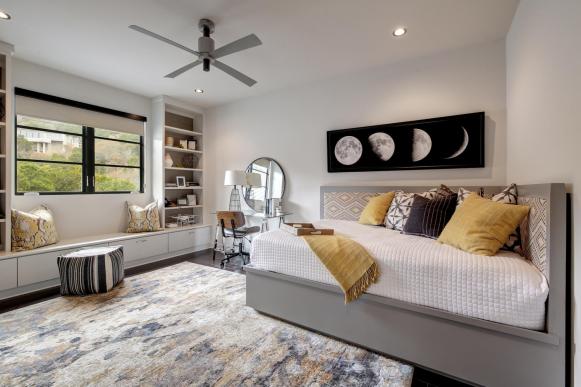 Gray Transitional Bedroom With Daybed
Pops of yellow perk up this chic bedroom that offers a twist on the usual with a daybed and a cozy window seat.
This artwork was chosen for this space before we began working on this project. The client's son requested a corner bed, so he would have more space to "chill with friends". With those thoughts in mind, we designed a custom made bed with upholstered panels and proudly displayed his chosen artwork front and center. The color inspiration came from a single fabric he liked, which was a yellow and grey plaid. It was a lot of fun working with the client's son, because had such a strong sense of design already, which is not typical when working with young adults.
What are the "hidden gems" in your design?
The part that made this project so successful was the collaboration between our team and the family members. Being able to get to know them on such a deep and personal level really allowed us to give them a home that speaks to their family dynamics and interests.