Traditional Farmhouse Gets a Contemporary Makeover
Designer Joseph Stabilito gives a Pennsylvania farmhouse a fresh makeover that keeps the exterior true to its country roots while giving the interior a fresh, contemporary update.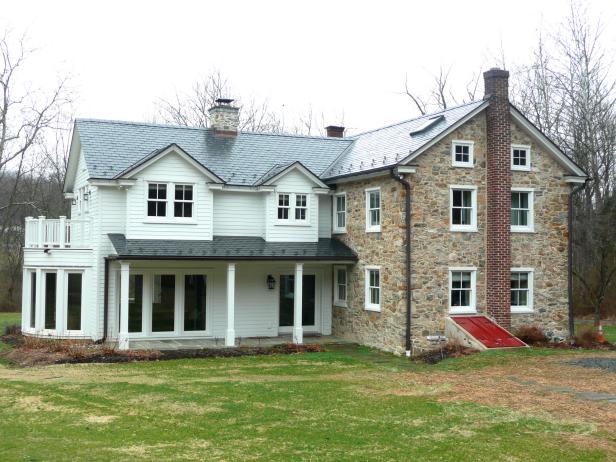 Traditional White and Stone Farmhouse
Though contemporary on the inside, this home maintains a traditional farmhouse exterior. The Pennsylvania residence is gorgeous in white and stone with a pop of red on the cellar doors.
With the help of a homeowner who knew just what he wanted, designer Joseph Stabilito turned a beautiful but outdated farmhouse into a contemporary home that pays tribute to its country roots and is perfect for entertaining.
Describe the homeowner's wish list.
It was very important to the owner, who had grown up in this rural farming community (and where many of his family members continue to reside), to respect the local history and culture. The area is Mennonite and largely intact. These early settlers were mostly of German and Dutch descent and brought with them a fierce connectedness to the land and an overriding sense of modesty.
A major concern was that it needed to be a comfortable meeting place where he could invite his family for large gatherings. He knew that he wanted distinct areas for a pool and recreation and other areas for gardening, wine storage, etc. He wanted the kitchen to be a primary source of connection.

Farmhouse on the Outside, Contemporary Home on the Inside
See All Photos
What was the biggest issue the design addressed?
The owner was very thoughtful and, in a sense, had done a lot of the homework for me. He had spent much time thinking about how he wanted to live in the house and what lifestyle he was seeking. Overall, he wanted a modern lifestyle with the ease of new amenities but in the context of an older home. As the designer, my role was to blend these concepts together. It was about the delicate balance of bringing in some of that contemporary esthetic without tarnishing the original heritage.
Describe an obstacle in the space.
There were a few technical challenges in the integration of the older and newly constructed extensions of the house, such as merging the older stone walls into the new structures. But for those concerns, the architect on board addressed the issues.
How we would handle the visual juxtapositions was another concern. For instance, there was a question of how to handle a protruding stone wall in what would become the master bath (which called for a sleek design). I decided the texture was too beautiful to cover over and was sure its rustic quality would enhance, rather than dilute, the look. So, we placed the vanity against it, and I used a large seamless mirror that was lit at the sides to highlight the background.
How did the end result match your original vision?
I'd have to say, despite some technical issues, the vision pretty much stayed constant. The end result was very close to what the client envisioned, and I was proud to deliver.
I know that the owner is thrilled with his home and has had many family holidays and gatherings together. The pool and spa areas on the property provide wonderful recreation and relief from the hot summers. The grounds are beautifully landscaped with fruit trees, a vegetable garden and a creek that runs through the property.
What lessons did you learn from this project?
Lighting for me is always an important part of a design plan, and it is often not considered well. Tucking light into small crevices, behind mirrors, under cornice moldings, and the like can highlight the architectural features, make them stand out and heighten their importance. I used subtle lighting everywhere on this project (and always on dimmers) for a variety of moods.
Of course the attention to detail, in doing the proper research, in investigating the theme or influence you are striving for, is always essential. As a designer, I've learned to trust my intuitive sense and go with it. (I may not always understand why I am drawn to something in particular, but I do trust it will come together and make sense in the final product). You start with a basic premise, you expand on it, you tweak it, and you adapt it to the exact needs for the situation.
In the end, it's like any creative endeavor: a constant monitoring of shape, color, texture and composition. What requires a little diffusing in this corner might need to be a little bolder there, or what's overkill in this context might seem weak in another. You must be aware of how every decision affects the following one. It takes a fair amount of time to develop these instincts, for which you can only expect to get better as you continue to do more.