Stylish Kitchen Renovated for Optimal Use
Designer Rebecca Lindquist wanted to make this family's kitchen more than just the sum of its parts by making it a useful space with custom designs, a coffered ceiling and copper sinks.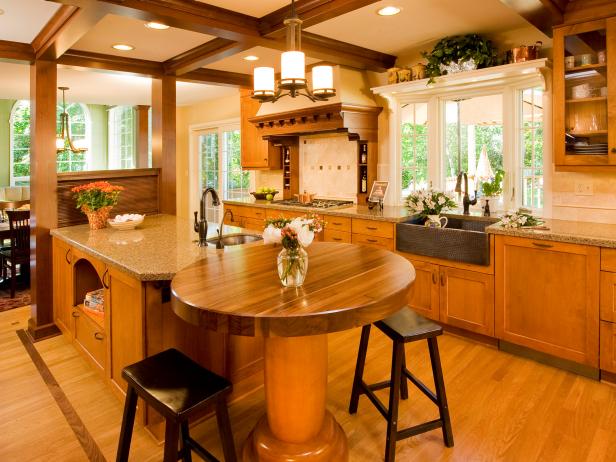 Kitchen With a Table for Two
A cute little round table offers a spot just for two at the end of a long kitchen island. Sleek wooden cabinets offer plenty of concealed storage and add to the room's transitional style.
Because the house had already gone through prior renovations that added additional square footage, designer Rebecca Lindquist decided to improve the existing footprint for greater functionality, aesthetic charm, and light.
Describe the homeowner's wish list.
The owners wished for a more spacious, functional kitchen that allowed interaction with adjacent spaces, while maintaining the distinction of those spaces. They also desired more natural light and felt challenged to blend modern, earthy materials into their 70-year-old traditional, Colonial-style home.

What was the biggest issue the design addressed?
This traditional Colonial-style home had already been through three former renovations, complete with additions. While these renovations added square footage, they did not improve the functional space of the kitchen. The homeowners believed they would need to put on another addition to achieve their dream kitchen. Our goal was to redesign within these existing spaces to create a functional kitchen/dining space that felt like it had always been there – without the expense of another addition.
Describe an obstacle in the space.
The greatest obstacle in this design involved the removal of load-bearing walls and bringing three different floor levels into two manageable ones. A thorough investigation of the structure allowed us to remove the bearing walls by incorporating LVL structural beams into a decorative coffered ceiling design. A single step-down transition from the kitchen to the new adjacent mudroom kept the kitchen and adjacent living spaces on the same level.
How did the end result match your original vision?
We put an extraordinary amount of time into the planning process, addressing the many structural challenges we faced. The end result is exactly what we envisioned for the space; however, in the process of getting there, we ran into some unexpected issues such as structural damage caused by carpenter ants, a hornet's nest, and a water seepage problem from an upper level dusting porch. We were able to eradicate each of these problems.
What lessons did you learn from this project?
We are a well-established business and have been completing successful kitchen renovations for several decades. That said, we still continue to learn something new on every project. It always boils down to this: Never assume anything, and always check on the fine details! Attention to detail is imperative to a successful outcome!
What are the hidden gems that make a big difference?
In addition to the coffered ceiling that conceals structural beams, this kitchen contains apothecary drawers that specifically accommodate the owner's recipe cards, open shelving for collectibles, and a custom-designed hood with small shelves for the owner's pepper mill and olive oil. The authentic copper sinks are a living material that changes daily – one of the owner's favorite features. The island features a bake center, complete with small appliance storage, a mixer lift, and an auxiliary sink. The custom-designed circular walnut table sets upon a custom pedestal of maple wood that was turned on a large lathe by a local wood-turner craftsman.