Designer Karen Kettler explains how she transformed a builder-grade kitchen into a graceful, architectural showstopper.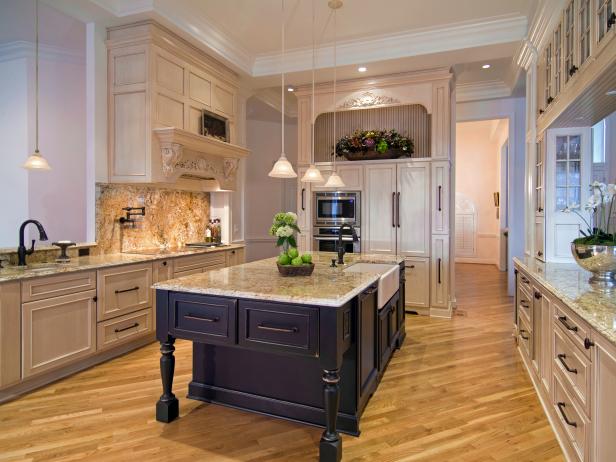 Old World Kitchen With Custom Moldings
Mushroom-colored walls and cabinets, combined with golden granite countertops and custom wood moldings, complete this Old World kitchen remodel.
Homeowners turned to designer Karen Kettler of Metropolitan Kitchen & Bath to create a kitchen that would serve as a central gathering spot in the home. Karen designed a spectacular Old-World kitchen that visually and physically connects the spaces around it.
Karen shares how she achieved the warm and inviting design with decorative molding and a custom hutch.
What was on the homeowners' wish list?

The kitchen renovation was driven by the homeowners' goal of having a more traditional and open space. Our objective was to blend the two rooms while maintaining an elegant balance.
What main issue did the design address?
A large blank wall divided the living room and the kitchen. The high, flat ceilings made the space feel cold and impersonal. By eliminating the wall and adding molded ceiling beams, we created a warmer, more intimate space. With ceiling height ranging from 12 to 16 feet, proper proportions and blending moldings was a challenge.
How did the end result match the original vision?
The original plan only included the kitchen area. After framing the kitchen, the homeowners realized that the breakfast nook needed attention as well. We continued the molding and added a window seat to complete the room.
What are the hidden gems in the room?
The pass-through hutch houses dishes, silverware, small appliances, a wine cooler and an ice machine. The island serves as a prep station on one side and cleanup on the other. An extra dishwasher drawer was installed on the cooktop for pots and pans.
Describe the lessons you learned.
Finding the correct proportions and combinations of carved details is very time-consuming. In the future, I will allow more design time for complicated moldings.