Full Makeover for a Dated Kitchen
Decorating Den designer Joan Suzio, LEED, AP, started out thinking she was just helping touch-up a dated kitchen; but one thing led to another, and a major kitchen overall completely turned the space around.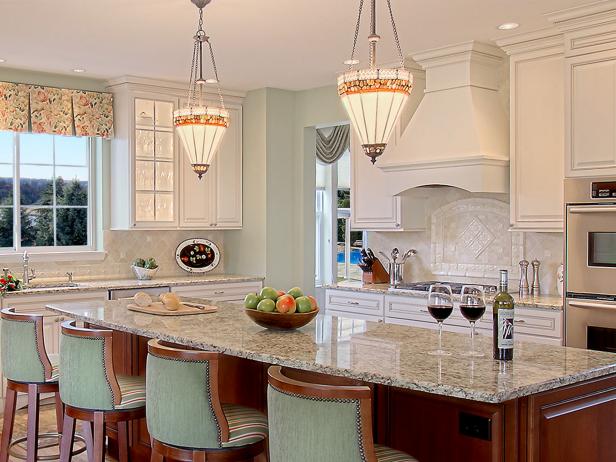 Kitchen With Spacious Island
After the remodel, this transitional kitchen feels more open. Overpowering floral wallpaper was replaced with a charming floral valance, and two decorative pendant lights act as the focal point above the new island.
Norman Sizemore / Mary Beth Price
Sometimes when you fix up a few things in a room, the changes open your eyes to other design blunders. A full makeover later, designer Joan Suzio gave this homeowner better storage with more drawers, a big island, new equipment, and a perky spring palette of apple green.
Describe the homeowner's wish list.
It grew from the initial goal of a modest cosmetic touch-up (granite counters and millwork to dress up existing cabinets) but then became a full-scale kitchen remodel with layers of lighting, custom backsplash, cabinets, appliances and new furniture. Only the hardwood floor did not need redoing!
What was the biggest issue the design addressed?
The cabinets were not just dated and inexpensive; the storage within was not functional, and the family needed more of it. The room layout was fine, but all the base units were door cabinets – the cheapest way for a builder to pull together a kitchen. We badly needed to add drawers. The full height of the 9'-high wall wasn't utilized for storage with the poorly built cabinets, so that offered opportunity.
Describe an obstacle in the space.
Working round a busy family of four to give them back their kitchen all finished as soon as possible.
How did the end result match your original vision?
Initially, the client called me back in after we did a few small decorating projects when they first moved in 13 years ago and had limited funds. I'm going to admit that I did help her select the fruity wallpaper seen in the before pictures! She wanted to select paint for her main floor and get some hints on what to do to update the kitchen. We progressed from fixing the horrible lighting and new counters, stripping the paper and painting, and adding a new island and existing perimeter cabinets, to realizing that the new cherry island and custom hutch were going to make the perimeter cabinets look really shabby. We ended up ordering all new cabinets and then adding new furniture.
What lessons did you learn from this project?
This was my first ever kitchen remodel, and there were many lessons. Communication with every contractor is so key! It can make or break the work. Next time I will be better in preparing the client about expectations, especially time frames, of how long a project can take. The difference that carefully designed layers of lighting makes in any space to enhance the decor and set a mood are amazing.
What are the hidden gems that make a big difference?
The detailed design of the tile backsplash was a major element in making the room much more special. We had a talented tile designer. I liked the chandeliers but did not anticipate that they would have so much impact on the room design. Drawers and pullouts are so important, too!