How Much Does It Cost to Install an Above-Ground Pool?
Learn the average cost to put an above-ground swimming pool in your backyard, and how shape and size affect the price. Plus, find out about maintenance costs and water filtration options.
If you need a pool with fast installation or a budget-friendly price tag, you may want to consider an above-ground pool. Above-ground pools arrive in a kit form and take anywhere from 1 to 3 days to install. They are at the lower end of the cost spectrum compared to in-ground pools. You can buy a kit and pay a professional to install it, or even set it up yourself if you're up to the task. There are many factors that can affect the cost of an above-ground pool, but shape, materials, installation and maintenance are some of the major factors to keep in mind. You may also need to budget for a permit if your community requires it, and fencing to safeguard your pool.
Whether you DIY it or hire a pro, you'll have to provide a flat, compacted base free of any protrusions. This could mean anything from clearing out rocks to excavating tree stumps and leveling an area of your yard. Depending on the scale of work, expect to pay anywhere from close to nothing to several thousand dollars.
Materials: Frames + Liners
The material of an above-ground pool heavily dictates the cost. An inflatable pool or a soft-sided pool is significantly cheaper, but they're not very durable and may start to break down within a year or two. Hard-sided pools will cost more but give you a lot more bang for your buck in the long term.
Among hard-sided pools, the most common materials for the frame are steel, resin and aluminum.
Steel is typically the least expensive. It's a strong material that takes a while to rust, however, it is susceptible to corrosion and oxidation and has the shortest lifespan.
Aluminum is much lighter than steel and is one of the most expensive materials for above-ground pools. It handles the elements and extreme temperatures well and resists rust and corrosion. However, it's more prone to oxidizing, which can lead to holes.
Resin pricing falls in between steel and aluminum. It doesn't rust or oxidize, and it won't heat up like steel or aluminum, but, it is more likely to experience wear and tear from UV exposure and cold weather.
In addition to the frame, you also need to pick a liner, which is the part of the pool that actually holds the water. It's beneficial to pick a high-quality liner since this is the component that contains the water and is most likely to need replacing down the line.
Vinyl liners are the easiest to install and also the least expensive.
Beaded liners cover the interior of the pool without overlapping the edge. These are trickier to install and thus more expensive.
Expandable liners are the most durable option and also the most expensive.
Shape plays a large role in the final cost since some shapes are easier to install than others. Above-ground pools come in round, oval and occasionally rectangular shapes, so you are limited to what is available. Round shapes are easiest to install, which means you will typically pay less. Pros charge more for oval shapes because these are more labor-intensive to install. "Round pools are going to be exponentially less expensive because they don't have the buttresses or the compact supports on the sides that oval above-ground pools have," says Johnny Davis, executive vice president at Royal Swimming Pools in Memphis, Tennessee. Oval pools require braces and compact supports that must be anchored in the ground with poured concrete. "This takes a lot more time, energy, materials and therefore money," says Davis. Rectangular pools will cost the most since they require the additional installation of decking to support the shape. Keep in mind that round shapes tend to last the longest because they are structurally the strongest shape.
As can be expected, the larger the pool size, the greater the cost. This goes not just for the diameter, length or width, but also height. Above-ground pools have sidewalls that range from 48 inches to 54 inches high. Taller walls can increase the cost of a pool kit by several hundred dollars, and a larger diameter can affect the price even more. "Cost increases as the size or depth of the pool increases, as it takes more materials to build and more labor to install," says Kathryn Heg, pool expert at Leslie's.
With all these factors in mind, expect to pay anywhere from $1,000 to $5,000 or more for the kit itself, plus another $1,000 to $4,000 for labor to install the pool. "That price is dependent on many factors related directly to the pool such as size, shape, the brand — which affects the quality, and material — along with external factors such as time of year, location and existing landscape," says Heg. Some pool kits come as complete packages that include such necessities as a pool filter, pump system, pool cover and access ladder. If you have to buy these items separately, you'll spend an additional $500 to $1,500.
Pool Features + Customizations
Many higher-end above-ground pools include decking and railing options that are included in the price, but you may also want to install a pool deck on your own. Pool decks allow you to lounge by the pool and also offer a nice vantage point to keep an eye on children in the water. Installing a large deck will cost significantly more than a small, functional deck at the pool entry.
You can add any number of additional features to upgrade your above-ground pool. For safety, you may want to invest in fencing, a locking gate, and a surface alarm. You can also add landscaping to better integrate the pool into your yard, or water features such as a waterfall. A pool heater is a useful feature, especially if you live in cooler climates, but keep in mind it will incur higher energy bills. You will also likely need to pay an electrician to install a pool heater.
The most common pool systems for above-ground pools are saltwater and chlorine. However, saltwater systems corrode metal over time and can reduce the lifespan of steel and aluminum pools. Resin pools are more compatible with saltwater systems, though even resin pools have metal components. "Regardless of if the pool has resin or not, it still has a lot of metal components – just like your pool's equipment," says Davis. "The resin will mitigate the damage and is a great choice for homeowners who live near the ocean, but salt will still corrode metal over time."
Saltwater and chlorine systems are two of the most common pool sanitization systems. Learn about the pros and cons of each system and find some new alternatives to each.
Maintaining an above-ground pool involves many of the same costs associated with in-ground pools. You can hire a professional to maintain your pool for an average cost of $75 to $150 per month. Some pool cleaning services may charge extra for pools that don't have decking since access is more difficult. You can also perform DIY maintenance, though you'll still need to pay for supplies and chemicals.
You will need to run your pool filter every day, which can drive up energy costs. You must test the pH and chlorine levels daily and, if you have a chlorine pool, add the necessary chemicals to maintain the balance. "Your biggest maintenance cost will be your chemical consumption," says Davis. "Most customers tell us that they spend $300 to $500 on general maintenance a year, mainly on chemicals."
Another cost that is sometimes overlooked is the upfront cost of filling your pool with water. Unless it's small enough to fill with a garden hose, you will need to pay for a water truck to fill your pool. "This cost varies across the country, but it isn't cheap anywhere," says Davis.
The longevity of an above-ground pool varies greatly according to factors such as material, shape and overall quality. On average, an above-ground pool made of steel, resin or aluminum may last anywhere from 8 to 20 years. However, the pool liner will deteriorate much sooner with a lifespan of 5 to 10 years. A replacement pool liner will cost around $100 to $500, with an additional $200 to $1,000 for a professional to install, depending on the size and shape as well as the extent of the damage.
Winterizing your pool is important to prevent damage such as cracked walls, algae growth, or damage to your pump, filter and other components. Winterizing an above-ground pool entails adjusting the chemical balance, cleaning the pool, draining most of the water and pool equipment and adding winterizing chemicals. If you pay a professional to winterize your pool, you can expect to pay an average of $150 to $300. A pool cover can also help protect your pool during winter. These cost anywhere from under $100 for budget models to several hundred dollars for sturdier and more efficient models.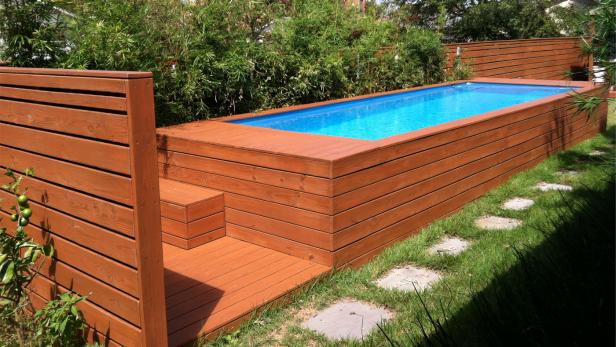 From Dumpster Gets the Glamour Treatment
You'd love to have a backyard swimming pool but are deterred by the costs. Is there an affordable option? If you happen to be New Orleans based architect/designer Stefan Beese, there is a solution. Witness his step by step transformation of a dumpster into a stylish aquatic feature the whole family can enjoy.
Image courtesy of Stefan Beese, www.beesign-la.com
The main disadvantage of an above-ground pool is that it generally adds no value to your home. An above-ground pool is considered a temporary addition to the backyard even though you may have spent time and money incorporating the pool into your outdoor decking or living spaces, and your landscape. When it comes time to sell your home, you may find that it detracts from the overall aesthetic of your yard. But they are much more easily removed from your property than in-ground pools are.