How to Choose Healthy Plants
Learn what to look for when buying easy-care indoor plants.
The secret to a green thumb is knowing a plant's needs for water and light. Before buying any plant for indoor use, it helps to know where you are going to place it in your home so you can select the appropriate plant for those growing conditions, which include temperature and the amount of light it will receive.
Tips for choosing a healthy plant:
1. Check for insects by looking at the underside of leaves.
2. Avoid plants with drought stress, indicated by yellow foliage.
3. If you are unsure which plant to select, let someone from the nursery help you.
4. Be sure your container has a drainage hole in it, since plants don't like to sit in water. Add gravel to the bottom of the pot if it has no holes, and set the plant on top of the rocks (which create a platform for it).
These plants don't require a lot of attention and provide striking color and texture. No matter what your growing conditions are, you can find a plant that will thrive.
Corn plant (Dracaena) (Image 1) is a great choice for a sunny spot near a window. It comes in several forms, one with a broad leaf and white trim, another with spikier leaves and color variations. Another form of the dracaena is the false palm, which looks like a miniature palm tree.
Prayer plant (Maranta) has dark green spots on its leaves with red or white veining. It does well in low-light conditions but needs consistent watering.
We're sorry, there seems to be an issue playing this video. Please refresh the page or try again in a moment. If you continue to have issues, please contact us here.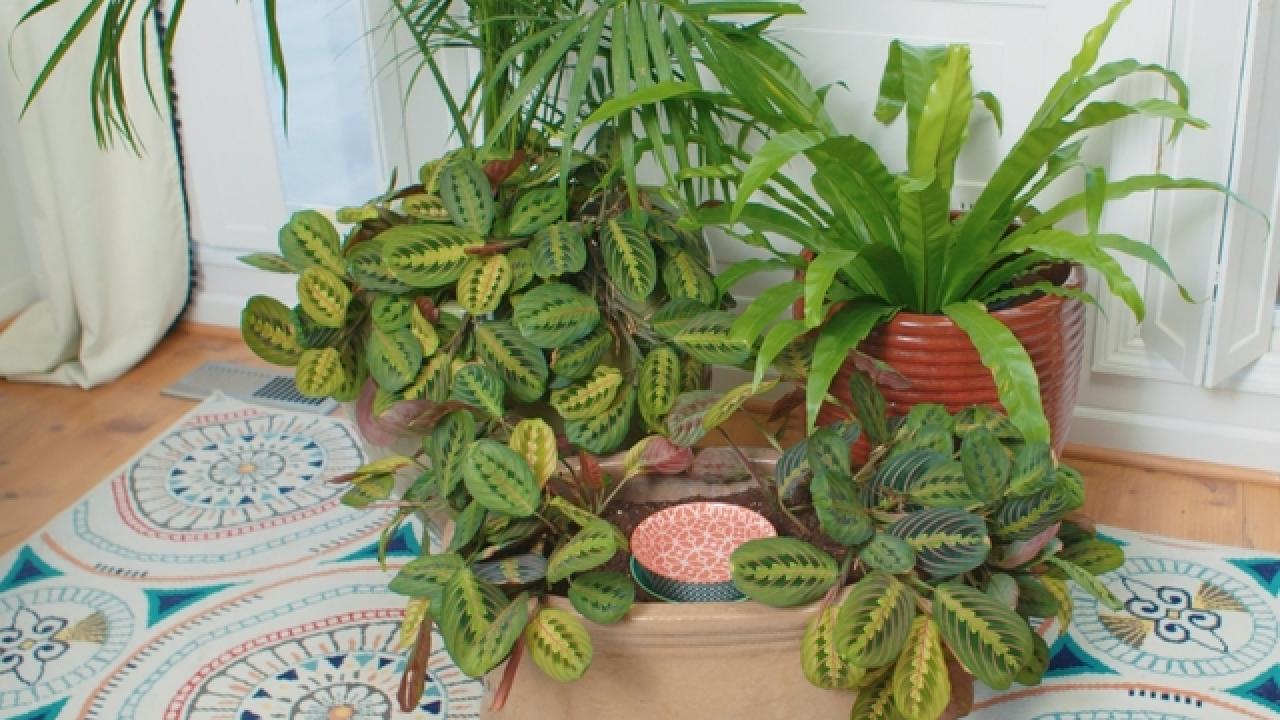 Snake plant (Sansevieria) (Image 2), a succulent that needs very little water, can thrive in a variety of conditions.
Peace lily (Spathiphyllum) (Image 3) has broad dark green leaves and bears a creamy white flower with a yellow center. It needs more moisture than some of the other upright plants and does well in moderate light conditions.
Easy to grow, begonia (Image 4) comes in a variety of colorful leaves, including red, silver, green and dark green and is easy to grow.
Devil's ivy (Pothos aureus) is one of the sturdiest and easiest plants for indoor gardeners to grow. Slow-growing, it has trailing leaves and foliage marbled with either green or white.
Chinese evergreen (Aglaonema) has bright foliage that works in low-light conditions. It doesn't flower, but the silver in its leaves offers nice contrast in dark spots in the home.