Daisy Flower: Types of Daisies
Discover the grace, beauty and versatility of the daisy family. Learn about some different types of daisies you can grow.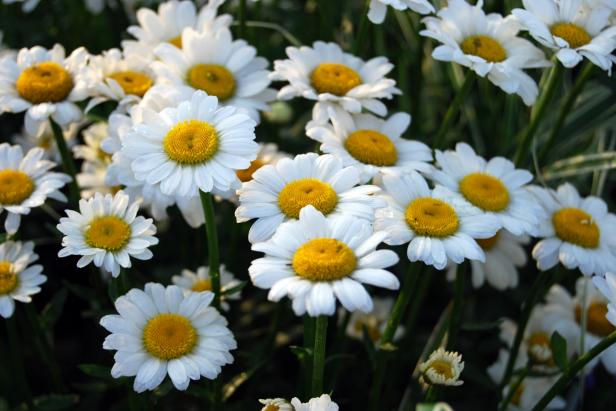 Leucanthemum "Darling'
Cheerful daisies, like Leucanthemum 'Darling', represent April birthdays. While they often symbolize beauty, innocence, love or purity, they can also mean, "I'll never tell." Sweet peas are also birth flowers for April.
Dress your garden with the easy-growing beauty of daisies. These charming bloomers convey innocence and carefree abandon with their classic daisy flowers. You can find different types of daisies to suit various garden styles, including cutting gardens, butterfly gardens and wildflower gardens. The daisy flower is the quintessential cottage garden plant and can even hold its own in xeriscape plantings.

Choosing the right daisy for your yard hinges, in part, on what kind of daisy flower you want. If you want a velvety petalled beauty with large, intensely colored blooms, choose gerbera daisy (Gerbera jamesonii). This group of daisies is a hands-down favorite for its jewel-tone flowers. The plants can be tricky to grow. They demand a fertile, moist but well-draining soil. Gerbera daisy plants are susceptible to crown rot, and the crowns tend to sink into soil over time. To keep plants alive, it's important to dig gerber daisies every other fall, replanting with the crown just above the soil line.

A less tricky-to-grow daisy is the Shasta daisy (Leucanthemum superbum). This perennial opens the classic daisy flower: white petals surrounding a gold eye. You can also find innovative flower forms among Shasta daisies, like doubles, yellow shades or even thin, twisted petals. Some Shasta daisies have so many petals that they engulf the center disk. All Shasta daisies prefer full sun and well-drained soil, but other than that, they're not picky. These bloomers are a snap to grow.

Ox eye daisy (Leucanthemum vulgare), the traditional wildflower daisy, is also an easy-growing perennial, but it has a tendency to become invasive in surrounding landscapes. In some states, planting ox eye daisy is prohibited. If you like the look of a wildflower daisy, try planting Shasta daisy instead. Ox eye daisy is one of the parents of the Shasta daisy. Modern Shasta daisies open more and bigger blooms than ox eye daisies.

The daisy flower season kicks off in early spring with English daisy (Bellis perennis). These tiny, richly hued daisies are sometimes called lawn daisies. They provide bright color in regions with mild winters and are sold at garden centers in autumn. English daisy typically disappears as warm weather arrives, but in areas with cool summers, the plants can self-sow prolifically, creating a carpet of daisy flowers. Many gardeners raise English daisies in containers with other cool-season annuals, like viola, pansy and sweet alyssum.

Montauk daisy (Nipponanthemum nipponicum), also called Nippon daisy, extends the classic daisy flower form into the fall garden. To stage the strongest fall show, prune plants in spring and again around the end of June. This keeps plants from getting too tall and floppy, which can ruin the fall display. Montauk daisy is perennial and has naturalized across the country. It prefers well-drained soil, like that found in and around Montauk, Long Island.