Give your garden a lift with raised beds. Learn how to design and use these elevated growing areas.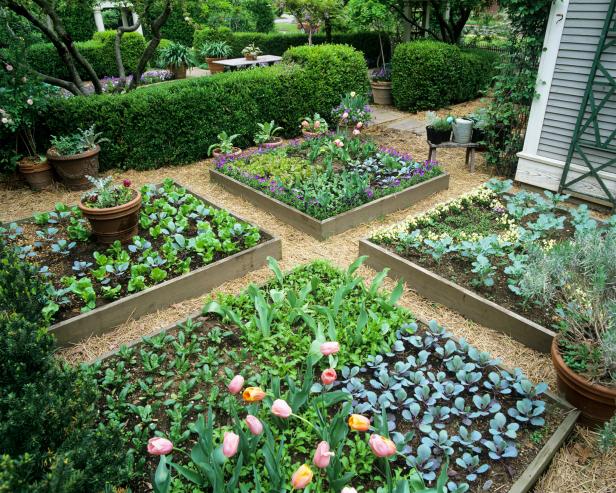 Intensive Gardening Allows a Lot of Produce to Grow in a Small Space
A formal garden at the urban cottage of P. Allen Smith in Little Rock, Arkansas, showcases several intensive gardening practices, including raised beds, containers and interplanting. Planting spring vegetable seeds around tulips is an especially clever idea that combines edible and ornamental gardening.
Photo by Jane Coclasure courtesy of P. Allen Smith.
Improve your yard's growing conditions to practically perfect with a raised bed garden design. These elevated planting areas offer numerous advantages, including creating custom growing conditions and higher yields per square foot. Whether you're growing vegetables, herbs or flowers, you won't be disappointed when you adopt a raised garden bed design.

When you decide to try raised bed designs, you're making a move toward better gardening. While growing in ground-level beds works well and gives great results, you'll discover several benefits to embracing raised beds. First, you have ultimate control over soil composition. You can customize the soil blend in your raised garden bed design to be exactly what your crops crave.
A raised bed garden design also lets you avoid dealing with difficult native soil, which is a gift when the native blend is hard clay or shale and tough to dig. Soil in raised beds drains better, which means wet weather won't stall—or rot—crops. In a raised bed, soil warms earlier in spring, so you can start planting sooner. This is particularly helpful in colder zones and in spots where the sun doesn't strike soil in early spring.
Most raised bed garden designs have defined paths, which means no one is walking on planting areas, compacting soil and giving plant roots a tough time. Keep the pathway aspect in mind with your raised bed designs. Make sure paths are wide enough to permit easy access with a wheelbarrow or garden cart. If paths are grass, you'll need to be able mow through that space. Do a dry run with your mower to make sure you have ample room.
Gravel or formal brick paths keep feet and crops clean and mud-free. Choose these types of materials to ensure you have good access to the garden no matter the weather. These hardscape materials also release heat around plants during the growing season. Mulch or landscape fabric offer more affordable options for paths to help prevent muddy walkways.
You care create raised garden bed designs by simply mounding soil. This method works best if you don't heap soil higher than six inches. Deeper beds maintain their shape better when you surround soil with a frame. Get creative with this and use materials you have on hand, like cinderblocks, recycled bricks or even stones. Of course you can also purchase rot-resistant lumber and build a bed.
Individual beds should be wide enough that you can easily reach into the center from either side. A good rule of thumb is to have 2-foot-wide beds if they're accessed from one side only and three- to four-foot-wide for access from both sides. Research raised bed designs that accommodate things like trellises or hoops to support a cold frame, bird netting or row covers.
If you battle gophers or moles, line the bottom of your raised beds with hardware cloth or chicken wire to exclude these digging critters. Add a low fence to bed edges to help keep rabbits away from crops.
As you select a site for your raised bed garden design, choose one near a water source to make irrigation easy. If funds permit, you might explore incorporating soaker hoses or drip irrigation into beds to make watering a hands-free affair.