Landscaping Tips and Solutions
Trust these tips for landscaping solutions in every budget range.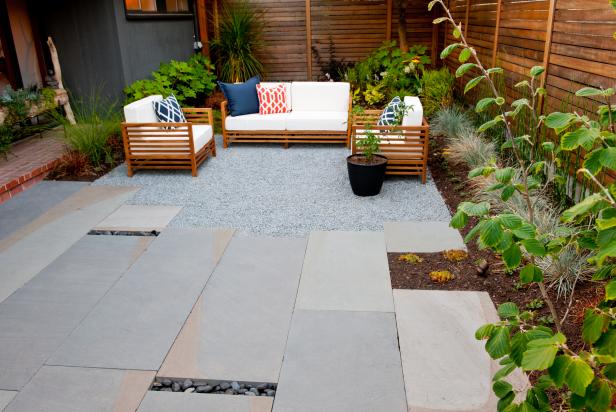 Modern Courtyard with Stone Pavers, Seating and Cedar Fencing
Bluestone paving with pebble accents, crushed granite and cedar fencing work together to transform what was previously an RV parking space into a modern courtyard. The lines of the furniture mimic the lines of the cedar fencing.
Coreen Schmidt Photography
Every yard has issues, but our landscaping tips and solutions can help you transform problems into curb appeal! Whether you're looking to boost color, create a focal point, clean up your yard's lines, deal with a hill or slope or build a wall, fence or other barrier, we can help.
Problem: A sloped hill where grass won't grow
Solution: Terrace it. Don't fight the hill, befriend it! Terracing a small area of your yard can be as simple as moving a bit of dirt around and installing landscape timbers or railroad ties. It can also be more complex and may require professional landscaping equipment and the construction of a concrete or block retaining wall. Either way, don't let that hill get the best of you. Tame it with levels for grass, flower beds or vegetable gardening.
Solution: Go sleek and minimal. If you backyard is a flat, empty rectangle, don't worry about filling it up with expensive trees and high maintenance plants. Use geometry and divide it into squares or zones. Vamp up a blah backyard by turning it into a concrete or brick courtyard complete with a sleek sitting area, a play zone, and a backyard garden. You don't have to forego all plant life, just make sure whatever you choose has clean lines and requires little maintenance. Install manageable areas of grass or groundcovers and low maintenance perennial flowers and shrubs for maximum effect with minimal output.
Solution: Use it as a backdrop. Although most enclosed backyards have fencing rather than walls, both walls and fencing don't have to be dead ends. Use them as backdrops for your outdoor living space. Build an adjacent patio or barbecue pit against the wall. Cover a wall or fence with a running vine such as ivy and build a water feature in front of it to create a quiet sitting area.
Solution: Think of it as a runway. Are you in an attached townhome or brownstone with a long narrow yard? Get creative with your long, narrow space by treating it like a fashion runway. Design a stone or brick path down the center and plant vibrant flowers and tall shrubs on either side. Consider saving space for a dining nook at the end or along one of the sides. This design can be an easy way to create a low maintenance solution for an odd-shaped outdoor living space.