Solving Common Drainage Problems
Find out how to identify and solve these yard drainage issues.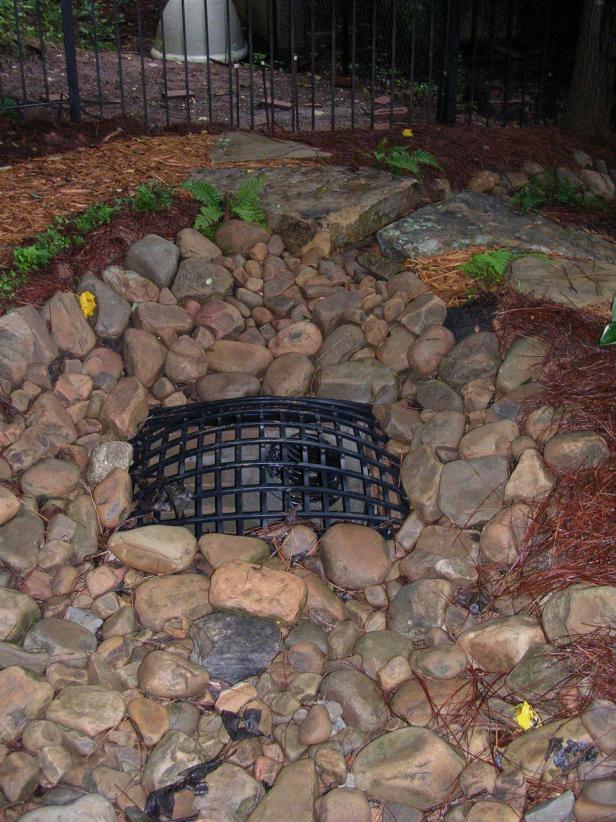 Natural Selection
One popular solution to a drainage problem is to route rain water to a low point in your yard where it can flow away from the house naturally over rocks in a dry creek bed. In particularly heavy storm events, the debris washed away from by excess water will be captured in a catch basin (pictured).
Image courtesy of Landscape Studio, www.landscapestudiogroup.com
One popular solution to a drainage problem is to route rain water to a low point in your yard where it can flow away from the house naturally over rocks in a dry creek bed. In particularly heavy storm events, the debris washed away from by excess water will be captured in a catch basin (pictured).
Almost every homeowner has had to deal with a drainage problem in their yard at some point. Whether the condition has resulted from too many rain events in the season and not enough pitch to your yard to effectively route the water away from the house or something else, there are always solutions to the problem.

Atlanta based landscape architects Jim Lesti of Landscape Studio and Holly Brooks of King Landscaping offer tips and remedies to some of the most common drainage issues homeowners face in yard and lawn maintenance.
Problem #1: Yard Slope or Pitch
The majority of drainage problems are usually caused by an inadequate pitch or slope in your yard which prevents water runoff from being diverted away from the house. And the issue is often complicated by downspouts on the residence that do not pipe away the rain gutter water from the property.

"The books say lawns can be as low as 2% and pitch water away properly, but we have found 3% is the minimum," Lesti says. "When lawn areas are less than this, a French drain or catch basins should be used. You can also create a low area, known as a swale (shallow gully) to direct water away." But it is always preferable to have runoff water flow naturally overland without resorting to catch basins or French drains because they often clog over a period of time.

Lesti states that drainage problems sometimes arise, "because the house has been set too low by the builder. If you have a basement, you can waterproof the block to fill and then pitch away." You can also install a sump pump system to pump the water out. But if you don't have a block basement, you can't solve the problem by trying to create a pitch with fill dirt against the foundation. "If it's cedar siding or clapboard or even brick, it will start rotting on the inside of the house." It can also attract termites. The usual solution in this situation is to install a French drain around the house. Lesti describes it as "a perforated site with little holes in it under the ground. You wrap it in cloth - what they call a sock pipe - so that dirt doesn't get into the holes and clog it up. Then you bury it in gravel and water seeps down through your lawn or landscape into this French drain." The water is then pitched to a low point in the yard that is away from your house and emerges at an opening referred to as the "daylight." Keep in mind that French drains can often get clogged up after three to five years and may need to be redone.
Problem #2: Front Entrance Walkway
Another major trouble area, according to Brooks, is "the space between the front sidewalk and the house. Usually the sidewalk will parallel the face of the house and there's an island in there. The sidewalk will act as a dam and retains the water in that area." Often downspouts are routed into this area which pour all of the water from the roof into this spot as well.

One way to solve this problem is to remove a portion of the sidewalk and replace it with stepping stones or creatively cut the sidewalk so the water can pass through it easily. "You can also go under the sidewalk and put in a pipe and a catch basin and pipe water underneath," Brooks suggests.

Trying to route the water across the yard surface is the best option but a catch basin is the second solution. Brooks describes it as a surface drain that looks like a black or green grate. "Usually they are a 6 inch round or a 12 inch by 12 inch square grate that keeps debris from getting in there and lets the water flow in," she notes. "The problem is that the bottom of the box has to be higher than wherever the pipe goes so the water can flow downhill. There's a myriad of things to consider when you're trying to figure out what to do with your drainage situation. Sometimes you don't have enough fall in order to evacuate water from a box so you have to keep the water on the surface."
Problem #3: Downspout Issues
A lot of new homes often develop drainage problems because builders don't install downspouts so rain water tends to stay in one area and is not diverted away from the house. At the same time, downspouts which divert water towards the house instead of away from it are also to blame. "You have to get it away from the house so you don't end up with water in the basement or close to the foundation," Brooks insists. Channeling the water to your property line and dumping it into your neighbor's yard is not the solution. The ideal approach is to figure out how to recirculate it into areas of your yard where it would do the most good.

Lesti states that if your yard is "perfectly flat all the way to the street, the only option is to create a pop-up. You pitch the slope of the drain pipe. It goes down below grade and at the end of it is this thing called a pop-up which pops up out of the ground and the water spills into the street." The only problem with this is if you have a major storm or water event. The volume of water becomes too much for the pop-up to dispense quickly enough. "So the water will back up. Sometimes it backs all the way up to the downspouts and the roof because the gutters are overflowing." Alternatives to this are routing your downspouts into a dry creek bed or another subsurface drainage system.
Problem #4: Erosion From Water Runoff
Some drainage problems can result in erosion areas in your yard where excessive downspout water emerges from daylights or pipe openings. One way to fix this is by installing a dry creek bed to carry the water off. These are often ornamental in design and can add an attractive landscape feature to your yard. "To create a real natural look," Lesti says, "we use river slicks and big boulders and they work like a charm." The cost will probably be higher than installing a catch basin but to move excess water off your yard, it is best to have it flow across the surface in this natural manner instead of underneath the soil where clogging problems could occur. "A lot of times silt will start washing in and collect in the rocks," Lesti states. "We put a rubber liner down first and put the rocks on top. It acts like a water slide for the water to flow down through there."
Problem #5: Soggy Trouble Spots
Soggy areas in your yard that never seem to dry out could be caused by a number of issues. You may have underground springs or creeks that have fractured and are emerging in your lawn. The problem spot could also be caused by a large depression in your landscape where all the water is draining. Or it could be due to an improper pitch or slope in the ground.

One solution to bog conditions in your yard is to install a rain garden in that location. "It's a great way to keep water on the property instead of just sending everything straight to the curb and into creeks," Brooks notes. "An ideal rain garden is an area that has been excavated out and what's put back in that excavation is either an engineered soil or a gravel soil mix of some sort that will allow the water to be slowly absorbed into the soil surrounding it." These can be visually striking green areas when you fill them with water loving plants such as ferns and hostas. If your soggy area is in full sun, you might consider filling it with colorful perennials which could help solve the problem and add some pleasing landscape accents to your yard.
Problem #6: Impacted Soil Conditions
Often drainage problems can develop at new homes where the soil has been severely impacted by builders or when you install something new in your yard such as a swimming pool. Occasionally companies that install pools will excavate that area and simply distribute that earth around the pool location. If it is hardpan clay soil, it retains moisture for a very long time and may take a year or more to dry out. If you cover that with a lot of fill soil and plant grass seed on top of it, your lawn might never dry out. "If that occurs, Lesti suggests that "You need to come in and rototill the entire property, mix in good top soil, put in a French drain, get the proper slope and then replant the sod."

Brooks also believes that some soil conditions that result in poor drainage are completely man-made. "We get into a cycle where the landscape maintenance company comes every week," she says, "and they blow every last leaf off of the ground. All that's left is the soil and then you get a rain and the rain erodes the topsoil off of that and all you're left with is impacted red clay [a problem in the Southern U.S.]." The solution to this is to heavily mulch the area and give it some time to stabilize so that it becomes integrated into the ecosystem again. "Microbial activity and earthworms and things like that aerate the soil and help the water penetrate and get back down to the roots. If you have an incline, you can still absorb a lot of water without runoff problems as long as there is organic material there to help perpetuate that cycle."