Consider the Microclimates of Your Home
Give your houseplants the light, temperature and humidity they need.
When you venture to the nursery to buy a new addition for your garden, you've probably already thought long and hard about where that plant will live, taking care to consider the proper light, temperature and humidity requirements that it will need in a particular area of your yard. We'll show you how to be just as thoughtful of your indoor plants.
Microclimates are very important zones that exist within your home. If you have a plant that has failed to thrive, it may need a change of microclimate. All that means is that you might have to raise it off the floor, place it in a different window or let it hang out in a humidity tray.
To determine various microclimates in your home, you will study these four conditions:
Temperature
Patterns of light
Humidity distribution
Air circulation
iStockphoto.com/FeelPic
Hot and cold spots can exist all over your home. If your houseplant isn't thriving, small changes like raising it off the floor or placing it in a different window can help.
You may think that the temperature on your thermostat exists uniformly throughout your home. It doesn't. The temperature on the thermostat exists only where the thermostat is. Hot and cold spots, or zones, are everywhere. Warm air, for instance, tends to float to the ceiling while cooler, heavier air stays grounded toward the floor. Also, plants in a south-facing window will experience balmy conditions compared with those placed in a north-facing window.
To help you determine what kind of temperature variations really do exist throughout your home during the day, try using a maximum/minimum thermometer. When left in a location for a full 24 hours, this thermometer will record both the highest and lowest temps during that period. All you have to do is check in and look at the readings. Plants that need warm air may be getting a tad chilled at night, and plants that require cool temperatures may be heating up more than you realize.
Another important aspect of analyzing a microclimate is determining the intensity of light in a given area. Keep in mind that light intensity varies from season to season: in winter, the sun sits lower in the sky so light will tend to penetrate rooms more deeply; in summer, there will be less light coming in windows because the sun is higher in the sky.
These houseplants are perfect for homes and offices with little or no natural sunlight.
To get a reading on the amount of light your plants are receiving, you can use an instrument called an incident light meter. A handy tool for photographers, an incident light meter measures the amount of light that reflects on to a subject. Using the meter in different areas of your house will give an idea of relative amounts of light throughout your home and help you determine more precisely bright and dark locales.
The Zen Succulent
If your home's humidity levels are low, add more houseplants. The act of watering several plants will raise humidity for all of them.
Humidity is an often overlooked condition for plant health, and humidity, like temperature and light, can vary widely from room to room in your home. To measure humidity, you'll need a relative humidity gauge. Just move the gauge from room to room over a period of several days to get the readings you need.
To up the humidity level in areas of your home, there's one very simple thing you can do: grow lots of plants! The act of watering a number of plants will raise humidity for all of them. Another option is to provide high-humidity plants with a humidity tray. Here's how to make one:
Choose a large plant saucer with no drainage holes to use as your tray.
Fill the saucer with a base of pea gravel or marble chips. Add water to just below the level of the marble chips.
Place your plant or plants in the tray. The evaporation of water from the surface of the chips will raise humidity.
The final consideration when examining microclimates in your home is air circulation. Without the presence of a ceiling fan for good air movement, plants can develop fungus diseases. A little breeze helps prevent the problem.
Take the time now to explore the microclimates around your home. Then consult your favorite garden manual to learn the cultural conditions of the houseplants you grow. With just a little investment of time and research, you can easily place plants in your house where they will be happiest.
We're sorry, there seems to be an issue playing this video. Please refresh the page or try again in a moment. If you continue to have issues, please contact us here.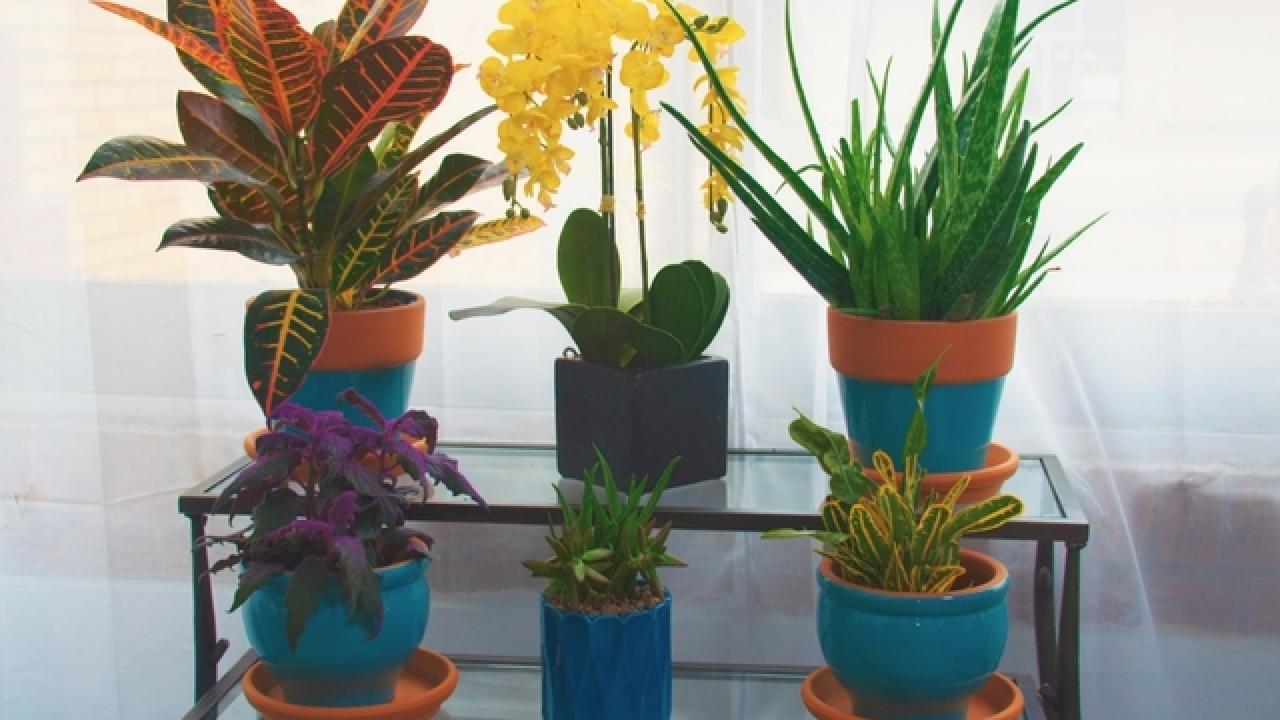 More Houseplant Tips and Ideas