Protect and Store Garden Tools for Winter
A little maintenance at the end of the growing season can help tools last for years.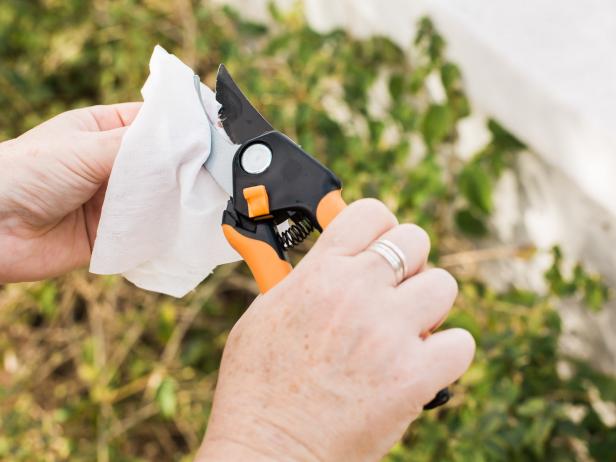 How to Clean Garden Tools
Step 7- Disinfect If you do have some plants with fungus or bacteria problems, you should consider also periodically disinfecting your garden tools. Keep disinfectant-bleach free-wipes handy to remove sap, bacteria or fungus from shears – so you don't spread anything from plant to plant through the garden tools
You've dug and stored your tender bulbs, moved vacationing houseplants back inside and mulched your garden beds. Before wintery weather arrives, don't forget to protect and put away your valuable tools, too.
If you've rinsed off and dried your rakes, shovels, trowels, garden forks or other hand tools after each use, you won't have to do much at the end of the season. But if they're dirty, don a pair of goggles before using a stiff-bristled brush to scrub off any mud or rust. Fine sandpaper or steel wool will take care of small, rusty spots.

Sharpen any dull tools you use for digging or cutting and file down nicks. Wear heavy gloves to protect your hands while doing this. Don't have the proper files or sharpening stones? Your local hardware store or garden center may be able to handle these chores for you.

Next, gently run your hands down the wooden handles to check for cracks or splinters. A medium-grit emery cloth or a piece of sandpaper will smooth rough, weathered wood. Replace broken wood handles; tapes and glues don't usually last. To remove a tool head from the handle, protect your eyes with safety goggles and strike the head with a ball-peen hammer. Never hit metal with a nail hammer, which can cause dangerous metal fragments to fly off.

Coat the metal parts of your tools with light oil or spray them with a lubricant like WD-40 before putting them away. To protect the wooden handles, apply linseed oil. Hang your tools in a shed or garage, out of the weather, until you're ready to use them again. If you prefer, keep small hand tools stashed in a bucket of sand mixed with oil; it will help guard against rust.
Most small, gas-powered, air-cooled engines last longer if you drain the fuel before they're stored. Otherwise, the alcohol in the fuel can eventually degrade plastic and rubber parts, plus it attracts moisture than can cause the tank to rust.

Always read your owner's manual for specific instructions on storing your lawn mower, trimmer or other small, gas-powered machine.

In general, run your gas mower until it's out of fuel. Otherwise, add a fuel stabilizer, sometimes called a fuel protector, to a full tank of fuel. Then run the engine for a few minutes to let the mixture circulate. Turn the engine off and top off the tank with more fuel.

Next, disconnect the battery and spark plugs, so the mower can't accidentally start. Remove the blade and sharpen or replace it, as needed. Follow the manufacturer's directions to drain and change the oil or oil-and-gas mixture in your mower.

Clean the frame, and gently turn the mower on its side to wash underneath with a hose. Scrape off any stuck-on dirt or clippings with a tool or putty knife. (Never get into the habit of working around the blades with your hands.)

When the mower is clean and dry, replace the spark plugs. Check your owner's manual for any additional care directions, such as replacing air and fuel filters. Keep the mower in a dry, protected shed or garage, away from the furnace, water heater and any appliances with pilot lights. Wait until you're ready to mow again before re-connecting the battery and ignition cable.

If you have a string trimmer, replace the line now so you'll be ready to go when everything starts growing again.
Wash your sprayers inside and out with soapy water, using a sponge or scrub brush. Spray some of the soapy mixture through the lines to clear them. Then rinse thoroughly with clean water, spraying again to flush the lines. Allow the sprayers to dry thoroughly before storing them out of the weather. While you're at it, store the chemicals you use in the sprayers away from freezing temperatures.
Remove nozzles and drain the hoses. When they're dry, mend any leaks with electrical tape or garden hose repair tape. Replace the ends of hoses and washers, if needed. Coil the hoses to keep them from kinking and hang them out of the elements.