Why You Should Grow Paste Tomatoes
Meet the tomato that's a natural for sauces, roasting, drying and a host of other yummy uses.
Paste tomatoes go by a host of names—paste, roma, plum or sauce tomato. Each is slightly different in terms of shape or size, but they all deliver one thing: meaty flesh with thick walls and small seed sacs, which means each tomato brings lots of useful goodness to the kitchen.
Unlike a classic slicing 'mater that leaves juice running down your chin, paste tomatoes have a thicker, meatier flesh. The low water content makes it the go-to tomato for brewing rich sauce or tangy salsa. Thicker skins slip off easily. The combination of drier flesh tucked inside thick skin means paste tomatoes boast a longer shelf life. Acidity varies with specific paste variety, but in general, roma tomatoes offer a milder acid content than a typical beefsteak slicing tomato.
In the kitchen, paste tomatoes are amazingly versatile. They prep in lots of easy ways that allow you to skip canning and fill your freezer with garden-fresh flavor. The small seed sacs are a snap to scoop and toss, if you want them out of the way.
So why should you be growing paste tomatoes? Here are six simple reasons this beauty needs to be in your tomato patch (or pot).
Paste tomatoes are known for their hefty harvest. The plants do tend to be indeterminate, which means they grow all season long, adding inch after inch to stems. Strong stakes are a must, especially when you see how much fruit forms in each cluster. This variety is 'San Marzano', which is often touted as the best roma tomato. The oblong fruits serve a sweet flesh with low acidity and easy-to-peel skin.
Most roma or paste tomatoes ripen later in the growing season—early to mid-autumn in Zones 5-7. The later harvesting times work well with other summer canning efforts, slipping into the season where cooler nights make a hot kitchen more bearable. That's good, because now that means you can move on to making the next paste tomato treat: slow-roasted tomatoes.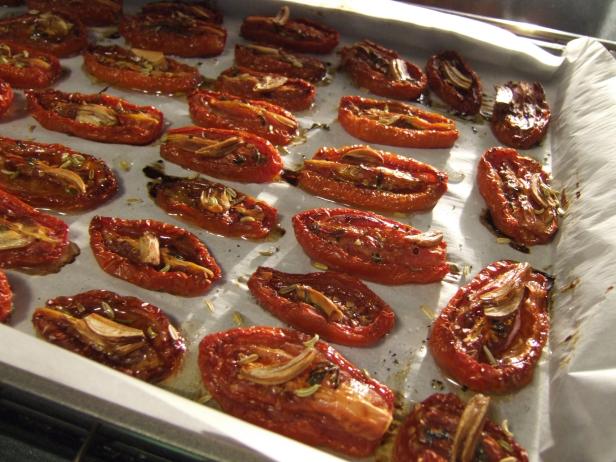 Slow-Roasted Roma Tomatoes
Slow-Roasted Roma Tomatoes With their low juice content, roma tomatoes are perfect for making slow-roasted tomatoes, which are oven-roasted for seven hours or more. Freeze slow-roasted roma tomatoes in snack size zipper bags for easy access in winter to add to pizza, bruschetta or sauces.
Paste tomatoes are the go-to choice for slow roasting. Simply slice tomatoes in half, arrange on a rimmed, parchment-lined tray, drizzle with olive oil and season with salt, pepper and fresh herbs. Slow roast at a low oven temperature—a 275-degree F oven for 5 or more hours yields a result that's smoky, caramelized and perfect for winter eating. Slip the roasted romas into zipper bags, arranging in a single layer, and freeze. You'll be able to grab summer-fresh flavor one tomato at a time for adding to pizza, bruschetta, pasta, omelets or sauce.
Paste tomatoes whip into a fantastic sauce you can serve or freeze for later use. Sauté garlic and/or onion, add chopped paste tomatoes (run through a food mill to remove skins and seeds), cover and cook until tomatoes soften and fall apart. Then uncover to allow sauce to thicken. Toss in a handful of favorite herbs—basil, parsley, fennel—once the sauce is thickened. This is the kind of sauce you can bring together in half an hour and serve a meal that's terrific for guests or family suppers.
Surprise—paste tomatoes make great homemade tomato paste! Peel and core tomatoes, run them through a food mill, and cook down the result in a parchment-lined pan in a 300-degree oven. Freeze your paste in ice cube trays, and dump into plastic zipper bags. Use your paste all winter long in soups, sauces and whatever else can use a shot of garden-fresh tomato.
Pop whole paste tomatoes into plastic zipper bags and freeze for later use. When you need a tomato to enrich a soup or sauce, grab one (or more) from your freezer stash. Or use the whole bag to whip up a batch of yummy sauce for pasta. Skins will slip off easily when you take the tomatoes from the freezer.