7 Ways to Prevent Tomato and Potato Blight
Early and late blight can affect both tomato and potato plants. Learn how to protect your garden and keep these diseases at bay by following these prevention tips.
Tomato blight refers to a family of diseases caused by fungus-like organisms that spread through potato and tomato foliage, particularly during warm, wet weather. Potato plants can also succumb to these infections. Blight spreads quickly, causing leaves to discolor, rot and collapse. The two best-known varieties are early blight, caused by Alternaria solani fungal spores and late blight, a result of Phytophthora infestans spores ("Phytophthora" aptly translates to mean "plant destroyer"). The former striking early to mid-season and the latter mid-to-late, blights are the bane of many home gardeners, rapidly attacking tomato plants and abruptly halting production as it spreads quickly through the garden.
What Does Tomato Blight Look Like?

Early blight is characterized by concentric rings on lower leaves, which eventually turn yellow, wilt and drop. Late blight displays blue-gray spots, browning and dropped leaves and slick brown spots on fruit. Although the diseases are caused by different spores, the end result is the same. For tomato and potato growers, blight can be devastating.

As temperatures rise and rainfall increases, the risk of infection is high in home gardens. The best offense is a good defense when contending with tomato blight. An undetected infection can quickly put an end to summer tomato and potato crops, but steps can be taken to rescue at-risk plants. If tomato blight has reared its ugly head in the garden this year, a change in maintenance and tactics to limit the spread of the disease may prevent drastic plant losses.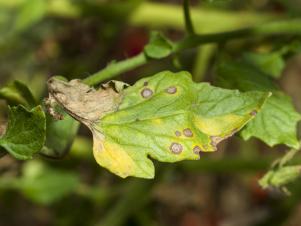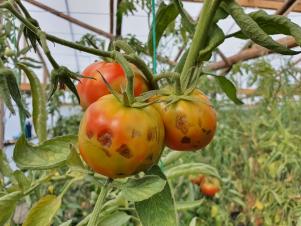 Signs of early blight include brown rings appearing on the plant's leaves. With late blight, the leaves and tomatoes will get brown spots.
How to Prevent Tomato Blight
1. Select Resistant Plants
Some tomato plants have been developed to reduce susceptibility to blight issues. When purchasing plants, look for blight-resistant varieties and always purchase from reputable sources.
Plant tomatoes in a different part of the garden each year and avoid planting near potatoes, in which late blight may overwinter.

3. Allow Space Between Plants
Blight thrives in wet conditions. Give plants plenty of room to provide good airflow and use stakes or cages to keep vines off the ground.

4. Use Mulch Around the Base of the Plants
Applying mulch around the base of tomato plants cuts back on the spread of spores that cause blight. If blight becomes a problem, surrounding mulch may harbor spores and should be disposed of off-site (do not compost infected plants or mulch).
Using drip irrigation or soaker hoses to water the soil around the base of plants helps keep foliage dry, cutting back on the spread of blight.
Keep your plants happy. Here are the top 10 do's and don'ts for efficiently watering plants.


6. Inspect Plants Frequently
Catching blight early can be effective in preventing the spread between plants. If blight is detected on shoots or leaves, remove them from the plant and dispose of diseased foliage off-site. Blight spreads quickly, and in some cases destroying entire plants may be necessary to protect adjacent crops.
Copper fungicides can be effective in combating blight, but must be carefully applied. Follow manufacturer instructions, wear protective clothing during application and always wash fruit before consumption.
Love tomatoes? Get ready for your best harvest yet, thanks to these easy-grows-it tips.