How to Capture and Save Seeds From Herbs and Flowers
Don't let seeds from your plants and flowers go to waste. Learn how to use seed bags to collect and save seeds for next season.
Keep in mind: Price and stock could change after publish date, and we may make money from these links.
How many times have you intended to collect and sow seeds from the garden but time got away and you missed the timing of dispersal? If you want more of your favorite plants to grace other places in the yard, harvesting seeds can be fun and rewarding. It's also nice to be able to pass along seeds from the plants you love to neighbors, friends and family.
Seed bags can eliminate the guesswork about when plants will drop their seeds. A variety of small fabric drawstring bags can be found at retailers that sell crafting supplies and party favors. Organza, muslin and linen are all suitable — they're open-weave enough for good airflow but the weave is tight enough to catch the seeds. Fabric bags will stay fresh and intact, and allow for evaporation after a rain.
Bob Farley
Aster seeds are wind-dispersed by plumes attached to the fruits. Shortly after ripening, the plumes function as parachutes, carrying the seeds away from the parent plant.
When harvesting seeds from garden herbs and flowers, it is helpful to better understand the types of seeds and their varying dispersal methods. Plants have evolved over time to develop unique methods of scattering their seeds to ensure success in reproducing the next generation. Some seeds have feathery attachments to be carried by the wind. Fleshy fruits and meaty nuts attract animals to eat seeds and carry them far away, while some seeds have burs or sticky coatings to attach themselves to fur and hitch a ride. Tiny protein-rich bodies attached to seeds of many forest plants entice ants to carry the little seeds away. Thick and buoyant shells and capsules help floating seeds travel by water. A seed might be enclosed in a hard capsule, and when hit with rainwater the capsule will soften, and out splashes the seed. And some plants have triggered mechanisms to catapult their seeds away from the parent plants. Seeds ejected in this way and seeds that have pods that crack and fling can be difficult to catch. A seed bag is an easy solution for collecting seeds from plants that rely on wind-dispersing, insect-dispersing and catapulting methods.
With wind-reliant dispersal, each seed will have plumed or winged devices to catch a ride on the wind. Wind-dispersed seeds might look like a dandelion, or they might be tightly encased in pods, like milkweed plants, where the feathery filaments are seemingly braided together until the pod dries and cracks open. The seeds' plumes unfurl, separate and are blown away. With larger milkweed pods, a rubber band might work better to keep seeds from flying away. When the pod cracks, simply pull out the mass of braided filaments and pull the seeds away from the hairs. For asters, little drawstring bags will keep seeds from flying away.
Celandine poppy capsules explode when they split, and ants will carry the tiny seeds away. A seed bag will allow for collection, and then the seeds can be stored in the refrigerator and kept moist until it's time to sow.
In the case of triggered seeds, seed bags will come in handy to capture seeds before they're flung away. If the plants are propagated by ants who steal and disperse the seeds, the bags will help prevent the ants from getting to the seeds. Bags also work well for collecting seeds from pods that twist or split and spill. Placing a bag over the capsules or pods before they split will ensure the perfect catch.
Bob Farley
In the case of collecting seeds from lenten roses (Helebore spp.), the flowers nod, and it is difficult to keep an eye on the progression. Pods will develop, swell, change in color from green to brown, and then will split open to spill the seeds.
Be sure to research how your seeds should be stored and sown. Depending on the species of plants, seeds will require different temperatures, treatments and germination conditions. Follow guides for wet and cold storage. For dry seed storage, after you've caught the seeds, remove the seed bags and pour the seeds into paper bags or envelopes, and properly label them with the name, date and location of harvest. Storing the seeds in paper allows moisture to evaporate and discourages mold. Carefully sorting and storing seeds will help to ensure germination and growth of healthy plants when the next season rolls around.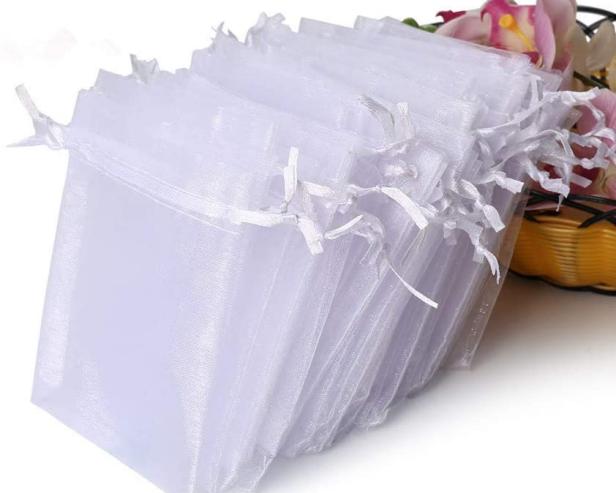 Normally used for party favors or storing jewelry, these organza bags can also be used for capturing and storing seeds.
Buy It