Growing Carnation Flowers
Wonderfully fragrant and old-fashioned, carnation plants bring scent-sational beauty to the garden.
Keep in mind: Price and stock could change after publish date, and we may make money from these affiliate links.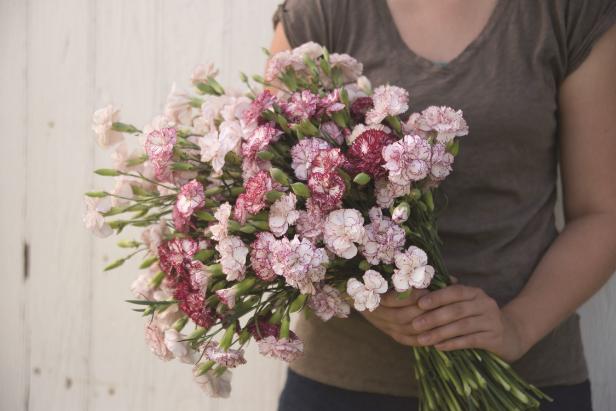 'Chabaud Benigna' Carnation
Fascinated with carnations? Consider trying your hand at growing carnations. These nostalgic bloomers open flowers in a host of hues, from white and pale yellow, to red and pink shades. Botanically, carnation plants are known as Dianthus caryophyllus and have been a floral favorite for more than 150 years.
The first carnations came to the United States in 1852 as part of a French flower shipment. The flowers' spicy clove scent and long-lasting blooms quickly earned carnation plants a devoted following. At one point, carnations went by the name of clove gilly flowers in reference to the blossoms' strong clove scent.
Different types of carnations are available that thrive in the home garden, including tall cutting carnation varieties, as well as shorter dianthus varieties that work well as groundcovers or edging plants. These types of dianthus are perennial carnations that open the same clove-scented blooms in a smaller size. The taller cutting carnation plants are usually grown as annuals.
If you love this retro bloomer, make plans for growing carnations in your garden. Here's what you need to know to succeed.
For success planting carnations, start with a sunny spot where plants will receive at least four hours of sun each day. They can grow in less sun, but stems will tend to be floppier with fewer flowers. In warmest regions, protect carnation plants from the hottest sun of the day. A spot with morning sun is ideal.
All carnations need well-drained soil that's light and fertile. Heavy clay soil is a death sentence when growing carnations of any type. Amend heavy clay with organic matter, gypsum or lime. A soil test will help you know what you should add. Your local extension office can help with the soil test.
If you're planting carnation seeds, start early by planting seeds indoors (or outdoors in a hoop house) in late winter or early spring. Carnation seeds are easy to grow but plants take a long time to mature. Expect flowers all summer long if you're able to start plants early. You might be able to find carnation plants that feature the old-fashioned flower types at a garden center. Look for varieties like Chabaud carnation or Sweet Rose Magic sweet William (below), which has smaller flowers on long stems perfect for picking and plunking into vases.
Carnations are susceptible to a variety of leaf and flower diseases that spread easily through overhead watering. Use drip irrigation, microsprinklers or soaker hoses to deliver water directly to soil.
If you're growing carnations that unfurl the traditional florist-type flower, plan to feed plants by amending soil so that it contains plenty of organic matter and a slow-release plant fertilizer. For perennial carnations, fertilize plants in early spring with a balanced, slow-release plant food like Espoma organic Plant-tone or a poultry-based fertilizer from your local farm supply store.
In the home garden, growing carnations typically produces flowers in the 2- to 3-inch range. The plants tend to be somewhat floppy because the flowers weigh too much for stems to support, so it's important to stake plants. An effective way to make growing carnations easier is to use grow-through stakes or Hortonova trellis netting stretched about 12 inches above the soil. Or use bamboo and string to create a grid to weave carnation stems through for support. Of course, shorter perennial dianthus varieties don't need staking.
Prune plants about one month after planting. Place your pruning cut to allow five pairs of leaves to remain on the stem. As new shoots develop and grow, you can pinch those as well using the same technique. This method creates bushy plants with many shoots — and that means more blooms. If you want bigger flowers, remove all but the two strongest shoots that sprout from the main stem on each plant.
After flowering, remove spent blooms. This helps prevent disease from developing on dying petals and spreading to healthy plant tissues. With perennial dianthus, shearing plants lightly after flowers fade can help encourage a second round of blooms.
Harvesting Carnation Flowers
When growing carnations, pick blooms when they're half open or, with spray types where there are several flowers per stem, when one or two flowers are open. The best time of day to pick is in the morning after the dew has dried or in the early evening. After picking, recut stems underwater and place them into cool water overnight. This is called conditioning the flowers. During this time, the stems will take up water and become fully hydrated.
The next morning, arrange your carnations as you desire in the vase. If you're re-cutting stems, do so under water. Use commercial flower preservative in the vase, which helps to prolong flower life up to two weeks.
Carnations and dianthus are botanical cousins. They both belong to the same genus or group: Dianthus. Long-stemmed carnations like you see in a florist shop are known as Dianthus caryophyllus. The shorter stemmed dianthus are often called border carnations or perennial carnations.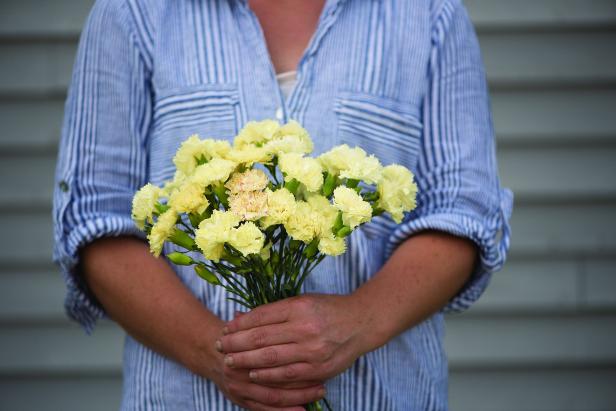 'Marie Chabaud' Carnation
Carnation varieties — When it comes to carnation seeds, consider the Chabaud series (above), which is sold by Johnny's Selected Seeds. This carnation is a scented, French heirloom type that dates to 1904. Plants grow 24 to 30 inches tall. Flower colors include white, pale yellow, pink, lavender and red.
Types of dianthus — Dianthus varieties typically are shorter plants with flowers that aren't as full as the florist carnation (Dianthus caryophyllus). Dianthus blooms feature a spicy clove scent.
Border carnations (Dianthus x allwoodii) — These are perennial carnations that typically grow for two to three years (that's known as a short-lived perennial). The stems grow 4 to 18 inches tall and make good cutting flowers. This is also a good type for growing carnations in pots.


Pinks (Dianthus chinensis) — This is a shorter carnation that's often grown as a biennial that flowers in spring. Plants self-sow readily and can establish a presence in a planting bed. Pinks are a good choice for growing carnations in pots.


Sweet William (Dianthus barbatus) — Another biennial with spring flowers, sweet William also self-sows readily in planting beds. It will establish a reliable color show in beds where it's allowed to go to seed. Newer varieties grow tall enough for cutting, like Rockin' Red dianthus (below).
Pressing Carnation Flowers
Both traditional and perennial carnations are favorites in the flower pressing community. These pretty blooms create striking specimens when they're tucked in a flower press and dried. You'll get the best results by pressing the blossoms stem side down. Gently spread out the petals as best as you can before adding the cover sheet and tightening the flower press.
How-To Video
Preserve the colors of the season with a simple-to-make flower press. Follow these step-by-step directions with a video tutorial.
Make It
Perennial carnations and dianthus varieties usually dry within a week or two in a flower press, while the long-stemmed traditional florist carnation (Dianthus caryophyllus) can take three weeks or more to dry fully due to the thick flower base.
Problems with Growing Carnations
Carnation plants possess a toxin that affects dogs and cats, causing skin irritation or intestinal issues if parts of the plant or flower are ingested. Try to keep your pets away from carnations you're growing.