How to Grow Lily of the Valley
Dress up your yard's shady spots with the fragrant blooms of an old-fashioned favorite.
Keep in mind: Price and stock could change after publish date, and we may make money from these affiliate links.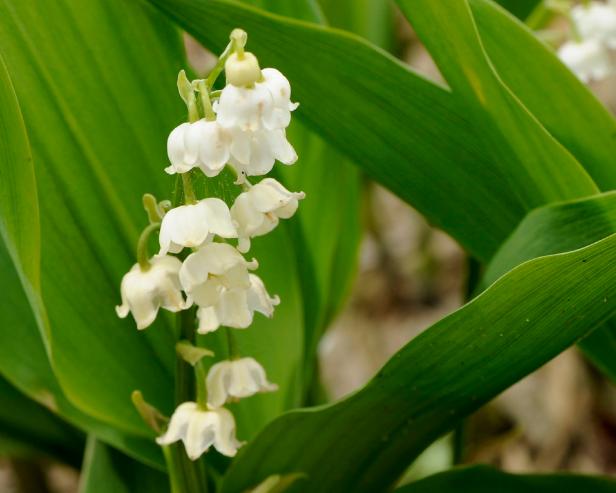 'Bordeaux' Lily Of The Valley
When buying lily of the valley, look for named varieties to get the best flower and plant forms. 'Bordeaux' lily of the valley (Convallaria majalis 'Bordeaux') opens larger flowers on stems that stand above the leaves, as opposed to stems that are tucked between leaves.
Beautiful and tough-as-nails, lily of the valley (Convallaria majalis) graces the garden's shady nooks with perfumed blooms in spring. It goes by a host of names, including May bells, May flower and May lily, a nod to its three- to four-week flowering window in — you guessed it — May. Despite the name, this perennial is unrelated to lilies but is actually in the same plant family as asparagus.
Lily of the valley is a low-maintenance groundcover that's hardy in Zones 2 to 7. The plant needs cold weather to stage its best show, which is why it's prettiest in regions with colder winters. In these zones, the flower show often starts later and extends into early summer.
Plants grow 6" to 12" tall and, like many groundcovers, have a reputation for wandering. Lily of the valley spreads by stolons (above-ground stems) and rhizomes (underground stems). Each plant produces a pair of leaves that cradle a stem with up to 15 dainty, bell-like blooms, each packed with perfume.
Lily of the valley craves shade. In the wild, you'll frequently find it growing in a woodland area beneath tall trees that cast dappled shade. In the garden, tuck this perennial near the base of trees, under shrubs like azalea and rhododendron or on the north side of buildings where grass just won't take hold.
Moist, well-drained soil that's rich in organic matter yields the best growth, but this groundcover is versatile, adapting to any soil — clay, sandy, acidic or dry. What it can't stand is sun or hot, dry conditions. Plantings that receive dappled sun often develop brown leaves when summer's dog days arrive.
The best time to plant lily of the valley varies depending on what form you buy. If you're buying it in pots, you can tuck plants into soil in spring when all danger of frost is past. For bare-root plants (called pips), plan for early spring or fall planting. Lily of the valley typically takes two years to flower when planted bare root.
You can also score big bargains on this beauty by purchasing potted plants in summer or early fall when they aren't flowering. These out-of-bloom plants often populate discount tables at nurseries or garden centers at these times of the year. If you buy a potted lily of the valley in summer, wait to plant until fall. Keep the pot in a shady spot, watering as needed to keep leaves from wilting.
Most lily of the valley varieties unfurl white blossoms, although a pink form ('Rosea') is available. 'Bordeaux' (top of page) is the type to grow for bouquets because it has longer stems. You can also find double flower forms ('Flore Pleno') and cultivars with variegated leaves ('Albostriata,' 'Hardwick Hall') that add color to the garden all season long.
It likes to run. This groundcover forms colonies over time and can overrun planting beds. Contain it with some type of garden edging or regular dividing, digging out unwanted chunks in early winter, when the plant is dormant.
It's poisonous. Every part of this plant is poisonous — roots, stems, leaves, flowers and berries. Keep pets and children from ingesting any part of it.
It may form fruit. Flowers can fade to form red berries, but this only happens if you have plants that haven't all grown from the same root (rhizome) or stem structure. As a rule, the flowers are self-sterile, so they need to be cross-pollinated to make fruit.
It's disliked by critters. Because the plant contains poisonous compounds, deer, rabbits, voles and other animals leave it alone.