Learn more about this popular floral arrangement filler including how to grow it in your garden and how to use it in a variety of ways.
Keep in mind: Price and stock could change after publish date, and we may make money from these links.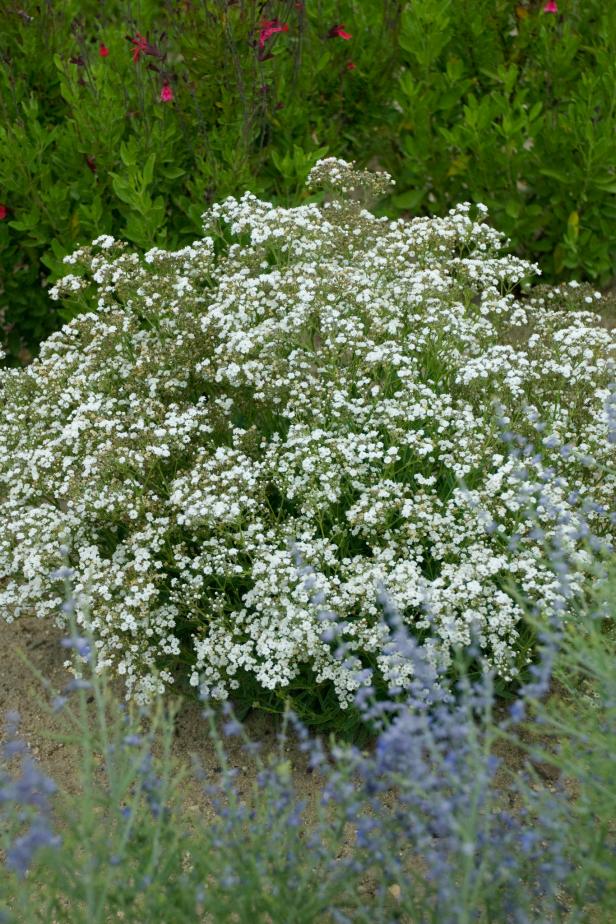 Festival Star Baby's Breath (Gypsophila paniculata 'Danfestar')
Prized in floral arrangements, baby's breath forms a flowery cloud in the garden. This perennial produces a long taproot, which makes division very difficult, if not impossible. Trim plants back in spring before new growth starts. Count on baby's breath as a filler in perennial gardens. This variety is shorter, topping out at 12 to 18 inches. It's a perfect choice for growing near the front of a flower border. Baby's breath is hardy in Zones 3 to 9.
Floral Filler
Put the floral filler from your grocery store bouquet to good use by editing it out and creating your own baby's breath arrangement. Once the baby's breath is removed from the flowers, cut it to size and shape it into a ball inside of a vessel.
Perhaps best known as a filler plant for its delicate, cloud-like blooms over bluish-green foliage, baby's breath makes a great addition to floral arrangements, baby's breath is a herbaceous perennial that is also known as gypsophila. Baby's breath is in the carnation family and does best in USDA Zones 3 to 9. The plants are native to Europe, Asia, Africa, Australia and the Pacific Islands.
Bloom colors range from white to pink. Baby's breath blooms from spring through summer (April to August). Plant size ranges from 18 to 36 inches tall and as wide.
How to Use Baby's Breath in Crafts and Decorating
Use baby's breath in masses and in hanging baskets or containers. Use in a mixed perennial border, cutting garden, rock garden or xeriscape. Use this pretty plant as a fresh or everlasting cutflower.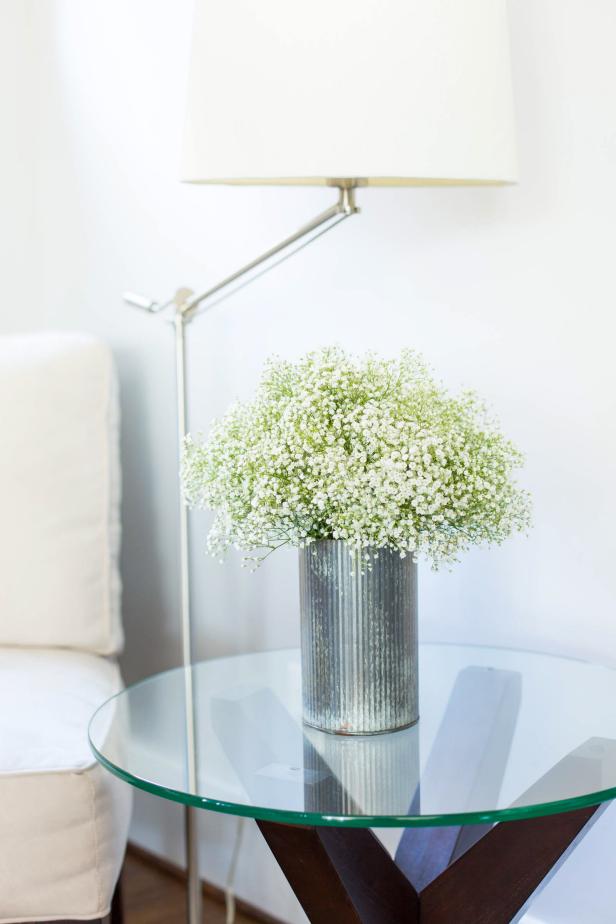 Baby's Breath
Baby's breath and other filler species are often removed from grocery store bunches to upgrade them to something more refined. When used solo, though, baby's breath can make for a farmhouse-chic floral centerpiece. Remove the baby's breath from the bunch, then cut it to size with floral shears. To create a ball effect, place each stem into the vessel with smaller stems around the edges and longer edges in the middle.
Baby's breath is also a craft-lover's and baker's delight. It makes a lovely hair ornament when tucked into a barrette. You can use baby's breath as a pretty cake topper and for a variety of craft projects, tucked into wreaths or dried-flower arrangements.
Follow these simple steps for making your lovely blooms last.
Kendall Peters
Add a "found at a French marketplace" vibe with a vintage birdcage filled with baby's breath and a pair of antique babydoll shoes.
Baby's breath prefers well-drained soil and tolerates a dry site. Plant in full sun to partial shade.
Baby's breath tends to prefer alkaline soil with a soil pH of 7.0 to 7.5. If needed, do a soil test and apply lime according to soil test recommendations. This plant does not perform well (or may not come back) if planted in a wet soil over winter. Cut back in spring, not fall. Also cut back after flowering to encourage reblooming. Plant in spring, and it may take a couple of growing seasons to become established.
Baby's breath has a taproot, and once established, does not like to be moved.
The plant has moderate salt tolerance.
Baby's breath is prone to rabbit damage.
Tall flowers may need to be staked to help support the plant. Stake baby's breath before the summer blooms appear to avoid damaging the plant.
Mulch your perennial baby's breath in the fall to help protect the plant during the winter.
Baby's breath is primarily propagated through seed or cuttings.
Baby's breath has no serious pest or disease problems; but it may have nematode and fungal problems, like root rot.
The term gypsophila translates to "lime-loving," and thus this plant prefers an alkaline soil. Good for mountainous regions in elevations of 8,000 to 10,000 feet. Tolerates poor soils. Good for rock gardens. Deer resistant. Drought tolerant. Great cutflower.
This plant can be a noxious weed in some areas, including California, spreading its seed in a tumbleweed fashion.
Selected Cultivars and Species
'Bristol Fairy'. Produces large clouds of white double flowers that repeatedly bloom throughout July and August. Reaches 24 to 36 inches and as wide. May need to be staked. Propagated by tissue culture.
'Pink Fairy'. Produces large clouds of double pink blooms which last to frost. Reaches 18 inches tall and as wide.
Creeping baby's breath (G. repens). Alpine. Has delicate white to pink flowers that bloom in early spring. Great for rock gardens.
Annual baby's breath (G. elegans or G. muralis). Annual used as a cutflower. Flowers grow in delicate clouds over the foliage. G. elegans has white to rosy pink blooms and reaches a height of 18 to 30 inches. G. muralis has pink blooms and reaches a height of six to 12 inches. Plant in full sun to partial shade. Both melt in high heat and humidity, so they don't do very well in the South. Primarily propagated by seed. Drought tolerant.