White Daisies: The Ox Eye Daisy
Capture the look of a wildflower field with the perky blooms of ox eye daisy. Learn how to grow this old-fashioned favorite.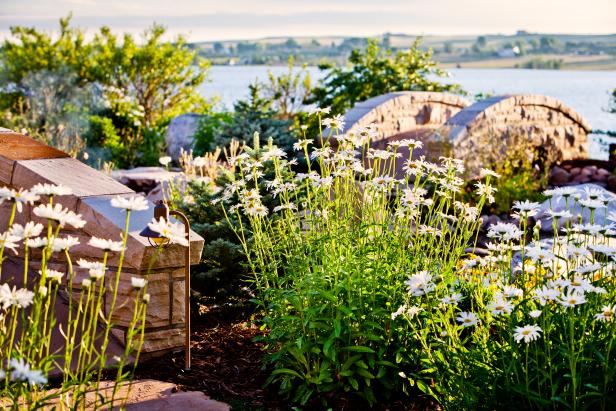 Native Plants Soften the Hardscape
Ox Eye daisies provide a soft texture and vibrant white flower against a garden with strong stone features. The use of native plants in the large planting beds help to create separation amongst the architectural features of the garden.
Cultivate a colorful and carefree wildflower in your own backyard. Drifts of ox eye daisy are a classic symbol of naturalized beauty—and a favorite blossom for children to gather. This charming flower has many names, called oxeye, ox-eye and marguerite daisy. These white daisies are native to Europe and Russian Asia, where they're found along roadsides and in fields. In this nation, ox eye daisy has naturalized in similar settings.
The blossom on ox eye daisy boasts the classic white daisy form: a yellow center ringed with white petals. Flowers appear from mid-spring to the end of June in most regions, with occasional blooms opening throughout the rest of the growing season. Pruning the white daisies after they fade helps encourage plants to rebloom. Use a hard prune if you want a second strong flush of flowers later in the season, cutting plants back to the rounded basal leaves.
Give ox eye daisy a spot in full sun, although in hottest regions, plants do benefit from afternoon shade. Like their Shasta daisy offspring, these white daisies aren't picky about soil. Give them average, dry to medium soil that's well-drained. Ox eye daisy tolerates heavy clay, wet soil and sand. In rich, fertile soil or shade, plants may grow tall enough that they need staking. Use hoop or linking-type stakes to support the entire clump of wiry stems.
This daisy is perennial in Zones 3 to 8. In early spring, scratch a slow-release granular fertilizer into soil around established clumps. You can also spread a 1-inch layer of compost around plants to provide nourishment. A good time to do this is in early spring, just as shoots are breaking through soil. Once soil has fully warmed and before summer heat arrives, mulch soil around white daisies with a 2-inch-thick layer of organic mulch.
Ox eye daisy typically grows 12 to 36 inches tall, forming a clump that's 12 to 24 inches wide. Clumps tend to become crowded over time, which diminishes the flower show. Divide plants every two to three years to prevent overcrowding.
White daisies do spread aggressively in the landscape, spreading by seed and by creeping rhizome roots. While you can work to contain the spread in your own yard, what you may not be able to control is the spread to neighboring wild areas. In some areas of the country, ox eye daisy is categorized as an invasive plant. Several states currently prohibit planting ox eye daisy, including Colorado, Kansas, Montana, Ohio and West Virginia. To find out if it's legal to plant ox eye daisy in your region, check with your local extension office or visit state links on the National Arboretum website.
If you want white daisies in your garden, pass over ox eye daisy, and consider planting Shasta daisy instead. This plant is an offspring of the ox eye daisy, but lacks the invasive qualities. Shasta daisies open more and larger blossoms in a variety of forms and colors.