How to Stage Your Home With the Click of a Mouse
Real estate agencies are embracing "virtual staging." We spoke to a marketing expert to find out why.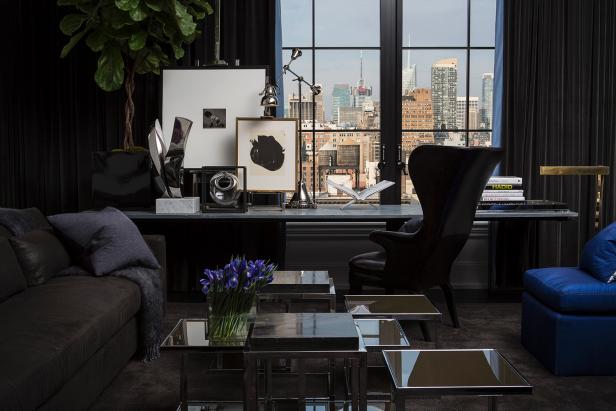 Contemporary Home Office With New York Skyline View
Make the most of an incredible view by positioning furniture right in front of the window, as seen in this New York City home office.
Staging can be a crucial step if you're trying to sell your home — especially if your home is empty when it comes time to shoot those listing photos. Unfortunately, staging can also be expensive and, depending on how much furniture-moving it entails, time-consuming. Enter "virtual staging," a technology that enables real estate agents to stage your home with the click of a mouse. As more agencies embrace this service, the results are yielding positive results for both sellers and buyers.
We spoke with Matthew J. Leone, Director of Web Marketing for Halstead Property, about the role of virtual staging at Halstead.

When did you start using virtual staging at the agency, and why did you decide to try out the service?
We started three years ago. We always knew how detrimental an empty room was to a listing as a featured photo and the only alternative before virtual technology was traditional staging. Traditional staging is effective but expensive and time-consuming. It didn't make fiscal sense for all price points. Virtual staging gives us the ability at all price points to creatively think for our buyers and allow them to visualize what the space can be. We can tell them where the couch could go, how big of a bed would fit in the bedroom, what to do with that open loft space. Is the room perfect for an office, or even is the room big enough for a dual purpose? That is very valuable to a buyer who is looking to emotionally connect with a home and visualize themselves living there.

One important note is with this marketing tool, Halstead strives for full transparency. So we make sure that each virtually staged image is labeled as such on the photo, and the next photo in the queue of images is the empty room. So the consumer sees both.

Approximately what percentage of your listings are virtually staged, would you say?
We strongly recommend that all Halstead agents who have vacant listings use this service. It is very popular in the urban and condo and co-op markets, where curb appeal — of the image of the outside of the home — doesn't exist. It is replaced by a room in the home. To date, we have staged more than 2,400 rooms since we launched.

Who decides if a home should be virtually staged? Is that up to you? Or the seller?
Usually a consultation will take place between our agent and our in-house marketing and technology division to gauge whether they should utilize the technology.

What's the process for virtually staging a home? For example, is there a virtual "furniture warehouse" where you get to pick out furniture?
We have two ways a Halstead agent can do it. They can choose from a library of already-grouped-together décor options, then the agent can even go further with customization by choosing wood type, fabric color, artwork and wall color. Or they can take the "hands-off" approach, where they leave it to us. We work with a traditional staging consultant who will choose from our library for the proper décor and furniture — based on price of home, style of home and even based on location of home.

Do you ever mix virtual staging with real staging? For example, maybe you'll digitally throw in some plants and side tables to fill in a sparsely furnished room?
Yes, all of that is possible. We do that a lot for outdoor spaces and atriums. We can even virtually remove the furniture from a room and then show it vacant or virtually insert furniture into the space.

Does virtual staging cost extra for the seller?
The company covers any potential costs associated with it, if there is any.

Do sellers ever prefer to stage their homes virtually rather than with real furniture? It seems like virtual staging might be cheaper, in addition to providing a wider range of aesthetic options?
Virtual staging is less of a headache for the seller, especially if they are not interested in having large furniture moved into and out of their building or home. While the buyer will not get the full staged experience with virtual staging when they are at a showing, they are at least already equipped with what it could look like — so they already have a vision when walking into the vacant space.

Is it noticeably easier to sell homes that are virtually staged than it is to sell homes that are completely empty?
Absolutely. Beside the dozens of success stories we hear from our agents, we tracked the traffic of our listings before virtual staging and after on our website, halstead.com, for the first several months we used virtual staging. On average, there was a 30% increase in web traffic to the listing page as a result of having a virtually staged photo as the feature photo, versus a vacant photo. Another huge uptick was a reported percentage increase in open house traffic after the images were replaced.