Buyer's Remorse: Dos and Don'ts for Adjusting Your Mindset
It's common for little worries and wonders to pop up after you've bought your home. Here's how to ease your concerns.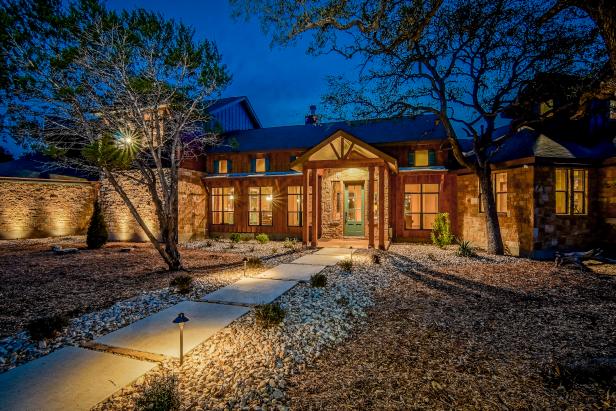 Evening View of Cabin Home With Stone Walls & Concrete Walkway
No one would regret buying this beauty. But doubts can often plague buyers immediately after a new home purchase.
Barron Custom Design, LLC
No one would regret buying this beauty. But doubts can often plague buyers immediately after a new home purchase.
It happens to many homeowners: You sign your closing papers, and you're elated -- you're finally a homeowner! But later that day, some troubling questions creep into your mind: Did I make the right decision? What if I paid too much? What if a better house for me is out there and I'll never know it?
Buyer's remorse is a common, albeit unsettling, feeling for new homeowners. Your home is likely the largest purchase you'll ever make, so it's only natural to wonder if you made the right choice. But if the feeling is getting you down, follow these dos and don'ts to manage your mindset.
Do pull out your home wish list. Whether you wrote a short novel detailing everything you wanted and needed in a home, or you just had a few ideas stored in your head, you had a specific home in mind while you were house hunting. If you're feeling regretful about your purchase, compare your initial "home wish list" to the home you bought. Does it have all or most of the features you wanted? If so, your buyer's remorse is likely a fleeting feeling that will subside once you start getting settled in. If your home is different from your list, remind yourself why you made those compromises.
Don't look at other houses. It's tempting to continue perusing real estate listings or slowing down every time you drive by a "For Sale" sign, but please refrain. Looking at other houses is bound to make you wonder what you missed out on. Instead, focus on the features you love about your new home.
Do start decorating. If your new house is still empty, it might not feel like "home" to you yet. So start making it your own. Paint the walls, display your favorite artwork and hang stylish window treatments.
Don't let negativity get you down. While some people in your life will be eager to pop open a bottle of champagne to celebrate your new purchase, others might not be so enthusiastic. Let's face it: We all have those people in our lives that can take the excitement out of even our happiest moments. If they start to criticize your home's location, the crown molding or the price you paid for it, don't let them get to you. Instead, surround yourself with positive people who will reinforce your decision.
Do take a breather. From the time you start shopping for a mortgage to the moment you sign your closing papers, the home-buying process can feel like it's taken over your life. If your normal routines were disrupted by house hunting and loan applications, get back on track. Whether you took a yoga class every week or read a chapter of a book every night before bed, start getting back into your pre-home-purchase habits to subdue your stress. You may even want to take a weekend getaway to clear your head. When you get back, you'll be ready to start moving in!