For Sale By Owner (FSBO): How to Sell Your Home by Yourself
Are you considering selling your home without a real estate agent? Follow these tips to make the process as smooth as possible.
It's the oldest concept in the book for selling real estate: a buyer takes a look at your place, makes you an offer, you negotiate, and a deal is struck. The "For Sale By Owner" (FSBO) process removes the middle man – no real estate agent, no one receiving a commission from the sale. It can allow the seller the highest possible profit.
Gray and White Exterior and Front Yard
The gray lower half of this home's exterior helps ground it amidst a green lawn and pretty flower beds.
Selling a home by yourself is scary for most people because it comes with plenty of pros and cons. In fact, many homeowners conquer FSBO with ease because they already have an interested buyer, and they just need to formalize the transaction details with legal support. But when you're going at the process with no experience or leads, it can also mean dealing with mounds of paperwork, marketing and showing the house to people who may just want to peek inside — and not many people have the time, patience or skill set for that. But as real estate values drop and markets become competitive for buyers, many sellers are looking at those commissions they have to pay at closing and thinking, "I bet I can sell my home myself." After all, if you can get $500,000 selling your home yourself, you've potentially saved about $30,000.
Here are some steps to help guide you through the FSBO process:
Step 1: Think Like a Salesman
Leave your emotions at the door. Your memories don't add material value to the home, and it can be hard to distance yourself from that aspect of the project. Similarly, not all home improvements you've performed are going to raise the home value, nor do they promise 100% return on your investment. You will have to look at your house objectively, and consider the sale from the perspective of a real estate professional.
Audit other comparable home sales in the area to learn what they were listed at, and how they sold. Make fair concessions and compromises when it comes to valuing your home, and be sure that the list price is based on attributes your home comparatively has, or lacks.
Online tools make it easy to get information about recent sales using public data such as tax records. You can also usually access photos of similar properties if they were sold recently, to see how the homes were staged and photographed to highlight the most eye-catching features. Remember that the online photos you list for your sale are going to be the first impression for many prospective buyers, so be mindful of what the "good" listings looked like.
You may also find that your neighborhood has a flurry of sales activity in spring or summer, which could affect the timing of your sale; be aware of when buyers are apt to be shopping for new homes, and when your home might be a standout in an active marketplace.
Pay attention to home pricing.
If a similar home on your street just sold for $500,000, you have the luxury of offering yours at the bargain price of $485,000. You could get a quicker sale and come out of it with more money than your neighbor who had to pay real estate commissions to the selling and buying agents. Rely on a professional appraisal to help you understand your home's value and unique features vis-à-vis the market.
Whether you're looking to sell your home or just want to stay current on its value, here are some tips to help you determine what your home might be worth.
Know where you'll need to get help.
Before you list your home, talk to a title company or real estate attorney about handling the closing. Confirm their pricing, and at this point, get comparative pricing, too. Attorneys may charge significantly more to an FSBO seller because they have much more work to do, compared with a seller who has a real estate agent representing the sale. Having a legal partner is required, so it's worth taking the time up front to find someone who adds value without compromising your profits (since that's the biggest objective of an FSBO seller).
If it seems like FSBO is too complex at this point, consider leaning on a real estate agent for support. "It is possible to buy a property without agents involved," says Michelle Corsi, a licensed real estate salesperson and team leader on the Steve Wrobbel Team at Howard Hanna. But she cautions, "it's also possible to 'diagnose' yourself with an illness on the internet without a doctor. The more complicated the transaction becomes, or if you sense that something could go awry, having a professional in your corner can help."
Marketing your home isn't always easy – that's an important thing to remember if you witness your neighbor's house sell in a matter of days with the help of a real estate agent. Effective promotion really enhances the visibility of a new listing, and a real estate agent does invest in that marketing to earn your commission.
Start by learning about the type of buyers you're targeting, and consider how you'll be best able to reach them. If you live on a well-trafficked or walkable route, plan to start with a professionally printed sign in the yard, designed to catch the eye of neighborhood hunters; then go through the following list to get your property noticed:
Have Your Home Staged and Photographed
Professional staging and photography help to convey that the seller is serious and motivated. Homes that look great in their listings will stand out in a sea of other FSBO listings.
If your home is empty when you're listing it, or if you need a consult on managing clutter, a home staging expert can provide professional insight. They'll bring empty rooms to life, and share wisdom on what pieces of your personal furnishings you might consider putting in storage as you pursue FSBO.
If you have friends who have listed their homes for sale, ask around for a reputable photographer. It's likely that you can get a referral from someone you know. Be sure to get images of both the interior and exterior of your home, and don't forget about outdoor bonus spaces, like furnished patios and decks.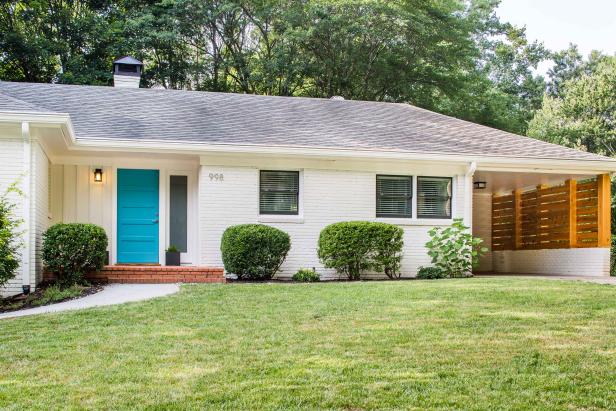 Exterior: Cheerful Mid-Century Home With Blue Door
This mid-century home has been re-imagined with color and texture including the addition of a bright blue front door.
Use your own social networks to announce your listing. Include great photos, details that distinguish the property, price, and your contact information. Make sure your posts are set to be public and shareable to invite visibility, and encourage your network to share on their own feeds. Odds are, if you reach enough people, someone will know somebody who's looking to buy a place and they'll pass along your listing.
Let local mortgage brokers know about your place and ask for referrals from their pre-qualified clients. They may be eager to help, since the sooner you sell, the sooner you'll become their client.
Your budget might not allow you to crack the Sunday real estate section of your local newspaper, but there are plenty of other places where you can post your listing for people searching for a home. Craigslist, Facebook Marketplace, or online sites including Trulia.com, Zillow.com and ForSaleByOwner.com make it easier for others to find your home by searching criteria.
MLS (Multiple Listing Service)
MLS is a bit of a Catch-22. While it's the bible of property transactions, and the way that many buyer's agents may learn that your home has hit the market, your home won't be listed if you're not represented by a participating real estate agent. Flat-fee MLS services offer some visibility at a price, but don't add much value for the cost. A seller's time is usually better spent on advertising with individual search listings on aggregator websites, even if a small fee is associated with listing visibility.
Are you prepared to sell your house by yourself? Set your expectations right. Learn what it will take to be successful, and know when the process might not be right for you.
When you use a realtor or agent, your job is simply to say yes or no to a buyer's offer, whom you often never meet. When you're FSBO-ing, you're doing everything: handling the open house, taking calls from buyers and brokers, and negotiating. Here are some ideas to get a good buyer on the hook:
Keep Your House Presentable
Consistent curb appeal and cleanliness will keep your house ready to show at any moment. Keep flower boxes or planters lush during summer sales, leaves cleared in the fall months, and if necessary, snow removed from all entrances during the winter. Keep the indoors of your home visitor-ready at all times.
Master the skill of speed cleaning, and make your home presentable in under an hour!
Be Accountable and Professional
Be on time for appointments, and present your home in an organized fashion. Look presentable when showing the house, and like you would if an agent was touring potential buyers through the house, keep pets in a separate space and coordinate to have childcare for young kids. Buyers aren't expecting you to be a realtor, but they're going to want some confidence that you know what you're doing, and your ability to focus on the home is important.
Be Diligent, and Check for Pre-Qualifications
When you list your home and begin to market its sale, you might find that you get a lot of interest from unqualified buyers, and people not in the position to be purchasing a home. Be wary of every inquiry for the sake of your time and the risks associated with providing candid information about your identity and home. Tread carefully and use good judgment when it comes to taking the step towards showing your home to strangers.
Qualified buyers are less likely to be there to snoop around your closets and pantry, or attempt to negotiate a rent-to-own or sublet scenario. Focus on entertaining pre-qualified buyers – the best type of buyer in the market. These buyers have done the research on their end to verify their ability to get bank financing, and they can prove it with a letter certifying their qualifications. The letter you should expect to see includes a maximum purchase value and an expiration date; the letter is based on their current income, credit history and interest rates, which is why it's only valid for a limited period of time.
Ask the buyer for references too, so that you can take steps to verify credentials. Call their previous landlords and employers to verify their qualifications, and as landlords do, perform a credit check (even if they're prequalified by a bank, this is an acceptable practice through FSBO sales). Though this due diligence falls on the seller in a FSBO situation, don't hesitate to ask a real estate attorney or banking partner if there are any red flags.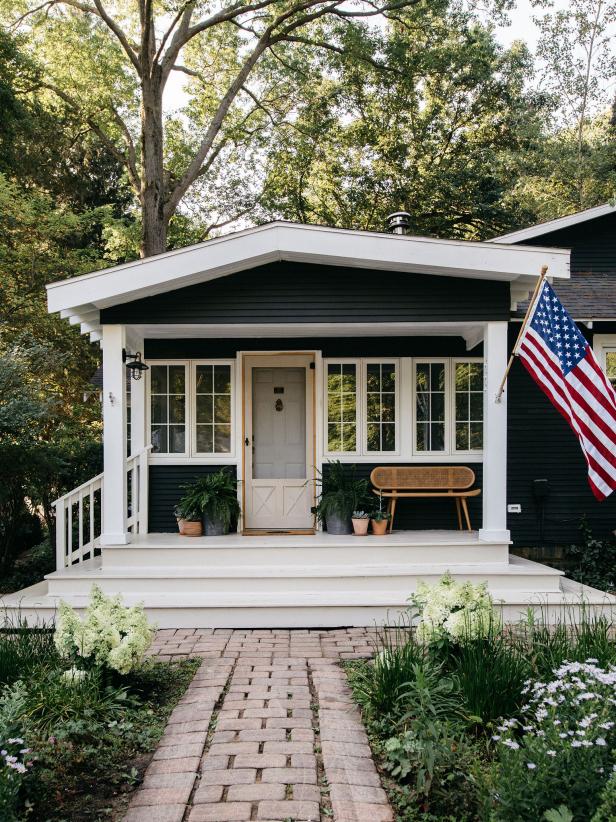 The Story
Designer Kate Marker doesn't usually believe in fate, but all signs pointed to the fact that a 1,400-square-foot, one story cottage in Union Pier, Michigan was destined to be hers. It wasn't just the picturesque surrounding town or the fact that she could hear waves crashing on the nearby beach from the home's entryway. "It smelled like the right place," she says. "That cottage-y, cabin-y smell and feel and vibe." Kate and her husband purchased the 1920's structure immediately and soon got to work gutting the entire space. In just two months — "My fastest project ever!" — Kate and her team took the home from a ho-hum space with zero updated amenities, to a curated, eclectic cottage filled with vintage touches, natural materials and some pretty edgy pieces. Oh, and did we mention you can rent it out?
Step 4: Negotiate and Close the Deal
Here's where it's best to let go of emotions about the property. At this point, you're selling a house, not your "home." If you get an offer that you feel is way too low, don't get frustrated. Take a deep breath and make a fair counteroffer and see where it goes.
Remember that with an FSBO sale, you may be more likely to be working with buyers who do not have an agent representing their best interests. They may not have done their homework with respect to house valuations. Their unpreparedness is likely to make it harder to close a sale on a home than if both parties had real estate representation.
When the buyer and seller are able to agree on terms, paperwork gets filed with the lawyer who can help process the legalities, coordinate escrow accounts and ensure that the transaction is completed in a way that makes both the buyer and seller confident.
Selling a home yourself requires due diligence, patience and detachment, but if you'd like to explore FSBO and can get the sale done without a long, drawn-out, time-intensive experience, it's advantageous from a profit perspective.