23 Things Every First-Time Homebuyer Should Know
You're about to make the biggest investment in your life — so do your homework and learn about bidding strategies, down payment options, building equity, how to leverage inspections and more.
First-time homebuyers often make rookie mistakes. But it doesn't have to happen to you if you do your research and ask a lot of questions. Heed these 23 recession-proof lessons to help guarantee your home-buying success.
White Home Exterior with Blue Shutters
As seen on Home Town, the existing exterior of the Carson house was lost on the street with plain white siding and few distinguishing features. After the renovations, their Laurel, MS house now features a new copper roof entry portico, cedar window boxes to highlight the painted blue wood windows, new wood shutters, and a fir wood door. Host Ben Napier custom built the new working blue wood shutters.
Todd Douglas/ Getty Images
Lesson #1: Figure out your priorities before searching for a home
Before shopping for a new home, it's important to set your priorities and decide which factors are most important to you in your home search. If you settle on this in advance, you can make thought-out decisions during the home-buying process and avoid the unsettling feeling of buyer's remorse. "I always tell my clients: price, conditions, location, size — pick two," says Courtney Poulos, broker and owner of ACME Real Estate in Los Angeles. "Tailor your search based on what your personal priorities are. Sometimes if you give up location you can end up with an incredible house — and given a little bit of time, an area transforms into a more desirable neighborhood and you'll end up reaping the benefits."
Lesson #2: Don't commit before you're ready
Owning a home is a huge commitment — and a more expensive one than some homebuyers realize. Before buying a home, make sure you know exactly what you're getting into so that you can decide if you're financially ready for such a large commitment. In addition to your monthly mortgage payment, calculate how much you'll be paying for property taxes, homeowner's insurance, homeowner's association or HOA fees and other monthly costs of owning a home. Factor in costs for planned and unexpected maintenance repairs.
Buying a home can also require tough personal sacrifices, so make sure you are at a place in life where you're ready to commit. After adding up the monthly costs of owning a home, Becky decided to quit school and get a job so that she and Adam could afford their house. While Becky is happy with their decision to buy the house, she would have been able to stay in school if they had saved more money in advance. Think about what kind of personal and financial sacrifices you'll have to make. If affording a home is a stretch right now, it might be better to wait awhile and save up more money.
Lesson #3: Sweat equity can save thousands
First-time homebuyers John and Jennifer always knew they wanted to add value to the first home they owned. So when they bought their first place in Roswell, Georgia, they immediately started remodeling and decided to tackle many of their home improvement projects themselves. The couple spent $20,000 remodeling a kitchen, building a new deck and installing a new patio — upgrades that would have cost $50,000 by their estimation if they had hired a contractor to do the job. If you have the skills, the time and the patience to live with dust and debris for a while, do-it-yourself home improvement projects can save you a big chunk of cash. Even minor DIY home improvement projects can make a big difference in home value. "Changing out a vanity and bathroom lighting can make a huge impact," says Poulos. "A vanity might cost $1,000 and an installation can cost another $1,000, but it can ultimately net you $10,000 to $15,000 in value." Poulos also recommends taking a DIY approach to landscaping projects. "Landscaping adds a ton of value to curb appeal and the property," Poulos says. "It's relatively inexpensive and a lot of people enjoy doing gardening themselves."
Discover the projects that have the highest return on investment when selling your home.
Lesson #4: Don't shy away from down payments
John and Jennifer originally planned to put around $60,000 down on their first home. However, they changed their minds just before closing when they qualified for a loan that didn't require any money down. The homebuyers opted for 100% financing and invested their down payment money in the stock market. After losing about half of that money, they regret not putting it into their home instead. Putting some money down is a good idea for any homebuyer because it minimizes your risk and lets you start off with some equity. If you take time to save money for a down payment, your offer may also look stronger to the seller and give you more leverage during negotiations.
Lesson #5: Crunch the numbers to calculate an ideal down payment
Don't shy away from down payments, but also don't feel the need to spend all of your savings on the down payment. "In my opinion, financing the property allows you to gain equity and still keep some savings so you don't feel house poor," says Poulos. To decide how much to put down, Poulos recommends comparing monthly carrying costs at different down payment amounts. Then do the math to decide which down payment amount makes the most sense for your long-term goals. For example, if your monthly costs are $1,500 with a 15% down payment and $1,300 with a 20% down payment, but you only intend to stay at the property for five years, multiply $200 by 60 months to gauge the total difference in cost. "Sometimes it's cheaper to leverage than to take money out of your bank account right now," says Poulos.
Lesson #6: The school district will affect home value
Even if you don't have kids, it pays to check out a neighborhood's school district before buying a home, as living in an area with a sought-after school system raises your property value. John and Jennifer's home, for instance, is in one of the best school districts in Georgia, and their neighborhood typically does well in resale.
Lesson #7: A land survey will answer boundary questions
If you're planning to make changes to your property after your purchase, it's a good idea to find out your exact property lines. "This is especially important if you notice anything critical to the value or use of the property that looks like it might be in violation of a boundary, such as the driveway, shed or a part of the house," says Dana Bull, a realtor in the Boston area and a first-time buyer expert. "It's important to understand the lot lines and any easements so that you avoid future disputes around land ownership." A month after they moved into their home, John and Jennifer had their land surveyed and discovered that their yard ended 8 to 10 feet closer to their home than the previous owner told them, leaving them confused as to where to build their fence. You can't always rely on the seller's knowledge of the property, so getting a land survey will clear up any uncertainties you have.
Lesson #8: Check building plans for the neighborhood
Before committing to a purchase, find out if there are any construction projects, development plans or imminent changes in property zoning in nearby areas. "Always do your due diligence about the neighborhood, including potential development projects that may impact the value or enjoyment of your home," says Bull. "For instance, if you're buying a house with a lot of land behind it, you'll want to know if it's conservation land or buildable." Shortly after John and Jennifer moved into their home, they learned that a large playground was going to be built in the community — right next door to them. Since the homeowners have no children, they are now living with playground noise without the trade-off of kids who can actually use the playground. Plus, having a playground practically in the backyard is hit or miss when it comes to resale — buyers with kids may see it as a selling point, while others may not. Find out about building plans near your home to avoid surprises after you've moved in.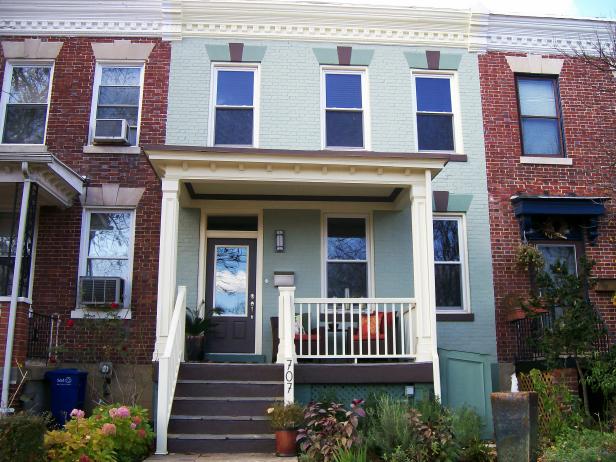 Pale Blue Row House With Traditional Porch
This row house stands out against its boring brick neighbors with a pale blue facade and an updated porch. Railings from Railing Dynamica, Inc. and comfy porch furniture from Pier 1 bring this exterior to life, as seen on HGTV's Curb Appeal.
Lesson #9: Reserve cash for potential home improvements
Whether it's a planned bathroom remodel or an unexpected leaky roof, homes can incur large expenses long after you've purchased them. Be sure to save up some cash to cover these expenses. "If you are buying a house that needs some work, I would encourage a buyer to get contractor bids during the due diligence period so that you're aware of the cost of what renovations you would like to make," says Poulos. It's also important to reserve cash for unexpected repairs, which may arise even in newer homes.

Lesson #10: Dig deeper during inspection
Don't hesitate to follow up on issues that arise during your routine home inspection, even if it means paying a little bit more money. "If the general inspector sees something that requires a specialist, the general inspector will advise that you get a roofer out to give you a bid for repairs or an electrician to come out a do more in-depth evaluation of the electrical system," says Poulos. "Even though these inspections may cost a little bit of additional money, it saves you tons of money in the long run." Poulos describes a buyer at her agency who chose not to do a chimney inspection due to the $200 cost. After moving in, she discovered that the chimney needed thousands of dollars in repairs. "She was kicking herself for not getting a chimney inspection during the due diligence period because the actual repair cost more like $12,000," says Poulos.
Lesson #11: Continue negotiating after the inspection
If you discover a flaw during your home inspection, don't be shy about asking for price reductions. "My general rule of thumb is that we can only ask for things that are actually broken," says Poulos. "You can't ask for preventative credits. For example, if the home inspector says the roof has five more years on it, don't ask for a replacement roof. But if there are issues that arise during home inspection, 100% you should ask the sellers to repair or replace the items which need repair." If the buyer at Poulos' agency had known more about the chimney issue before she closed on the home, she might have been able to use it during negotiations to get a price reduction.
Lesson #12: Read HOA documents before closing
Before buying a home in a community with an HOA, read through the covenants, conditions and restrictions (CC&Rs), as well as the bylaws and budget. Look for anything that might affect your home in the future. Also, talk to neighbors and get opinions on how well the HOA does its job. Reading a big stack of papers may seem like a huge hassle, but carefully reviewing your HOA documents is important if you want to avoid unpleasant surprises down the road. "It's imperative to review the rules and regulations that guide the HOA as well as its financial health or any planned projects," says Hull. "I always request a copy of the condo documents, financial snapshot, as well as recent meeting minutes from the association." Reading HOA documents will give you insights into the health of the building's finances and whether there may be any imminent increases in HOA dues.
Poulos also recommends reading the HOA documents as soon as possible, rather than later in the home-buying process. "They are considered a material disclosure, so you have the right to walk away if there's something in the HOA documents that would prevent you from wanting to move forward," says Poulos. For example, buyers may balk at buying a home with HOA rules that restrict pets or rentals. Poulos adds that certain details in HOA documents may prevent lenders from offering loans on a particular property, making it even more important to read HOA documents early on.
Find out the advantages and disadvantages of these urban abodes. Plus, learn about HOAs, and get advice on buying property and hiring a real estate agent.
Lesson #13: Secure financing before falling in love with a house
Poulos recommends securing a lender as early as possible — even before a real estate agent — to help establish your budget. "The biggest mistake first-time homebuyers make is using online calculators and going out wasting their time looking at properties that are either way above or below what they're actually qualified for," says Poulos. "A lender can actually help you budget, prepare and structure your assets to make sure you're making the most of your value power."
Lesson #14: Don't spend every dollar you qualify for
Clarence and Angie were willing to come down in their price range, and as a result were able to open up their options to a larger chunk of the market. With financing already secured, they found another great house with ease and were able to spend more on decorating and upgrades. Coming down in price also allowed Clarence and Angie to save more each month and lock in a better interest rate. By not spending every bit you qualify for, you can open yourself up to more options and better possibilities.
Lesson #15: Find loans in unexpected places
Clarence and Angie obtained their loan through a non-profit organization that had agreements with several lenders to give first-time homebuyers affordable loans. These kinds of opportunities for first-time homeowners are out there if you look for them. Remember, you still have to be underwritten by the lenders, so be prepared to show your credit history and attend classes and workshops the non-profit group organizes.
Lesson #16: Make sure renovations were professionally done
A newly renovated home doesn't always translate into a better home. Oftentimes, do-it-yourself remodelers looking for a quick fix use low-quality materials that turn into a problem for future homeowners. They key is to make sure all renovations were completed by a professional contractor using quality materials that are meant to last. Inspecting details up front is important if you'd like to avoid shelling out even more cash later on. Also, consider the extent of renovations, says Bull. "To what degree was the home renovated?" says Bull. "Was the kitchen completely gutted or just spruced up with new cosmetic finishes? There's a big difference here. When it comes to quality work, there's a wide spectrum." Bull also recommends checking for permits by calling the building department.
Lesson #17: A creative bid strategy helps ensure a good deal
Scot and Leah used a unique approach to get a great deal on their Denver home. By first making an offer of $300,000, then adding a contingency that they would pay $1,000 over any other competing offers up to a maximum price point of $329,000, the couple could guarantee they got the house with minimal dollars spent over the highest competing offer. Although unconventional, a creative strategy like this can be very effective in today's market, especially when there are competing bids for the property. "A talented real estate agent is going to be able to give you advice on how to write the most competitive offers," says Poulos. "The agent should be calling the listing agent and asking what the seller's preferences are, if there are multiple offers on the table, asking how soon the sellers want to close, and whether or not you're competing with cash."
Lesson #18: See potential in fixer-upper landscaping

Don't let uninspired landscaping turn you off from a home that otherwise checks off a lot of boxes on your list. You may not need much time and money to improve drab landscaping, and the lack of curb appeal may in fact turn away competing buyers — making it easier for you to secure the house at a reasonable price. "Landscaping is something that is easy to do and inexpensive, and adds a ton of market value," says Poulos. "In my opinion, you should buy a property that you are in love with on the inside. If the landscaping has to be done after closing, it's one of the easiest problems to fix."
Even a small front yard can be packed with charming curb appeal. Check out these smart ideas for creating magical landscapes and inviting entries.
Lesson #19: Paying more up front might save money over time
After making interior and exterior renovations, many homeowners find that their budget has been stretched way beyond what they initially wanted to pay for a home. For this reason, it can be smart to increase your price range to include move-in ready homes. By paying a little more upfront for a home that has all of the upgrades and extras you want, you won't have to worry about renovation costs ballooning down the road.
Lesson #20: Low-balling doesn't always pay off
Justin and Sarah bought their first place in Scottsdale, Arizona, but before they finally closed the deal, they had to endure the discouraging feeling of being outbid or rejected multiple times. From the beginning, Justin and Sarah were determined not to spend more than $240,000. Unfortunately, by looking for homes at the top of their price range but making lowball offers — plus asking sellers to contribute to their down payment and closing costs — their offers were rejected, outbid or ignored every time. If you find yourself incurring multiple losing bids, a change in strategy is in order. "Usually when you submit a lowball offer, the sellers come back with a high counteroffer," says Poulos. "I encourage my clients to submit close to what they would actually pay to narrow the gap and then negotiate in small increments." Tweaking your bidding strategy can vastly improve the likelihood of getting the house you want. If you would like the sellers to do something for you, such as contributing to closing costs or the down payment, then you may need to get as close to their asking price as possible.
Lesson #21: Build a solid real estate team
Buying a home involves many steps and decisions that can be tricky for buyers to navigate, let alone first-time homeowners. In order to make your first home purchase as stress-free as possible, you may want to invest some time building a team that will advocate for you and explain the processes involved with buying a home. "Hiring the right professionals can make all the difference when buying a home," says Bull. "Your team will likely consist of a real estate agent, lender, home inspector and various other professionals. These people will be advocating for you and helping to guide you through the process, so build your team wisely."
Lesson #22: Shop around for mortgage loans
Bull recommends shopping around for mortgage loans to ensure you are getting the best rates and terms possible. "I recommend speaking to at least three professionals to ensure you aren't leaving money on the table," says Bull. "Even a small shift in the mortgage rate can make a big difference." Bull also suggests partnering with a lender who is local, since local lenders will better understand your area's housing market.
Lesson #23: Talk to the neighbors
While researching a home that you're considering buying, don't be afraid to talk to neighbors about the area. As outsiders to your negotiation process, neighbors may provide invaluable insights into the neighborhood and building. "I have found that meeting your neighbors prior to closing on a house is one of the most important things you can do as a buyer," says Bull. "Neighbors typically have the inside scoop on what's going on locally and often provide candid commentary that may make or break your decision to buy a particular home."