Blazing a Trail: Urban Pioneer Neighborhoods
The road to revitalization is sometimes bumpy, but urban pioneers enjoy perks of both city life and suburbia.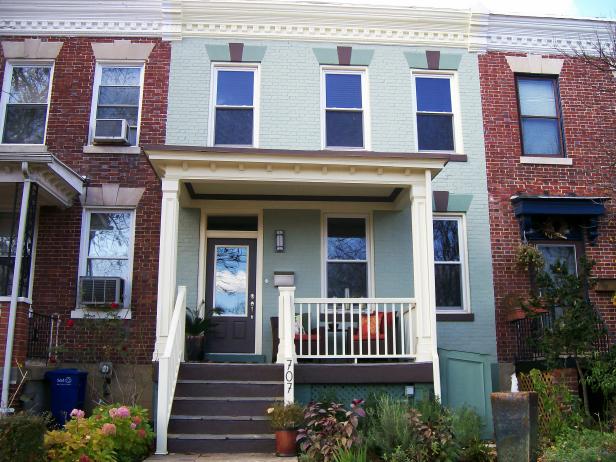 Pale Blue Row House With Traditional Porch
This row house stands out against its boring brick neighbors with a pale blue facade and an updated porch. Railings from Railing Dynamica, Inc. and comfy porch furniture from Pier 1 bring this exterior to life, as seen on HGTV's Curb Appeal.
The primary rule of investing is to buy low and sell high, and that's a main draw for people purchasing homes in urban pioneer neighborhoods.
These neighborhoods, generally located in a ring around a city's primary downtown core, feature a smorgasbord of homes of varying architectural styles and quality. Read: there are usually lots of fixer-uppers, and sweat equity can often turn into real profit.
But financial gain isn't the only reason to live in an urban pioneer neighborhood -- they have a special charm all their own.
Project manager Frank Schipani and his wife, Kristen Degan, own a brick row house in the Columbia Heights neighborhood outside of Washington, D.C., which they completely renovated in 2007. And while restoring the historic home, built in 1911, was what primarily attracted them from their condo in downtown Washington, the area has other perks as well. For starters, Schipani can still ride his bike to work in the city and make it in less than 15 minutes, and his wife walks to work in less than half an hour. But they still have a car and parking is plentiful compared to the urban core.
"It's an up-and-coming area," says Reverend Grace Caputo of The Levy Team, RE/MAX Allegiance Realtors in Washington. "Columbia Heights has had tremendous recent renovation. There's the beautiful redone Tivoli Theater surrounded by a new upscale strip mall, a large new shopping center anchored by Target, new luxury condos, a park and many restaurants. Plus, housing prices are still lower than in some other D.C. locations."
Schipani appreciates the ethnic diversity in the area and the new friendships he's made; urban pioneer neighborhoods often cut a broad swath across racial and socioeconomic lines. "We have some great neighbors on our block," Schipani says. "We love living in a neighborhood of houses rather than an apartment building because neighbors look out for each other and do each other favors. Apartment living is convenient, but it can seem very sterile at times."
Downtown residents may also miss green spaces, prompting some to seek the more verdant outlying neighborhoods. "We have a very large yard for a house in the city, which is very important to us because we love to grow our own food," Schipani says. Mature plantings in urban pioneer neighborhoods provide shade that's often lacking both in the city and in newer suburbs -- not to mention a riot of blooms in the springtime.
Drawbacks of Trailblazing
But the "pioneer" in "urban pioneer" isn't for nothing. Reclaiming a rundown property often means waiting for the area to catch up to you: there may be very little in the way of sidewalk maintenance, restaurants, nightlife, or even like-minded neighbors who want to keep their properties beautiful.
The most serious drawback can be crime. "There is a liquor store on the corner -- the kind with the bulletproof glass -- and there are often alcoholics passed out in front of it," Schipani says. "There is also a bar whose patrons are mainly troublemakers from the suburbs, and when it closes at 3 a.m., there are sometimes fights outside that spill onto our street. But we're optimistic that these crime problems will be eliminated by working with neighbors and the police. Once that happens, our neighborhood will have all the best aspects of suburbia plus all the benefits of city living."