Attract Buyers With an Inviting Atmosphere
Warm up your home's appeal during cold-weather months.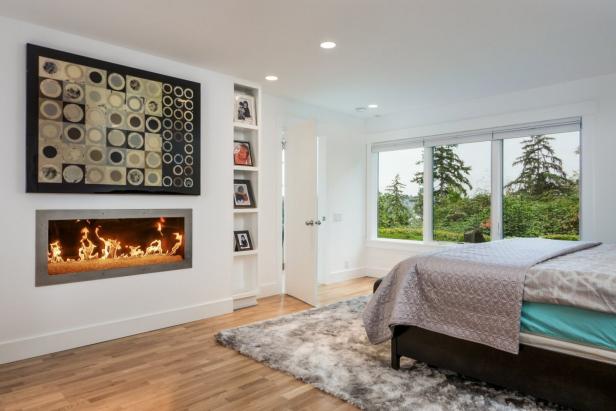 Modern Master Bedroom Feels Bright, Cozy
This modern bedroom features three large windows, providing a stunning view of the surrounding landscape and allowing light to fill the room. Mod artwork adds interest to the stark white walls, and a gas fireplace keeps things feeling cozy.
There's no better time than the chilly fall and winter months to make your home seem warm and welcoming to potential buyers. When buyers walk into your house, use these tips to make it feel like a home. This will encourage them to stick around, giving them more time to admire the space.
When it's cold outside, buyers will be grateful for a place to warm up. Turn the thermostat up a couple of degrees to make it extra toasty, or light a fire in the fireplace for an extra homey touch. Just be sure not to leave a fire unattended.
To make your home look bright and open when it's a bit dreary outside, turn on all the lights and open all the shades and curtains to let in as much natural light as possible. Use amber-colored light bulbs to give your home a warm glow.
While overly large decorations can distract buyers from your home, tasteful wintry accents can complement your decor. Consider a simple wreath on the door, a vase filled with poinsettias on an end table, or a centerpiece made of pine cones on the dining room table.
The scent of freshly baked chocolate chip cookies, cinnamon rolls or apple pie is almost universally appealing. Avoid artificial fragrances like sprays and scented candles, which might affect buyers' allergies.
If delicious aromas are wafting through your home, follow through by having food and drinks available for buyers, such as cookies, hot chocolate or apple cider.
Classical or jazz music playing softly in the background can add to your home's inviting atmosphere.
As a finishing touch, emphasize the comfort of your home with luxurious and inviting fabrics, like soft blankets, plush towels or a silky tablecloth.