They are the second fire sign of the zodiac and are ruled by none other than the big ball of fire itself — the Sun. The planetary and elemental influence is evident with Leos, as you're likely to spot them beaming beneath a spotlight, flashing their flamboyant and fiery personalities for all to see.
As the zodiac's most courageous crew, it is fitting that Leos are symbolized by the king (or queen!) of the jungle: The Lion. The fancy feline represents the Leo pack, for better and for worse. On one paw, the Lion reflects the Leo traits that lead them to be drama-queens, elitists and arrogant. On the other paw, the Lion reflects their innate leadership skills, brave hearts and unwavering loyalty for their loved ones.
Leos are lovers of theatre, lavish displays of affection, over-the-top design, photography and cinema. They are born with magnetic, inspiring energy that makes them oh-so-fun to be around, but they are prone to stirring the pot for a little homemade drama, too.

Jennifer Lopez, Alex Rodriguez, Coco Chanel, Barack Obama, Daniel Radcliffe, Robert DeNiro, Kylie Jenner, Madonna, J.K. Rowling, Carole Radziwill, Jennifer Lawrence, Tom Brady, Kate Beckinsale, Shawn Mendes, Giuliana Rancic, John Stamos, Louis Armstrong, Lucille Ball, Jacqueline Kennedy Onassis, Yves Saint-Laurent, Martha Stewart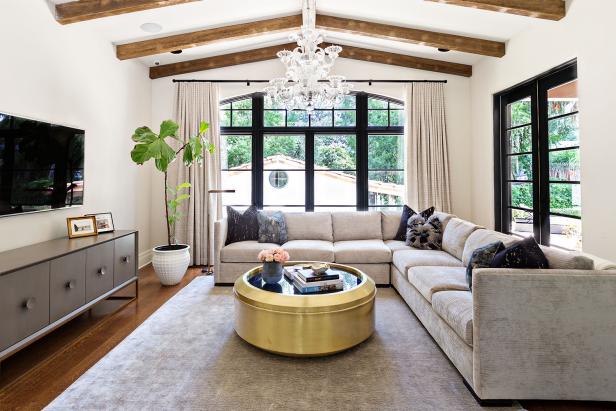 Contemporary Living Room With Gold Coffee Table
In this living room, to create a light backdrop for the furnishings, designers selected a pretty neutral for the walls: Benjamin Moore White Dove. The pale color also helped showcase the unique black-pained windows.
Shannon Lazic Photography
A Leo design is not only well thought-out, but one that is well-executed, as well. Leos are astrological royalty, so it's only befitting that their homes be adorned accordingly, yes? Rich, sophisticated pigments such as jewel tones (think emerald green, sapphire blue, ruby red or vibrant turquoise) will add the luxurious energy necessary to transform a simple house into a swanky lion's den.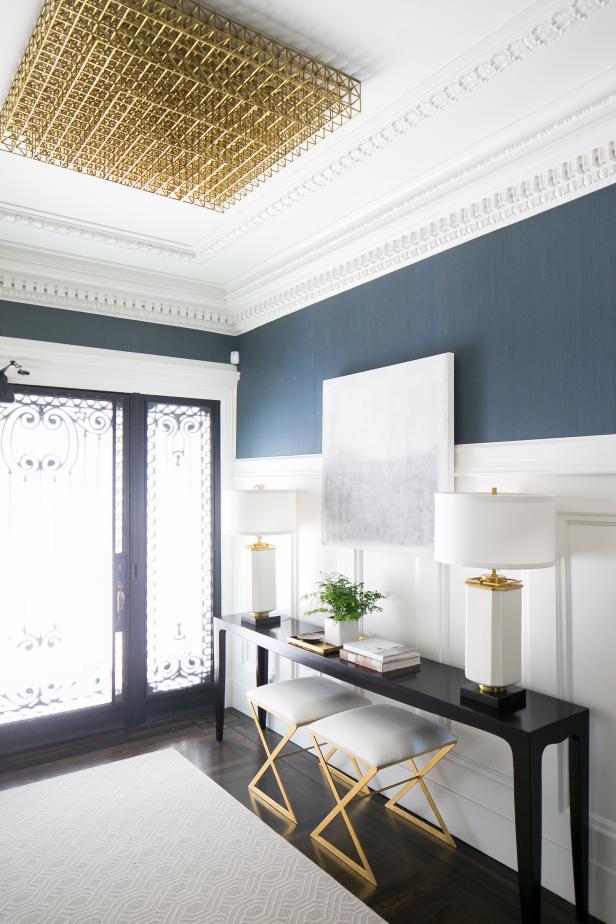 Gray and White Contemporary Foyer With Stools
Make a statement in the entry with paint colors, furnishings and accents that are a sneak peek of what's featured throughout the house. Here, the gold and white combo of the lamp, ceiling and stools are deliciously fresh against charcoal gray walls.
The design for the living and dining room in a Leo home is especially important, as Leos live for entertaining. Their communal spaces require oversized, ultra-stylish furniture in order accommodate the many members of their tight-knit pack. (Think drama: velvet chesterfield sofas, 10-ft. table, floor-to-ceiling book shelves.)

Contemporary Dining Room With Open Floor Plan
Thin-frame dining chairs with faux leather upholstery in animal print balance a black distressed trestle-base table, defining the dining area in the open plan room. Custom navy velvet sofa and woven navy area rug define the family room area.
Because Leo's are known for their showmanship, their friends and family are never surprised when greeted by a perfectly-set table, lined with gold-rimmed china and their prized, crystal glassware for any and every occasion. Loved ones learn to expect only the best from the best.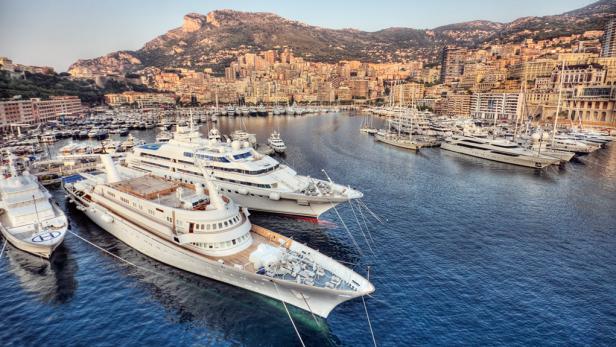 Monte Carlo Harbor
Check out these magnificent yachts docked in Monte Carlo Harbor, the rich-and-famous playground that served as a location for the James Bond movie GoldenEye. Take in the impressive sights of rococo buildings and mountains on the Bateau Bus (water taxi) or hop aboard a yacht cruise.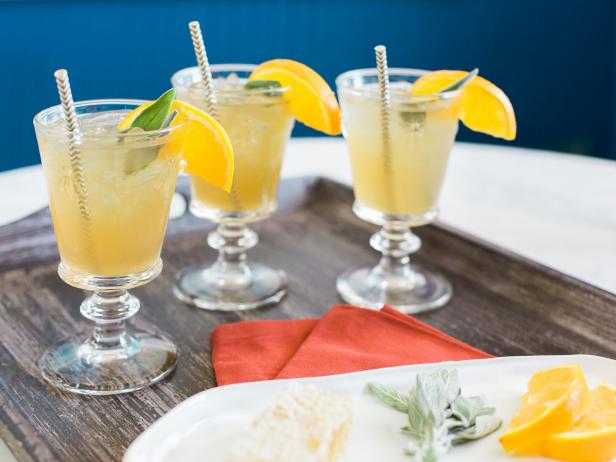 How to Make a Bourbon Honey Cider Cocktail
You and your guests won't mind ushering in fall's crisp weather with this oh-so-sippable Honeybear Cider Cocktail in hand.
Flynnside Out Productions
Honeysuckle, orange blossom + nutmeg
Rich, dreamy chocolate truffles.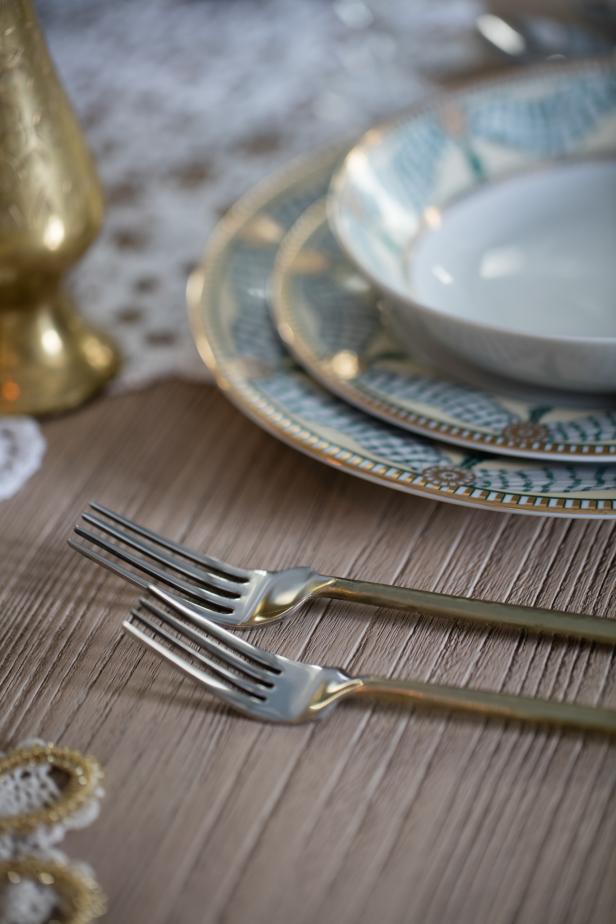 Set the Scene
The holidays are special, so why not break out the good servingware to make your guests feel special? An excellent way to ensure the colors of your formal dinnerware blend seamlessly with your tablescape is to surround the plates and bowls with metallic touches. Since silver and gold are neutral, they're certain to coordinate with almost any color.
Flynnside Out Productions
Pull out all (and we mean all) the stops to show them just how divine you think they are. How? Take a note from the Leo playbook and host a soiree worthy of royalty — complete with the best serving spoons, cocktails, crystal-ware and fancy cloth napkins. Trust us, a sophisticated celebration is sure to have these cool cats purring with delight.