September 23 — October 22
So much so, in fact, that this air sign is marked by the symbol of the scales, representing their undying need for equality and justice in their personal lives, as well as in society. Libras boast a unique, restorative energy that resolves conflicts and determines the best course of action to produce stable results for any given situation. When a Libra finds their best friend (a Gemini, no doubt) agonizing over two choices (per usual), this insightful sign has zero qualms about making the final decision for them. ("It's between ivory and eggshell? Ivory, without question. Next!")

What begins as typical, social small talk with a Libra may very well turn into an in-depth, intellectual conversation that lasts for hours. You won't find yourself looking at the door or your wristwatch with these seductive scales. The Libra will surprise you with an assortment of conversation topics, each somehow vastly more interesting than the next. You're sure to be engrossed by their storytelling and unique points of view throughout the entirety of your conversation.

Libra are ruled by Venus, the planet of luxury, love and beauty. We see the Venusian influence on this group of charmers via their champagne taste, inclination to indulgence, obsession with vanity and tendency to be hopeless romantics. What can we say, really? They know a good thing when they see it.
Kim Kardashian West, Gwyneth Paltrow, Bruno Mars, Lil Wayne, Kelly Ripa, Snoop Dogg, John Lennon, Ralph Lauren, Kevin Durant, F. Scott Fitzgerald, Oscar Wilde, Will Smith, Catherine Zeta-Jones, Zac Efron, Simon Cowell, Bella Thorne, Avril Lavigne, Nick Cannon, Jesse Eisenberg, Kate Winslet, Matt Damon, Marion Cotillard, Hugh Jackman, Zach Galifianakis, Naomi Watts, Hilary Duff, John Krasinski, Sacha Baron Cohen, Camilla Belle, Michael Douglas, Susan Sarandon, Jon Favreau, Freida Pinto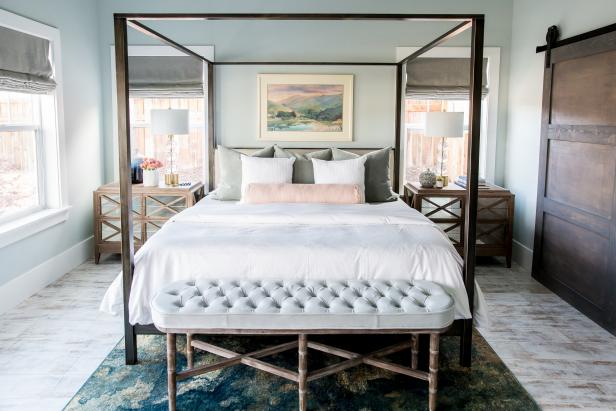 Restful and Serene Master Suite
In this master bedroom modern farmhouse meets upscale sophistication. Using bold elements like the metal frame canopy bed in conjunction with unexpected light, airy pastels for the color palette, designer Mollie Openshaw was able to create a space that makes a statement, but is also restful and serene.
The Libra home boasts an interior design that reflects their love of luxury. Large windows (with a view) are key, as this air sign prospers in spaces that are open, bright and filled to the brim with natural sunlight. Opting for soft, near-opalescent shades will offer a sense of calm and serenity that resembles the essence of the Libra's personality. Think snowy white, barely-there lavender or a pale baby-blue.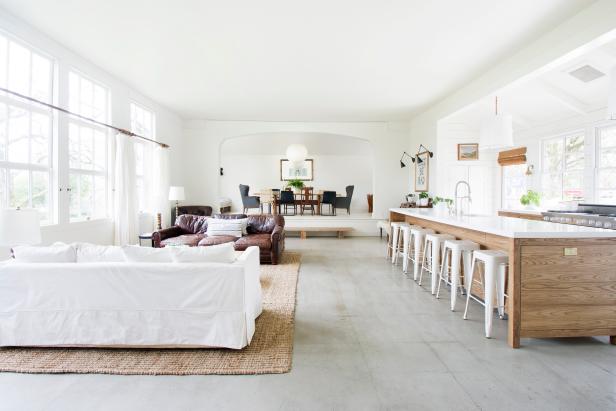 Durable Materials in Stylish, Rustic-Chic Living Space
With five boys, the homeowners wanted to make sure their home was stylish, but could also stand up to the test of their large, rambunctious family, so designers were sure to include plenty of durable materials in all of the home's spaces. At the kitchen island, sturdy, metal barstools add seating at the breakfast bar. In the living room, a woven rug defines the space, while two sofas-one with an easily machine washable slipcover and the other crafted from a durable leather-add plenty of seating that is sure to meet the challenge of the homeowners and their boys.
Pretty, paired pieces will also reflect the oh-so-balanced Libra personality in a space while adding a healthy dose of style, too. Gilded table lamps placed on opposite sides of the sofa, identical bedside tables framing the bed or a dashing duo of ginger jars on the mantel are just a few, small touches that will level out the design in a big way.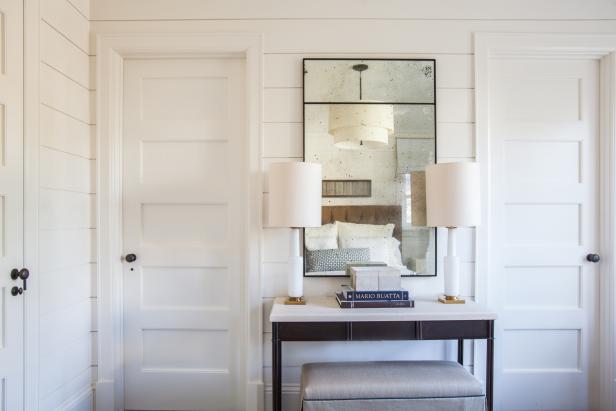 Console Table and Mirror
A petite console table plus stool, lamps and mirror make a blank bit of wall into a convenient dressing table or desk.
This social sign is sure to entertain friends and family, making the living room, guest bedroom and even the hall powder room important spaces to keep in mind while designing their home. Nothing will make our label-loving Libra happier, though, than an orderly, organized closet for their curated collection of clothes. No member of the scales-squad will regret investing in a closet system complete with sleek soft-close drawers, floor-to-ceiling shelving and plush, tufted benches.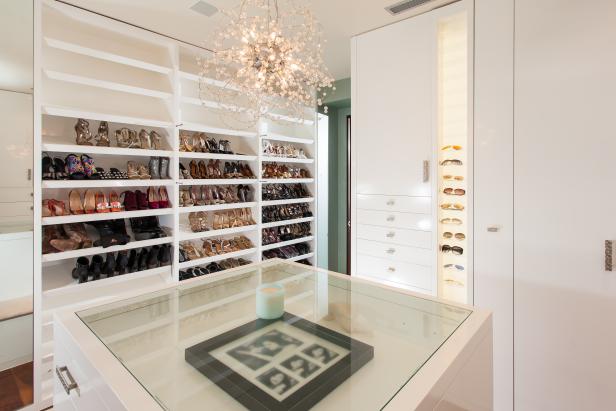 Contemporary Walk-In Master Closet With Island and Built-In Shelves
This spacious walk-in master closet has a boutique-like feel thanks to a central island, a wall of built-in shelves and even a custom display area for sunglasses. The white palette allows the displays and clothing, shoes and accessories within to truly shine.
Zinfandel Rosé + St. Germain
Cotton, lemon, iris, lily of the valley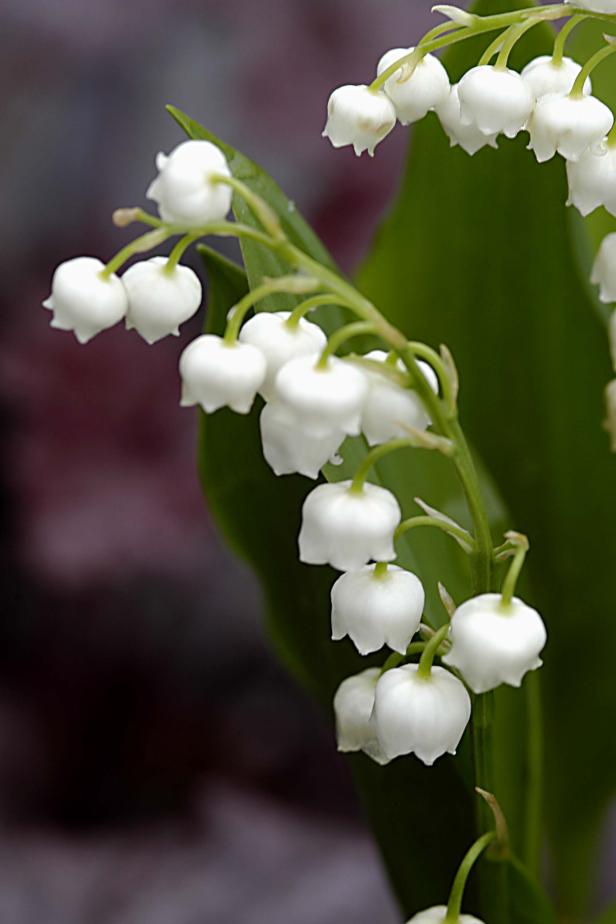 Lily-of-the-Valley
Celebrate spring with the dainty white bells of lily-of-the-valley (Convallaria majalis). These perfumed blooms hold up well in the garden or vase. Tuck into part to full shade for a deer-resistant show. Combines well with: ostrich fern, toad lily and sweet woodruff. Hardy in Zones 2 to 7.
Image courtesy of PerennialResource.com
Liz Gray; Styling by H. Camille Smith
Charcuterie — they like to have a little bit of everything.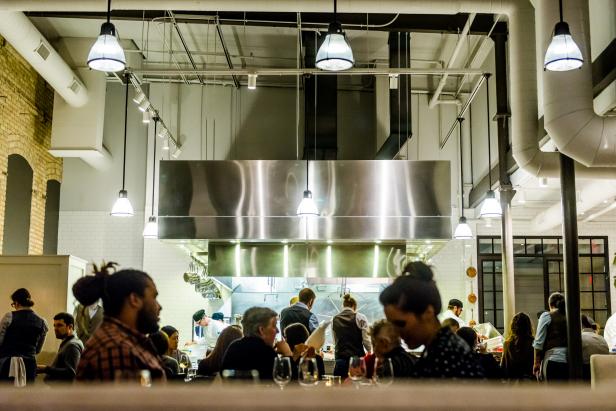 Industrial-Style Restaurant Features Exposed Kitchen
The exposed kitchen — spacious and open — serves as the focal point of this restaurant, connecting diners to chefs in a way that's unusual for fine dining. Exposed ductwork and steel accents give the space an industrial vibe.
Sip and socialize in celebration of your well-balanced, Libra bestie. Begin the shindig with a decadent meal at that downtown restaurant that people only go to for extra-special occasions. (What's more special than the anniversary of their birth, right?) After a healthy helping of food and cocktails, lead the pack to spend the second half of the evening dancing at the trendiest bar in town. The Libra in your life will appreciate having a birthday dinner and birthday party held in their honor.