The Ultimate Guide to Christmas Trees
HGTV Magazine is here with all the tips to help you find, light and decorate a beauty this holiday season.
Keep in mind: Price and stock could change after publish date, and we may make money from these affiliate links.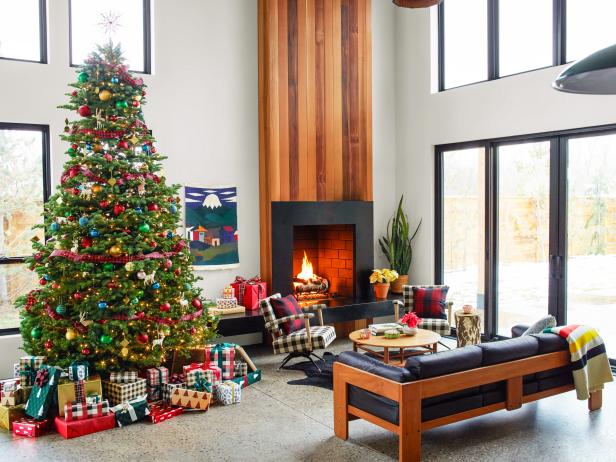 Modern Living Room With Rustic Christmas Decor and an Extra-large Tree
This modern living room features a giant Christmas tree decked out with vintage-inspired ornaments and traditional accents.
David Tsay; Styled by Catherine Dash
Choose a healthy tree by feeling the branches. Needles should be pliable and stay in place when touched. At the tree lot, ask for a fresh cut on the trunk to help the tree take in more water. And get netting for the trip home.
Position the top of the tree over the back of your car so the branches don't meet air resistance and break as you drive. If you weren't able to get netting, wrap your tree tightly in a blanket or tarp before securing it.
Put the tree in a stand large enough for its height (check the label) and with an adequate reservoir for water. Place it away from floor vents and radiators, which can make the tree dry out.
Make sure the bottom of the trunk is submerged in water at all times, even when the tree starts drinking less. Trees will usually guzzle water the first few days and then slow down. Check the water level regularly, for the whole season.
When the tree starts dropping a lot of needles, it's time to take it down. Use a tree bag — basically an oversized garbage bag — for quicker cleanup. Christmas trees are biodegradable, and many communities offer free pickup and recycling. If yours doesn't, look for an organization that will turn your tree into mulch or wood chips. Some goat farms will even take trees as a treat for the animals!
See which of these eight popular types is right for you.
"I'm team fake all day," says HGTV designer Leanne Ford. "They're always chic, they never need to be watered or cleaned up after, and you could even get a silver one (my fave) for a look that's both modern and nostalgic."
Look for ones made from polyethylene (PE). They're usually molded using models of real trees, so they look and feel authentic. It should be tough to spot a fake from afar!
A tree with hinged branches, which are permanently attached to the center pole, is easiest to set up. And consider the tip count: The higher it is, the fuller and more realistic the tree will seem.
Many faux trees come prelit. Look for LED bulbs: They last a lot longer than incandescents, prolonging the life span of the tree itself.
Most fake trees come with one, and you'll want to hide it. Use a skirt, a collar or even a basket.
Buy the right amount: You'll need at least 100 lights per vertical foot of tree. Test each set before you start decorating to make sure all the bulbs work.

If you're using several strands of lights, have a multi-outlet surge protector ready — it's not safe to plug in more than three connected strands.

Connect two or three sets of lights and plug them in, then string them up the middle of the tree, close to the trunk. Once you reach the top, start wrapping the lights around the branches.

When you run out of lights, plug in another group. String them up the middle of the tree to where you left off and continue wrapping around the branches.
You don't have to choose between white lights and multicolor: These LED string lights connect with an app that lets you change the colors and create special effects from your phone. Pick whatever suits your mood each night. All pink? Rainbow? Red and green stripes? You can host a light show right in your living room!
Shop these festive finds to make your tree even merrier.