How to Decorate Your Christmas Tree Like a Professional
Not sure if you should start with the lights, the ornaments or the topper? Follow our step-by-step guide for the best way to trim your holiday tree.
The Christmas tree is usually the focal point of all the holiday decorations. Getting it to look well-coordinated and designer-worthy isn't always as easy as it sounds. But if you follow the correct order in which to decorate it and listen to our professional tips, your Christmas tree will be the envy of all who see it, including Santa.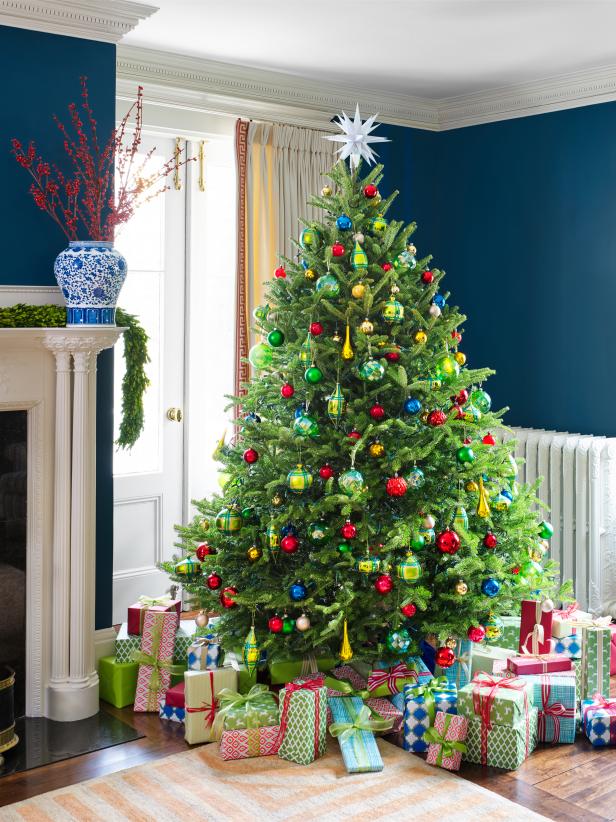 Traditional Blue Living Room Decorated for Christmas
This traditional blue living room features a festive Christmas tree and garland and a large chinoiserie vase on the mantel.
Annie Schlechter; Styled by Matthew Gleason
1. Christmas Tree Stands or Containers
A tree stand or container is what is going to hold up your tree and keep it secure, so no matter which way you go, make sure it's sturdy. Rotate the tree so the best side is facing your most visible, high-trafficked area.
One of the most impactful ways to add personality to your tree is to put it in a unique container. Crocks, baskets, crates, wagons and large buckets are all excellent choices. If using a live tree, insert a plastic bucket or container inside to hold water. Alternately, secure a faux tree's trunk by stacking a few bricks around it.
Marian Parsons
Think outside the box when looking for a container or stand to hold your tree. Here, an antique carriage adds height to the tree, but more importantly, it adds a ton of charm.
2. Fluff or Trim the Tree
It's one of the most boring parts of decorating a Christmas tree, but taking time to properly fluff an artificial tree or trim a live tree will set the stage for a beautiful holiday focal point. On an artificial tree, pull apart the branches and bend them at a slight upward angle. When preparing a live tree, remove lower branches that will interfere with the tree stand and give a "haircut" to any that are distracting or awkward.
3. Put Lights on the Christmas Tree
If you're buying new lights, look for ones that have a cord that matches or coordinates with your tree color. Naturally, most light strands come in green, but if you have a white tree or another color, you may have to shop around a bit.
Typically, you want the male end of the plug (the one with the prongs showing) at the bottom of the Christmas tree to plug into your wall or a power strip. Other light strands can be added on as you work your way up the tree. Plug in the lights to test them before you begin. Start at the bottom of the tree and wrap your lights around and along each branch to disperse the lights at multiple depths in the tree. Make sure to leave yourself a bit of slack in the light strand for adjustments later. Place the lights close to the trunk to give your tree depth and an inner glow.
Designer tip: Don't be afraid to use two different types of lighting on the tree to add even more interest. A mix of large and small bulbs, string lights and electric candles will take an already beautiful tree and put it over the top.
How to Calculate How Many Lights You'll Need
Yes, there's a formula for determining how long a light strand should be. Lowe's offers this rule of thumb for how many lights a Christmas tree needs: 100 mini lights for every 1.5 feet of vertical height in your Christmas tree.
If you have a 6-foot Christmas tree, calculate it like this:
Divide 6 by 1.5, which equals 4.
Multiply 4 by 100.
Your 6-foot Christmas tree needs a total of 400 lights.
Most strands of Christmas lights have 100 lights, so in this case, you would plan on chaining four of them together.
4. Wrap the Tree in Garland
Garland is totally optional. Some designers chose to use other metallic accents like gold or silver branches tucked into the tree or a bunch of matching oversized ornaments or bows. Ribbon — hung vertically or horizontally — is another trick designers often use instead of standard garland because ribbon is an inexpensive way to get a specific color scheme or texture. Beads are also a popular substitute garland. But if you're going for a classic look, don't rule out stringing popcorn or crafting old-school construction paper rings.
When wrapping garland around your tree, start at the top of the tree and work your way down. When draping the garland, use consistent spacing to keep your tree looking uniform. The rule of thumb is to use about two strands of garland for every vertical foot of tree.
Glitzy Gold Branches on Lighted Christmas Tree
Not sure what style of garland to add to your tree? Well, why not skip the garland and opt for metallic branches instead?
Not sure what style of garland to add to your tree? Well, why not skip the garland and opt for metallic branches instead?
5. Place the Topper or Star
The star, angel or topper of choice is traditionally put on last, but leaning over a tree loaded with ornaments is impractical and can be unsafe. Put the star on the top before any ornaments are added to make the decorating process easier.
From classic sparkling stars to a light-up Star Wars Death Star, shop our favorite Christmas tree topper ideas for every budget and design style.
When adding ornaments, stick with a theme, even if it's a loose one. Find a common element, whether it's color palette, style, material or a specific theme like woodland, coastal, farmhouse, etc. Within that theme, add lots of variation. Use ornaments of different sizes, textures, tones, hues and finishes. Mix new and old, handmade and store-bought, high-end and bargains. Variety within boundaries prevents the tree from looking too crazy or too boring.
Decorating the Christmas tree is an annual tradition that many families enjoy — but the tree itself doesn't have to be traditional.
7. Stand Back and Take a Look
When decorating a tree from about a foot away, it's easy to miss the big picture. When you're trimming your tree, frequently take a few steps back to view the tree as a whole. Are there any gaps or clumps in the branches, lighting, ribbons or ornaments? Are any elements distracting or do they work together to enhance the overall look? It's even a good idea to take a break for a few minutes; then walk back into the room to view the tree with fresh eyes.
Tree skirts are another opportunity to think outside the box. Use something that continues your theme or color palette, and it doesn't have to be a store-bought skirt. Consider using a tablecloth, a blanket or make your own skirt. A plain skirt can be dressed up with a village scene, an electric train, vintage toys or simply gifts wrapped in coordinating colors.
Inspired by hand-painted Nordic designs, this colorful Christmas tree skirt is a no-sew project that's made by layering felt cut-outs then outlining them with chunky yarn.