Passover Dessert: Edible Flower Toffee Matzo
Pastel candy melts and fun edible flowers give this beloved Passover dessert a spring-inspired twist.
Toffee matzo is one of the most beloved modern Passover desserts. This sticky, crunchy-chewy confection is loaded with sugary deliciousness and is a fun way to upgrade a plain piece of matzo. In this seasonal-inspired version, pastel candy melts and a smattering of edible flowers are used to change up the typical color scheme and add a splash of springtime to your Seder dessert offerings. Your guests won't be able to get enough of these beautiful treats — once they stop ooh-ing and ahh-ing, that is.
We're sorry, there seems to be an issue playing this video. Please refresh the page or try again in a moment. If you continue to have issues, please contact us here.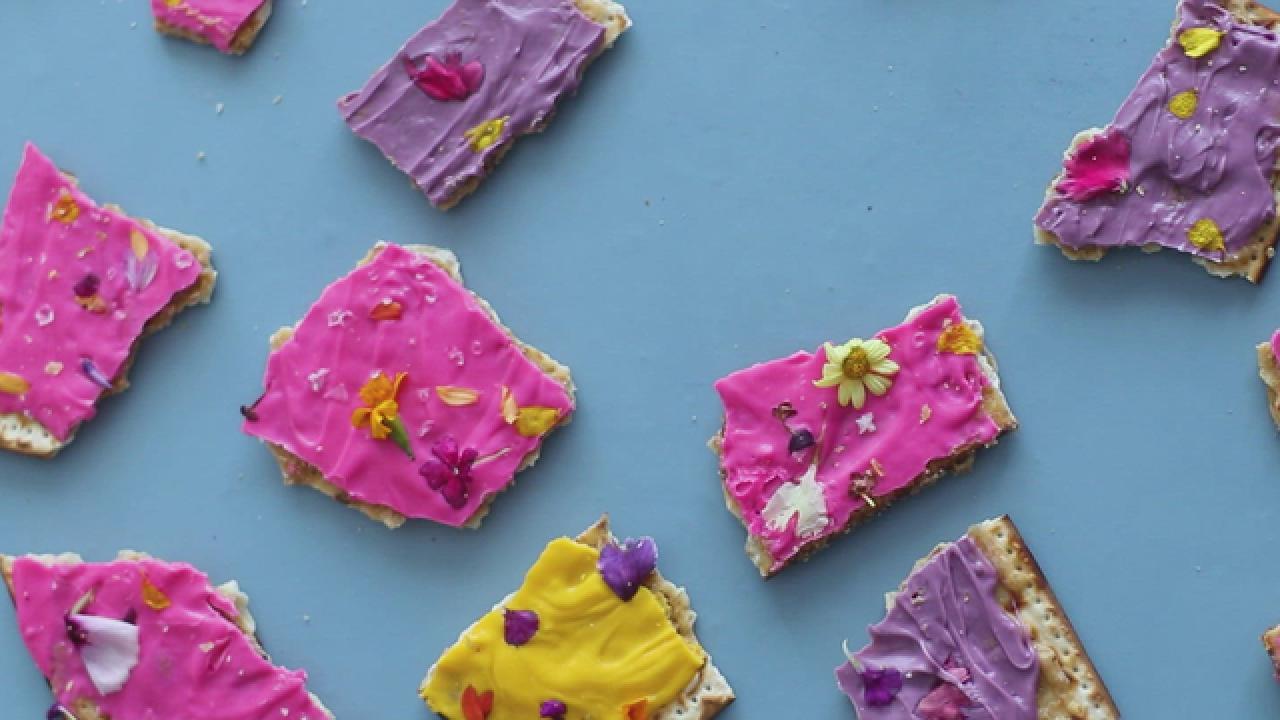 5-7 matzo sheets
1 stick unsalted butter
1/2 cup packed dark brown sugar
2 cups pastel candy melt wafers
1 teaspoon flaky salt or sea salt
Preheat your oven to 350°F. Line a baking pan with parchment paper. Place the matzos on the pan, breaking pieces into smaller sections to fill the entire surface area.
Add the butter and brown sugar to a saucepan. Cook over medium heat, whisking constantly until the mixture comes to a low boil. Continue stirring over medium heat for another 2-3 minutes until the mixture is thick and foaming.
Carefully pour the sugar-butter mixture over the matzos. Use an offset spatula to spread the toffee evenly over all the pieces. Bake for 8-10 minutes.
Remove the baking sheet from the oven and immediately scatter the candy melts on top of the toffee, working with one color at a time. Wait 1-2 minutes for the melts to soften, then use an offset spatula to spread them into an even layer on top of the toffee. Clean your spatula in between each color to avoid mixing the colors. Next, sprinkle the dessert with a smattering of fresh or pressed edible flowers and a fine dusting of sea salt. Refrigerate for 1 hour or until the toffee is firm. Peel the finished product off of the parchment paper and break it into bite-size pieces. Serve or store in an airtight container in the refrigerator until ready to serve.