The 10 Best Kits + Tools to Get Kids Hooked on Gardening
Foster an interest in both indoor and outdoor gardening with these educational hands-on kits and kid-sized tools.
Keep in mind: Price and stock could change after publish date, and we may make money from these links.
Whether you're eager to work with your kids to create a garden plot in the backyard filled with vegetables or plant a small indoor herb garden on the kitchen table, there are lots of ways to help foster a lifelong love of gardening in your children. From pint-sized garden tools made for digging in the dirt to eye-catching terrariums designed to stay inside, we've compiled the essentials you need to get kids started with gardening.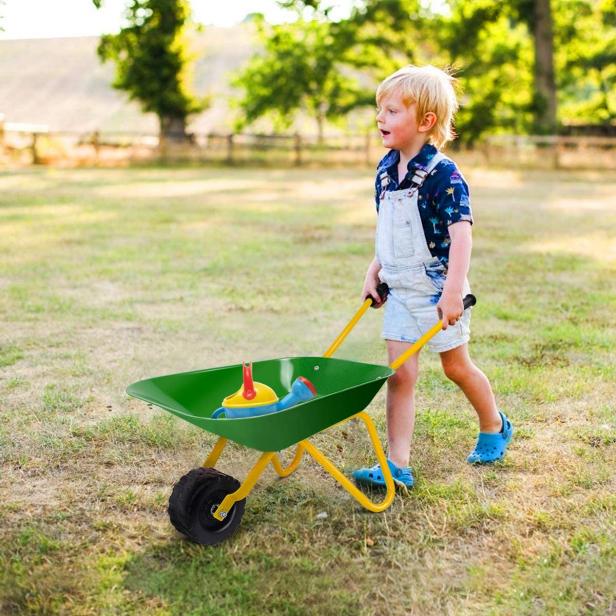 This kid-sized metal wheelbarrow is just right for backyard planting projects of all sizes. Little ones will love hauling around soil, mulch and gardening tools in this sturdy wheelbarrow. Easy-grip handles and a chunky front wheel makes it easy for kids to push, pull and dump the wheelbarrow as they help lead family garden projects. Kids can use this wheelbarrow in every season too, carrying sand and soil in summer, then snow in winter. It's also a fun way to get kids moving outside.
Buy It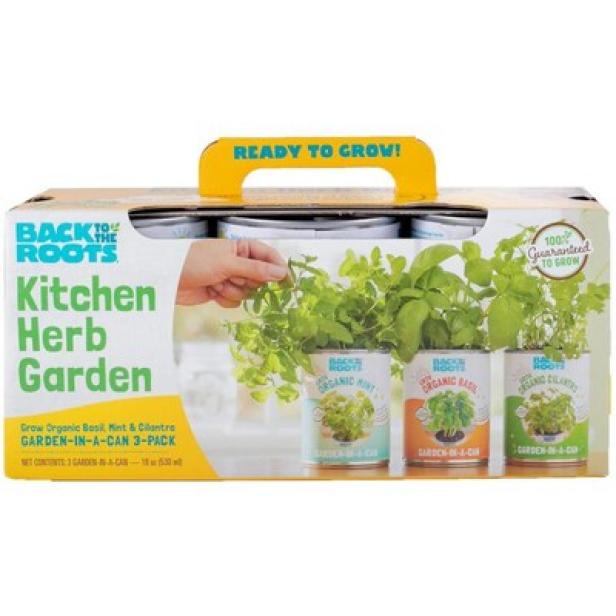 Kids can grow a fragrant herb garden right on the kitchen windowsill. This colorful garden-in-a-can set is a snap for little ones to use. The set includes small cans for planting three common kitchen herbs, including basil, cilantro and mint. Kids add soil and seeds to each can, water them well, then find a sunny spot to watch them grow. As a bonus, the kit comes with a coloring book, as well as a kid-sized booklet that explains how to use each of the herbs.
Buy It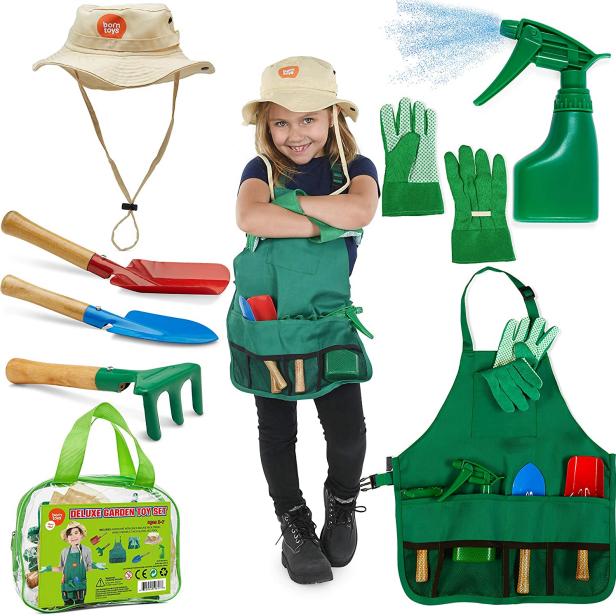 Gardeners-in-training will be elated to have their very own set of tools, including a colorful trowel, spade, gardening gloves and spray bottle. Just right for little hands, this durable gardening set comes with a kid-sized apron with extra-large front pockets, allowing little ones to keep tools close at hand. There's even a bucket hat to protect sensitive eyes and faces from the sun's rays. A starter toolset is a great way to grow their love of gardening and the environment.
Buy It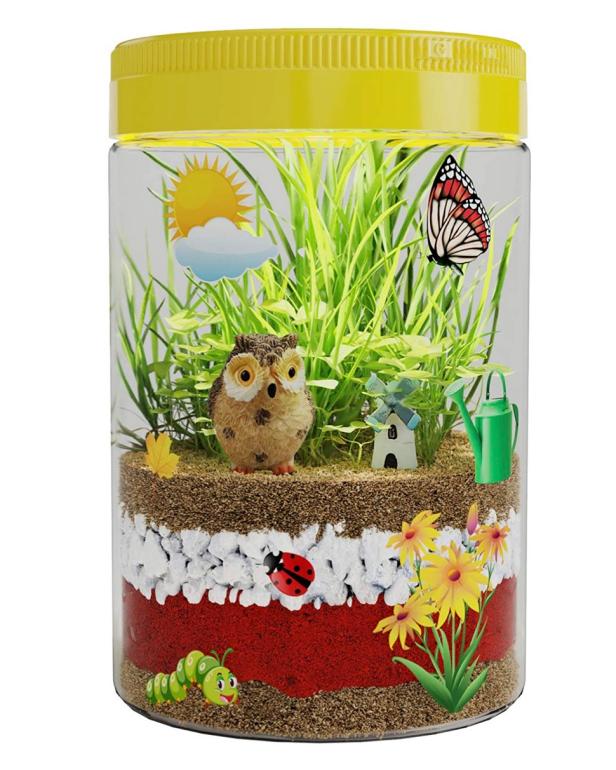 Kids will love being able to garden and grow plants inside a terrarium. This bedside terrarium not only allows children their first experience with nurturing plant life, but it also makes a perfect nightlight thanks to the built-in LED light. This kit has everything your kids will need to create their first indoor garden, including a clear 4" x 6" jar, a light-up lid, soil, sand and rocks, plus chia and wheatgrass seeds. Inside you'll also find colorful stickers, so kids can decorate the outside of the terrarium.
Buy It
Kid-Friendly Raised Bed
01:00
Upcycle out-grown playtime toys into raised, kid-friendly garden beds.