How to Make Unicorn-Inspired Dessert Doughnuts
Turn the dessert table into a magical wonderland with these sweet unicorn doughnuts that are sure to be a hit with kids of all ages. The golden rings are baked instead of fried, and a little buttermilk in the batter makes them as delicious as they are cute.
2 cups cake flour, sifted
3/4 cup granulated sugar
2 teaspoons baking powder
1 teaspoon salt
3/4 cup buttermilk
2 eggs, lightly beaten
2 tablespoons vegetable oil
2 teaspoons lemon extract
zest of one lemon
12 ounces light pink candy melting wafers
2 sticks unsalted butter, softened
2-1/2 cups confectioners' sugar
1 teaspoon vanilla extract
milk or heavy cream (if needed)
pink gel food color
purple gel food color
confetti sprinkles
white heart-shaped hard candies
black food color pen
3 tablespoons gum paste or fondant
edible gold paint
edible gold glitter
Note: Specialty cake decorating items, such as edible paint and edible glitter, are needed for creating the unicorn horn and can be found at most well-stocked craft stores and online. For an easy shortcut, use unicorn horn cupcake picks made of card stock.
Preheat oven to 425°F. Spray a doughnut pan with nonstick cooking spray. In a large mixing bowl, sift together cake flour, sugar, baking powder and salt. Add the buttermilk, eggs, oil, lemon extract and zest. Beat until just combined. The batter will be thick. Transfer the batter to a piping bag with a 1/2-inch opening cut in the tip. Pipe the batter into the doughnut cavities until approximately 2/3 full (Image 1). Bake for 7-9 minutes, or until the tops of the doughnuts spring back when touched. Allow the doughnuts to cool in the pan for 2 minutes, then turn out onto a wire rack to cool completely (Image 2). Repeat the process until all the batter is used and all the doughnuts are completely cooled.
Place the candy wafers in a microwave-safe bowl and heat at 100% power in 30-second intervals until melted and smooth. Lay the top of each doughnut down into the surface of the melted candy, and lightly press so the front side of the doughnut is covered (Image 1). Remove and lay each doughnut face up on parchment paper or a wire rack (Image 2). Let stand until set, about 10 minutes.
Combine confectioners' sugar and softened butter in the bowl of a stand mixer fitted with a whisk attachment. Begin mixing on low speed until the mixture is crumbly. Increase to high speed and beat for three minutes. Next, add the vanilla extract and beat the mixture for another minute until light and fluffy. If the buttercream is too stiff, beat in milk or heavy cream, one tablespoon at a time until the mixture is of piping consistency. Divide the frosting into three portions. Tint one portion pink and one portion purple. Leave the remaining portion white. Next, place a sheet of plastic wrap on a work surface. Spread the purple, white and pink frosting side-by-side on the sheet of plastic wrap (Image 1). Roll the three colors together inside the plastic wrap and twist the ends (Image 2). Snip one end and place in a piping bag fitted with a large closed star piping tip.
Unicorn Horn Instructions
Rub a light coating of white vegetable shortening onto a clean work surface. Pinch off a walnut-sized piece of white gum paste, and split it into two equal halves (Image 1). Form each half into a ball in the palms of your hands, and then roll out into two thin cones about 2-1/2 inches long. Using a finger, lightly brush the insides of the cones with water and stick them together. Carefully twist the cones together from the tapered ends down to form the horn (Image 2), then cut a 1/2 inch off the thick end with a paring knife to form a cleaner base. Push the end of a toothpick into the base of the horn. Store the horn in an upright position, standing in a small glass or inserted into a block of foam. Paint the unicorn's horn with gold edible paint and let dry for about 30 minutes. While the paint is still slightly tacky, evenly sprinkle on edible gold glitter (Image 3).
Pipe the frosting onto one edge of the doughnut, creating a swirly, flowing mane (Image 1). Place two heart-shaped candies, pointed end upward, into the frosting to create unicorn ears (Image 2). When the unicorn horn is dry, use the toothpick end to carefully insert it in between the ears (Image 3). Next, add colorful sprinkles around the horn. Finish it off by using a food color pen to draw on eyes with eyelashes to each side of the doughnut hole in the center (Image 4). Doughnuts can be made one day ahead and kept in an airtight storage container.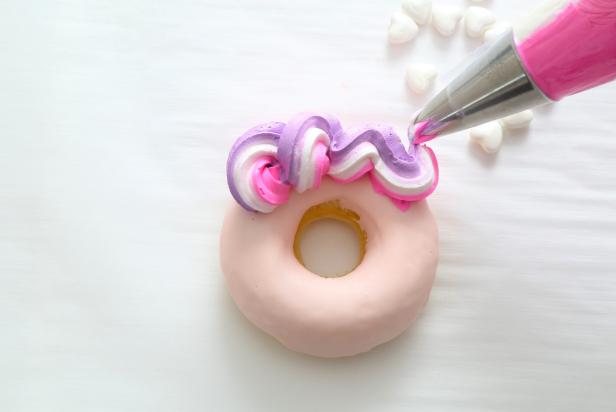 Heather Baird, SprinkleBakes.com
Heather Baird, SprinkleBakes.com
Heather Baird, SprinkleBakes.com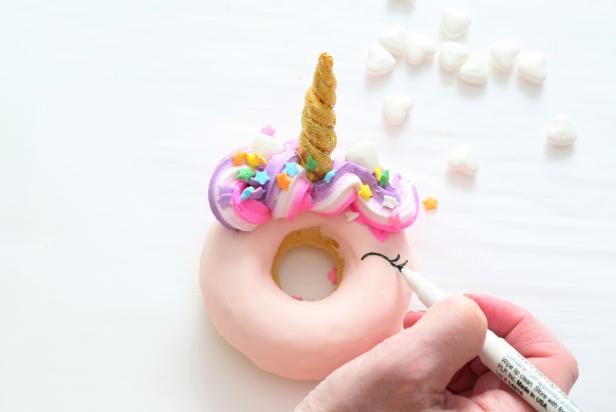 Heather Baird, SprinkleBakes.com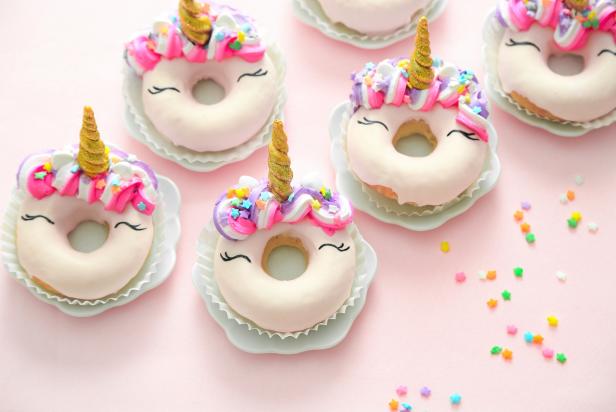 Heather Baird, SprinkleBakes.com
More Unicorn Party Dessert Recipes to Try
These colorful cake pop cones are the ideal treat for a unicorn-themed party or birthday and will bring lots of magic and cuteness to the dessert table.
Sprinkle a little magic throughout your next party or birthday with these unicorn-themed parfaits. They can be made a day ahead of time then decorated just before serving.
This single-digit cream tart confection is made with layers of sponge cake and buttercream and decorated with all kinds of sweet embellishments.