Pumpkin Ice Cream Gingersnap Sandwiches Recipe
Kids will love helping to assemble (then devour!) these creamy, crunchy treats.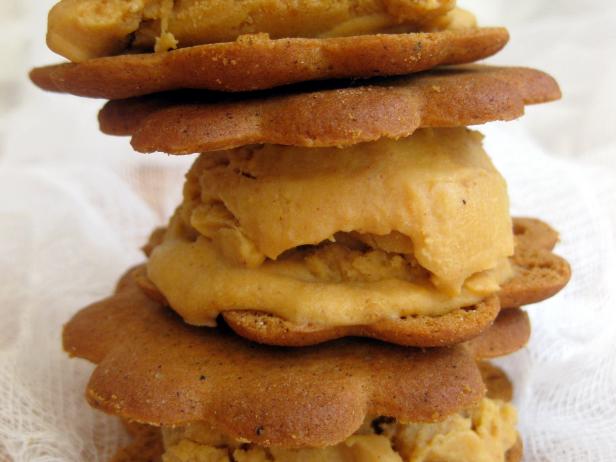 Pumpkin Gingersnap Ice Cream Sandwiches
Just because it's chilly out doesn't mean you can't enjoy ice cream. Bonus: Kids will love helping to assemble (then devour!) these creamy, crunchy treats. Get the recipe: http://www.hgtv.com/entertaining/pumpkin-ice-cream-gingersnap-sandwiches-recipe/index.html
These pumpkin ice cream gingersnap sandwiches are a fun project for the kids. You just whip up some homemade ice cream and bake off a few dozen super thin gingersnap cookies and then let the kids go to town making them into ice cream sandwiches.
For the Ice Cream:
1 cup canned unsweetened pumpkin puree
1 teaspoon pure vanilla extract
2 cups heavy cream
3/4 cup firmly packed dark brown sugar
5 egg yolks
1 teaspoon pumpkin pie spice
1/4 teaspoon salt
pinch of freshly grated nutmeg
For the Gingersnap Cookies:
3 cups all-purpose flour
1 1/2 teaspoons baking soda
1 1/2 teaspoons cinnamon
1 1/2 teaspoons ground ginger
1 1/2 teaspoons ground cloves
1/2 cup heavy cream, chilled
1/2 cup unsalted butter, softened
1 cup white sugar
1/2 cup dark corn syrup
For the Ice Cream:
1. In a bowl, whisk together the pumpkin puree and vanilla. Cover and refrigerate for 3 hours.
2. In a heavy 2-quart saucepan over medium heat, combine 1-1/2 cups of the heavy cream and 1/2 cup of the brown sugar. Cook until bubbles form around the edges of the pan, about 5 minutes.
3. Meanwhile, in a bowl, combine the egg yolks, cinnamon, ginger, salt, nutmeg, the remaining 1/2 cup heavy cream and the remaining 1/4 cup brown sugar. Whisk until smooth and the sugar begins to dissolve.
4. Remove the cream mixture from the heat. Gradually whisk about 1/2 cup of the hot cream mixture into the egg mixture to temper the eggs. Repeat this process with another 1/2 cup of the hot mixture.
5. Pour the egg mixture back into the pan with the remaining cream. Cook over medium heat, stirring constantly with a wooden spoon and keeping the custard at a low simmer, until it is thick enough to coat the back of the spoon and leaves a clear trail when a finger is drawn through it, about 4 to 6 minutes. (Do not allow the custard to boil.)
6. Strain through a fine-mesh sieve into a bowl.
7. Place the bowl in a larger bowl partially filled with ice water, stirring occasionally until cool.
8. Whisk the pumpkin mixture into the custard. Cover with plastic wrap, pressing it directly on the surface of the custard to prevent a skin from forming. Refrigerate until chilled, at least 3 hours or up to 24 hours.
9. Transfer the custard to an ice cream maker and freeze according to the manufacturer's instructions.
10. Transfer the ice cream to a freezer-safe container. Cover and freeze until firm, at least 3 hours before serving.
For the Gingersnap Cookies:
1. Into a large bowl sift together flour, baking soda and spices.
2. In a medium bowl with an electric mixer, whisk the cream until it just holds stiff peaks.
3. In another large bowl with an electric mixer, whip butter and sugar until mixture is light and fluffy.
4. On low speed combine the corn syrup and the freshly whisked whipped cream, until cream is just combined.
5. Add the flour and spice mixture and beat until everything is fully incorporated.
6. Transfer the dough to a clean surface and form dough into a disk. Wrap the disk with plastic wrap and chill for at least 2 hours.
7. Preheat oven to 400° F.
8. Cut the disk of dough into quarters and work with 1 quarter at a time, keeping remaining dough covered and chilled.
9. Using a rolling pin with cover dusted with flour, roll out dough into a round on a floured pastry cloth, rolling dough as thin as possible (about 1/8 inch thick and about 12 inches in diameter).
10. With assorted 2- to 3-inch cutters, cut out cookies. Carefully transfer cookies as cut to ungreased baking sheets with a metal spatula, arranging them about 1/2-inch apart. Re-roll scraps and cut out more cookies in same manner.
11. Bake the cookies, two trays at a time, in your preheated oven, switching position of baking sheets halfway through baking, until cookies puff and then collapse slightly, about 6 minutes.
12. Cool cookies on sheets for 2 more minutes and transfer with metal spatula to racks to cool completely. Repeat this process for the remaining dough.
To Assemble the Pumpkin Ice Cream Gingersnap Sandwiches:
1. Take 2 cooled cookies and place them on a clean surface.
2. Using an ice cream scoop, scoop some of the ice cream onto one of the cookies and press the other cookie on top.
Transfer each assembled ice cream sandwich to a plate in the freezer immediately and serve as needed.