How to Make a Magical Unicorn Birthday Cake
Make your little one's day truly magical with an enchanted unicorn cake. This single-digit cream tart confection is made with layers of sponge cake and buttercream and decorated with all kinds of sweet embellishments.
4 eggs, room temperature
3/4 cup granulated sugar
1 tablespoon vegetable oil
2 tablespoons heavy cream
1 teaspoon vanilla extract
1 cup all-purpose flour
1 teaspoon baking powder
1/2 teaspoon salt
8-10 drops neon pink gel food coloring
Buttercream Icing Ingredients:
2 sticks unsalted butter, softened
2 1/2 cups confectioner's sugar
1 teaspoon vanilla extract
milk or heavy cream, if needed
pink gel food color
orange gel food color
1/4 cup white gum paste
white vegetable shortening
1 teaspoon of water in a small bowl
toothpicks
bamboo skewer
small kitchen-dedicated artist's brush
1" square cookie cutter
1 1/2" square cookie cutter
edible gold metallic paint
edible gold metallic glitter
mini ice cream cone
white sprinkles or pearl sugar
edible organic white flower petals, optional
Preparation: A number template can be made using word processing software. Create letters or numbers in a simple font approximately 7x9-inches and print on copy paper using an inkjet printer. Print and cut out 1 copy of the number of your choice for the shape of the cake.
Preheat the oven to 350°F.
Grease a 10x15 inch jelly-roll pan or baking sheet with white vegetable shortening. Using scissors, cut a piece of parchment paper to fit inside the pan, and line the pan with the cut paper.
In the bowl of an electric mixer fitted with the whisk attachment, beat eggs for five minutes on medium speed with a timer set. Properly whipped eggs will lighten in color considerably and have the appearance of yellow cake batter. With the mixer still running, slowly add granulated sugar and oil to the whipped eggs. Next, add milk. Switch the whisk attachment with the paddle attachment.
In a separate bowl, sift together flour, baking powder and salt. Slowly add to the liquid ingredients with the mixer running on low, and then add 8-10 drops of the pink neon gel food coloring. Mix well until combined. Pour batter into the prepared pan and tilt pan to distribute the batter evenly. Smooth the batter with an offset spatula to get it perfectly even. Bake for 7-10 minutes, checking at 7. Cake is done when it springs back when pressed with fingers.
Cut around edges of cake with a knife to separate from sides of baking pan, and turn on to a piece of parchment paper to let cool. Carefully peel away parchment that the cake was baked in from the back of the cake layer. Repeat recipe so that you have two sponge cake sheets to make four numbers total (2 numbers cut from each sponge sheet).
To make the white buttercream, add confectioner's sugar to softened butter in the bowl of a stand mixer, fitted with a whisk attachment. Begin mixing on low speed until the mixture is crumbly. Increase to high speed and beat for 3 minutes. Next, add the vanilla extract and beat the mixture for another minute until light and fluffy. If the buttercream is too stiff, beat in milk or heavy cream, one tablespoon at a time, until the mixture is of piping consistency. Cover with a damp towel to prevent it from drying out.
Make a second batch of buttercream and divide in two; tint each buttercream with the pink and orange gel food color, so that one bowl is pale coral and the other is dark pink-coral.
Once each sponge layer is cooled, they can be chilled in the refrigerator, layered with sheets of parchment paper between them until you're ready to use them.
Lay template flat on the surface of cake layer, and cut around edges of the template with a very sharp, short knife, such as a craft knife or paring knife. Repeat until you have four numbers. Peel away excess cake from around sides of letter and carefully peel away template.
Carefully lay the bottom sponge cake layer on a cake board or tray. Prepare a piping bag for white icing by cutting off the bottom pointed edge, leaving about a 3/4 opening in the bottom of the bag. Then place a 1/2 inch round tip in the bottom of the piping bag, and fold over the top 3 to four inches of the bag. Fill the piping bag by loading it with heaping spatulas of the buttercream, then unfold the top of the bag and twist it closed.
Pipe one-inch rounds of the white icing onto the surface of the cake layer. Line up rounds with the outer edges of the cake, until the surface is filled. Lay the next layer of cake on top of this, and then repeat until all four layers of cake have a layer of piped icing rounds on top.
To form the unicorn's horn, rub a light coating of white vegetable shortening onto a clean work surface. Pinch off at least a walnut-sized piece of white gum paste, and split into two equal halves. Form each half into a ball in the palms of your hands, and then roll out into two thin cones about 2.5-inches long. Using a finger, lightly brush the insides of the cones with water and stick them together.
Carefully twist the cones together from the tapered ends down to form the horn, then cut about a half-inch off the thick end with a paring knife, to form a cleaner base. Carefully push the sharp end of the skewer into the base of the horn. Store the horn in an upright position, standing in a glass or in a block of foam.
To make unicorn ears, pinch off about an egg-sized piece of gum paste, roll into a ball and flatten into a disc about half-inch thick. Cut two one-inch squares and two 1.5-inch squares using the square cookie cutters. Turn the larger squares sideways into a diamond shape. Lightly brush the backside of one of the smaller squares with water, and press into the front of larger squares toward the bottom of the diamond. Pinch the left and right corners of the diamond together, forming each ear. Gently press a toothpick into the base of each ear.
Load the two colors of coral frosting into piping bags tipped with closed star pastry tips. Pipe out half-inch rounds of the different icing colors onto a parchment-lined tray and chill in the freezer for 5-7 minutes, or until they are firm.
Meanwhile, pipe out a swirl of light coral into the mini ice cream cake cup. Chill in the refrigerator until firm, about 10 minutes.
Using a case knife or small icing spatula, scoop up the chilled icing rounds and place in the spaces between the piped icing rounds on top of the cake. Pile the chilled icing dollops on top of each other, until the top of the cake is well-covered. Sprinkle the mini ice cream cone with pearl sugar or white sprinkles, then lay on its side on top of the cake.
Paint the unicorn's horn and the insides of each ear with gold edible paint and let dry about 30 minutes. Then, evenly sprinkle on edible gold glitter while the paint is still slightly tacky.
Insert the skewer with the horn into the top of the cake at a slight upward angle. Press the ears into place on either side of the horn, at a slightly greater upward angle. Just before serving, garnish cake with edible white petals, if desired.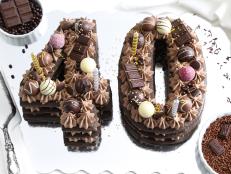 Looking for a fun way to celebrate a milestone birthday? Try your hand at this delicious, three-tiered cream tart number cake. Each digit is made of three, soft, chocolate cookies filled with chocolate buttercream and topped with truffles, chocolate bars, sprinkles and more for a very happy birthday treat.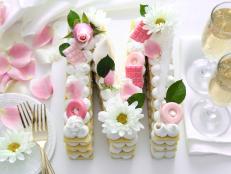 Made with layers of sponge cake and buttercream frosting and topped with fresh flowers and sugar pearls, this sweet monogram cake makes a lovely focal point for wedding receptions, baby showers and more.
Learn how to bake the perfect layered naked cake just in time for Fourth of July with this simple tutorial from Marabou Design.