Unicorn Party Dessert: Enchanting Pink Parfaits
Sprinkle a little magic throughout your next party or birthday with these whimsical, unicorn-themed parfaits. They can be made a day ahead of time, and then decorated just before serving.
1 can (14 ounces) sweetened condensed milk
1 container (8 ounces) whipped topping
1/3 cup lemon juice
12 wheat biscuit cookies or 12 ounces vanilla wafers
pink gel food color
3 ounces dark chocolate, melted
1/2 cup pink and turquoise sprinkle mix
pink mini candy chews
pink cotton candy
3 tablespoons gum paste or fondant
edible gold paint
edible gold glitter
Note: Specialty cake decorating items, such as edible paint and edible glitter, are needed for creating the unicorn horn and can be found at most well-stocked craft stores and online. For an easy shortcut, use unicorn horn cupcake picks made of card stock.
Place the melted chocolate in a small piping bag and close with a rubber band (Image 1). Snip a tiny hole at the end of the bag. Pipe two eyes with eyelashes on the front of each 6-ounce cup using the melted chocolate (Image 2). Allow the cups to stand until the chocolate is set, about 10 minutes. Speed up setting by placing the cups in the refrigerator.
Cookie Layer Instructions
Place the biscuit cookies or wafers in a large zip-top bag. Use a rolling pin to crush the cookies to a fine crumb (Image 1). Divide the crumbs among the 8 glasses, about 3 tablespoons per cup (Image 2). Lightly tamp down the crumbs with a smaller glass such as a shot glass (Image 3).
Filling Layer Instructions
Combine the sweetened condensed milk and lemon juice in a large bowl; stir until well combined and thickened. Fold in the whipped topping and a few drops of pink gel food color (Image 1). Place the pink filling in a piping bag and fill each cup to the top (Image 2).
Unicorn Horn Instructions
Rub a light coating of white vegetable shortening onto a clean work surface. Pinch off a walnut-sized piece of white gum paste, and split it into two equal halves (Image 1). Form each half into a ball in the palms of your hands, and then roll out into two thin cones about 2-1/2 inches long. Using a finger, lightly brush the insides of the cones with water and stick them together. Carefully twist the cones together from the tapered ends down to form the horn (Image 2), then cut a 1/2 inch off the thick end with a paring knife to form a cleaner base. Push the end of a toothpick into the base of the horn. Store the horn in an upright position, standing in a small glass or inserted into a block of foam. Paint the unicorn's horn with gold edible paint and let dry for about 30 minutes. While the paint is still slightly tacky, evenly sprinkle on edible gold glitter (Image 3).
To create a unicorn ear, squeeze a candy chew into an oval shape (Image 1). Repeat to make another ear, and place them into the parfait. Next, cover the top with sprinkle mix (Image 2). Tear off pieces of cotton candy and place a small length on top of each parfait; insert a unicorn horn through each piece of cotton candy, securing it to the top (Image 3). Parfaits can be made ahead of time without decors on top. Decorate with candy, sprinkles, cotton candy and unicorn horn just before serving.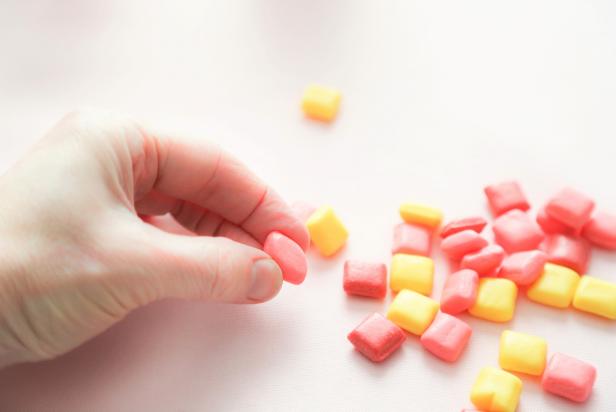 Heather Baird SprinkleBakes.com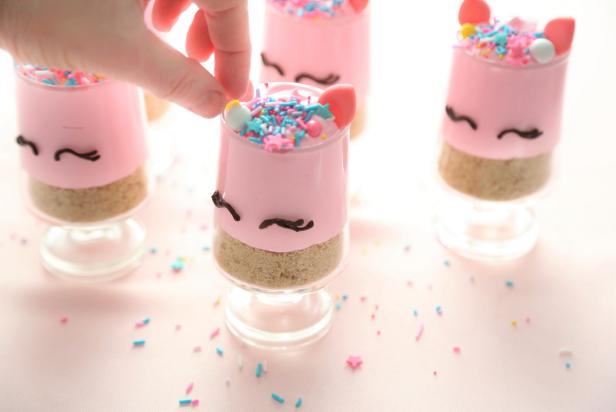 Heather Baird, SprinkleBakes.com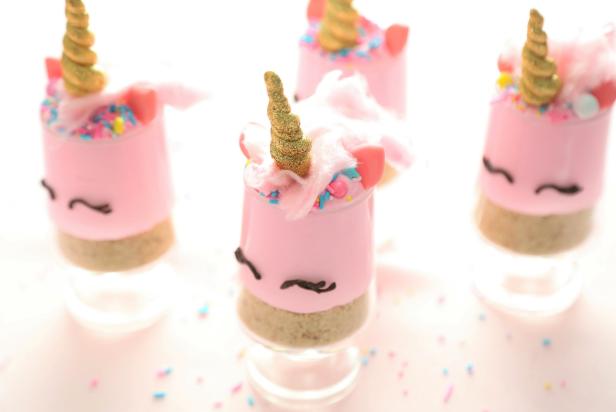 Heather Baird, SprinkleBakes.com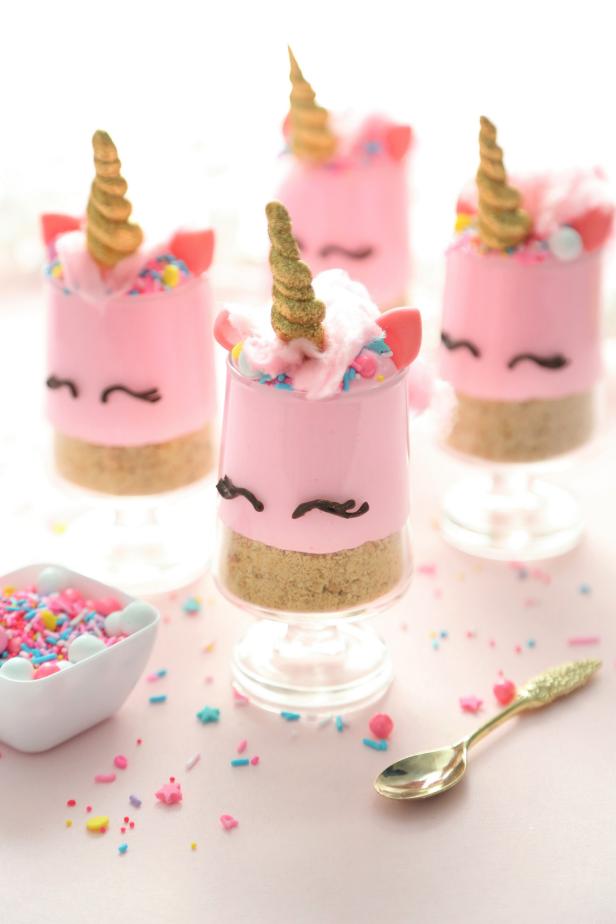 Heather Baird, SprinkleBakes.com
More Unicorn Party Dessert Recipes to Try
This single-digit cream tart confection is made with layers of sponge cake and buttercream and decorated with all kinds of sweet embellishments.
Turn dessert time into magical fun with these unicorn doughnuts that are baked instead of fried, and buttermilk in the batter makes them as delicious as they are cute.
These colorful cake pop cones are the ideal treat for a unicorn-themed party or birthday and will bring lots of magic and cuteness to the dessert table.