Strawberry and Ricotta Tart Recipe
Whip up this light, refreshing and crowd-pleasing dessert made of strawberries, homemade dough and ricotta cheese.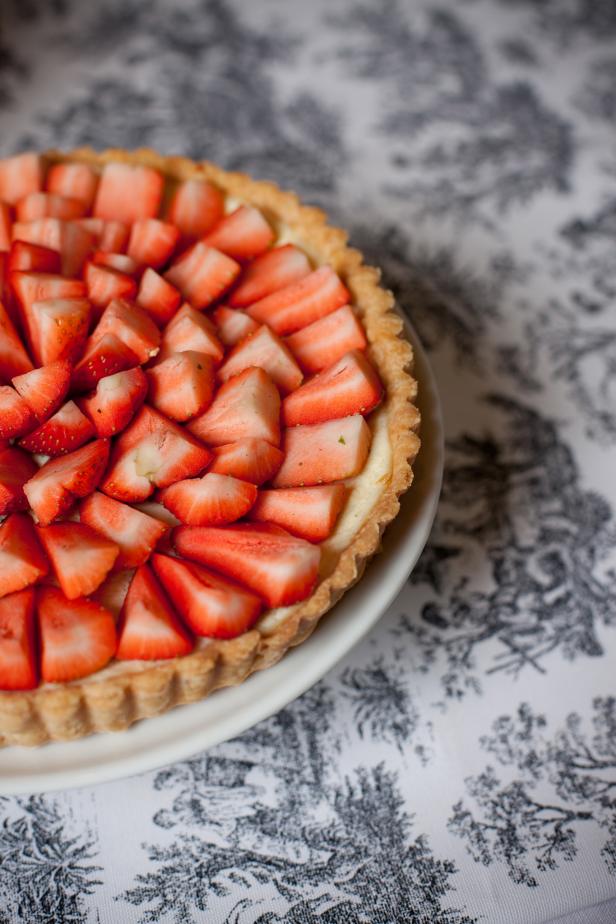 French-Themed Baby Shower Recipes
Host a fabulous French-themed baby shower with these petite treats.
1 cup flour
2 tablespoons sugar
1 tablespoon salt
1 stick butter, chilled and cut into small cubes
1 egg yolk
1 1/2 tablespoons cold milk
3 ounces cream cheese, at room temperature
1/4 cup sugar
3/4 cup ricotta, at room temperature
1 egg
1 egg white
1 teaspoon salt
1. Sift flour, sugar and salt into the bowl of an electric stand mixer fitted with a paddle attachment. Put butter into the bowl and mix on low speed for about two minutes or until the butter is evenly distributed into the flour.
2. In a small bowl, whisk together the egg yolk and milk. Add egg mixture to flour mixture and mix on low speed until everything comes together into a loose dough.
3. Pour dough onto the countertop and bring together gently. Pat into a disk, wrap in plastic wrap and chill in the refrigerator for at least 30 minutes. Roll dough into a round circle about 12 inches in diameter on a floured surface. Drape the dough into a 9-inch tart pan and trim the edges. Chill for 20 minutes.
4. Preheat oven to 325 degrees F.
5. Line the tart shell with parchment paper and fill with pie weights. Bake the shell for 12 minutes, then remove the weights and parchment and bake for 12 minutes more, or until lightly golden. Let cool completely.
6. In the bowl of an electric mixer, cream the cream cheese, sugar and ricotta. Mix in the egg, egg white and salt until blended. Pour into the tart shell and place in the center of the oven. Bake for 30 minutes, or until just set in the middle.