Celebrate Milestone Birthdays With a Decadent, Dark Chocolate Number Cake
Looking for a fun way to celebrate a milestone birthday? Try your hand at this delicious, three-tiered cream tart number cake. Each digit is made of three, soft, chocolate cookies filled with chocolate buttercream and topped with truffles, chocolate bars, sprinkles and more for a very happy birthday treat.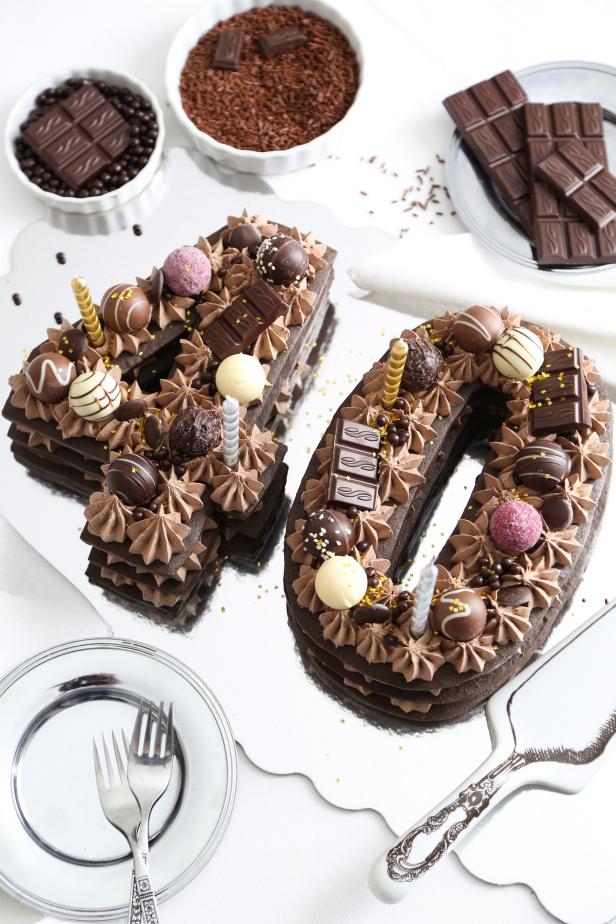 Milestone Birthday Cream Tart Cake
There's no better way to celebrate a milestone birthday than with a delicious three-tiered dark chocolate cream tart cake. Each digit is made of three soft chocolate cookies filled with chocolate buttercream. The fun part is choosing all of the decorations to go on top! Assorted truffles, chocolate bars, and chocolate sprinkles are all good choices for a very Happy Birthday.
Heather Baird, SprinkleBakes.com
5 1/2 cups all-purpose flour
1/2 cup unsweet cocoa powder
1 teaspoon baking powder
1/2 teaspoon kosher salt
2 cups unsalted butter, softened
1 1/2 cups granulated sugar
2 large eggs
1 tablespoon vanilla extract
Chocolate Buttercream Ingredients:
2 cups unsalted butter, softened
6 cups confectioner's sugar, sifted
1/2 cup unsweetened cocoa powder, sifted
1 teaspoon vanilla extract
milk or heavy cream, if needed
12 assorted chocolate truffles
1/4 cup chocolate pearls
2 dark chocolate candy bars
gold star sprinkles
Preperation: Number templates can be made using word processing software. Create letters in a simple font approximately 7"x9", and print them on copy paper using an inkjet printer. Print and cut out one copy each of your choice of numbers.
In a large bowl, whisk together flour, cocoa powder, baking powder and salt; set aside. In the bowl of an electric mixer, use a paddle attachment to beat butter and sugar on medium speed for about three minutes until fluffy. Beat in eggs one at a time, then add vanilla. Reduce mixer speed to low and slowly add flour mixture, beating until just incorporated. Remove dough from bowl and shape into a disc. Wrap in plastic wrap and chill in the refrigerator for at least 30 minutes.
To make chocolate buttercream, mix sifted cocoa powder with confectioner's sugar, then add to softened butter in the bowl of a stand mixer, fitted with a whisk attachment. Begin mixing on low speed until the mixture is crumbly. Increase to high speed and beat for 3 minutes. Next, add the vanilla extract and beat the mixture for another minute until light and fluffy. If the buttercream is too stiff, beat in milk or heavy cream, one tablespoon at a time, until the mixture is of piping consistency.
Preheat oven to 350°F. Line a baking sheet with parchment paper.
Remove the cookie dough disc from the refrigerator, unwrap and cut dough in half. Roll out cookie dough between layers of parchment baking paper to a thickness of 1/4 inch.
Lay paper template flat on the surface of the dough, and cut around edges of the template with a very sharp, short knife, such as a kitchen-dedicated craft knife or paring knife. Set aside dough scraps. Carefully lift numbers with spatulas and place on lined baking sheet, and chill in refrigerator for 10 minutes before baking. Repeat the cutting and chilling process so that you have three sets of each number in cookie form.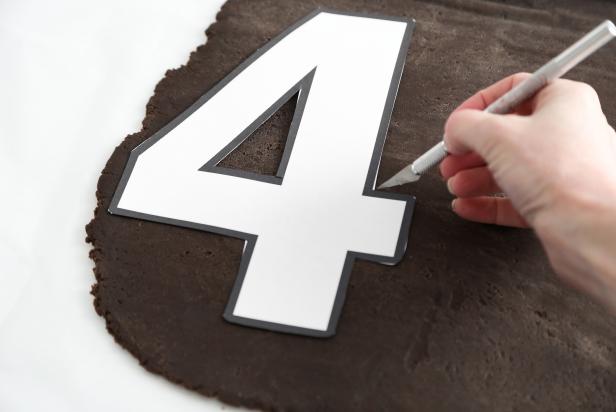 Heather Baird SprinkleBakes.com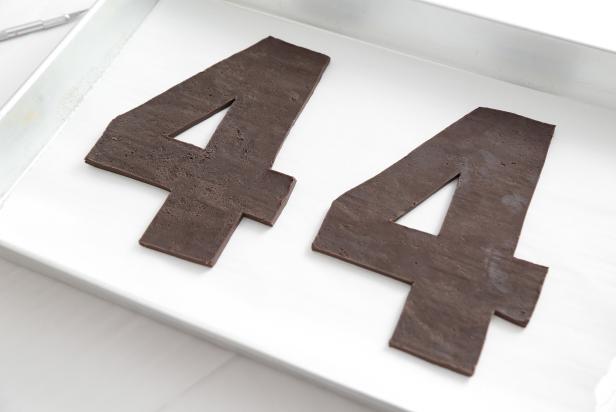 Heather Baird SprinkleBakes.com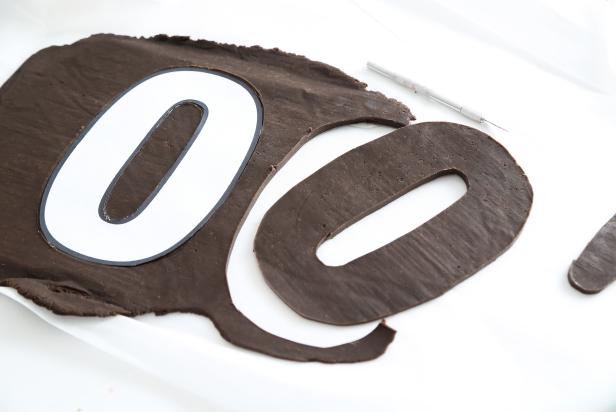 Heather Baird SprinkleBakes.com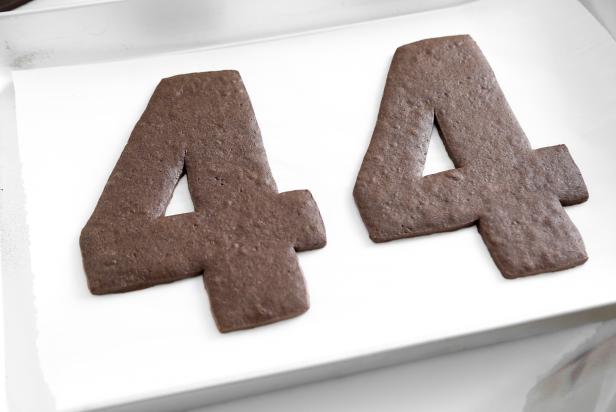 Heather Baird SprinkleBakes.com
Bake 10 to 12 minutes, rotating pan halfway through, then allow cookies to cool on the baking sheets at least 5 minutes before transferring to wire racks to cool completely.
Once the cookies are cool, place one of each number on a cake board or platter. Prepare a piping bag for icing by cutting off the bottom pointed edge, leaving about a 3/4-inch opening in the bottom of the bag. Then place a large French pastry tube in the bottom of the piping bag. Fold over the top three to four inches of the bag, then fill with heaping spatulas of the chocolate buttercream. Unfold the top of the bag and twist it closed.
Pipe 1-inch stars of the icing onto the cookies, lining up rounds with the outer edges of the cookie until the surfaces are filled. Lay the next layer of cookie on top of this, and then repeat until all three layers of cookie have a layer of piped icing on top.
Add chocolate sprinkles evenly on the tops of both cakes, then decorate with a variety of truffles and chocolate bars. Sprinkle on edible metallic gold stars on the cakes to add sparkle. Add two or three metallic candles to each number to make this an extra special birthday cake.
This cake can be prepared one day ahead of time and kept under plastic wrap in the refrigerator.
Made with layers of sponge cake and buttercream frosting and topped with fresh flowers and sugar pearls, this sweet monogram cake makes a lovely focal point for wedding receptions, baby showers and more.