Elegant Table Settings for All Occasions
Find out how to use easy-to-find linens, glassware and china to set a beautiful table.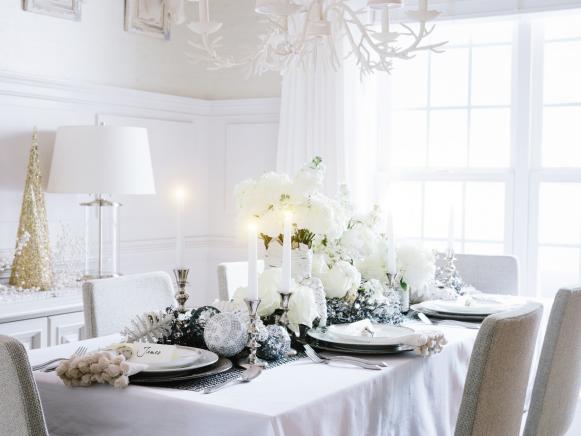 White Traditional Dining Room Table Setting
Natural light is the key to ensuring the proper color values of each tone; however, when a white-on-white tablescape is lit artificially or with candlelight, each shade will be strongly influenced by bulbs or flames, causing the colors to read more warmly with yellow undertones.
Have you ever noticed that a well-set table seems to make food taste better? Even simple meals can seem like culinary delights when served in an interesting setting.
Setting a table is, in many ways, a process of layering. Table linens might be considered the first layer. Traditionally, tablecloths were used only for formal occasions and were made of lace or silk damask. Well, times have changed. While lace and damask are still appropriate for formal table settings, all sorts of other options are now also available. Here are a few:
For everyday use, nothing beats placemats. They can be found in plastic, fiber and fabric. In addition to being utilitarian, they add color and texture to a table setting. Because they're inexpensive and take little room to store, it's easy to change the look of your table with the seasons or the holidays.
Informal tablecloths are also available in a variety of fabric types, colors and patterns. It's always a good idea to use a felt-backed vinyl cloth under a fabric tablecloth. It will not only help to protect your tabletop, but it can also deaden the sound of cutlery and china, making conversation easier.
Unconventional table coverings also can be used to create an interesting table setting. Floor runners, antique quilts and silk scarves are all possibilities.
When choosing your table linens, don't forget that napkins add to the appearance of the table. I usually prefer cloth napkins, but paper napkins can also be beautiful. Decorative paper napkins are especially useful for theme decorating.

The second layer of your table consists of your dishes, glassware and utensils. Consider these options:
To make your meal more festive, why not use the good china even if it's not a special occasion? (But then, what could be more special than sitting down to a meal with family and friends?)

Mix and match different sets of china. You might serve salad on green dessert plates and serve the rest of the meal on floral-patterned china. Or you might alternate the dinner plates of one set with the salad plates of another.

Mismatched pieces of china can create a very interesting collection. Try finding a variety of pieces in as many patterns as you can. Just remember to limit the colors to two – blue and white, for example.

Glassware can add impact to a table setting, and it can be found in a variety of shapes, styles and patterns.
The accessories are the final layer of a table setting. A few ideas:

Floral centerpieces, assortments of candles and arrangements of fruit all can help to make a visually appealing table.

You can use pieces of glassware to create interesting centerpieces. Fill a clear glass pitcher with fresh blooms from your garden, or use compotes as bases for pillar candles. To make a unique centerpiece, fill a large clear bowl with water and float candles in it. Add colored floral marbles to the bottom of the bowl and your centerpiece will be even more dramatic.
(Shari Hiller is co-author with Matt Fox of Real Decorating for Real People.)