Host a Fall Farm-to-Table Dinner Party
Celebrate fall's bounty amidst the season's brightest foliage with our step-by-step instructions for throwing an autumn farm-to-table dinner party.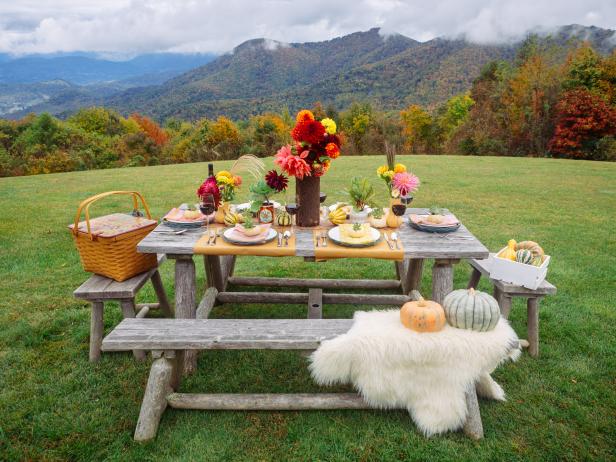 Rustic Table Setting for Outdoor Fall Entertaining
With a few seasonal touches, such as vases made from squash, a rustic picnic table becomes a show-stopping setting for a fall dinner party — without interfering with the spectacular view from Gooseberry Knob at The Swag Country Inn near Waynesville, N.C.
Fall is the ideal time of year for alfresco entertaining: It's cool enough to enjoy the outdoors comfortably, and changing leaves offer up a veritable kaleidoscope of color. This autumn, invite friends and family to an outdoor celebration of the season, complete with farm-to-table recipes, rustic DIY table decorations and step-by-step instructions to make your party shine.
An outdoor party designed to let guests take in the fall color needs a location where leaves are on full display. Selecting the location should be first on your list — even before the invitations — as fall-perfect destinations typically book up quickly as leaves reach their peak.
Even if you plan to host this party in your own backyard, you'll need to time the event when leaves will be at their peak. Refer to local weather websites (and your memory) for the best date.
Draw inspiration from the season's flowers, plants and foilage to create a casual table setting perfect for dining alfresco. Discover how we mixed DIY projects with vintage finds to create a rustic-chic look.
Rustic Fall Table Setting Ideas for Outdoor Celebrations
See All Photos
Recipes full of fall's freshest produce are the way to go here. Visit your local farmers' market for inspiration. Don't limit your purchases to vegetables; local, pasture-raised meats, baked goods, jams and honey can also make seasonally- and geographically-appropriate additions to your meal.
We asked The Swag's chef, Ronnie Potter-Bowers, to create an ideal fall menu at the resort, including a soup, salad, entree and dessert. Get his exclusive recipes right here.
When searching for spirits, think local, local, local. Is there a winery near your event space that can help you pair wines with local produce? For beer lovers, a sampling from regional breweries might be more appropriate. Utilize local distilleries to give that extra-special touch to before or after-dinner drinks. Then sit back, enjoy the view and raise a glass to a delicious evening!

These tailgating must-haves are sure to make game day even more fun and stress-free.
Planning a movie night under the stars? Shop our full list of essentials, which are perfect for alfresco entertaining.
Paper and plastic can truly set a summer table in style.