Tips for Keeping Drains Clog-Free
Find handy tips and all-natural cleaning solutions to help keep sinks, showers and toilets flowing as they should.
A drain system is one of the most overlooked systems in the home. It's out of sight and out of mind until there's a problem. Although it appears to be simply a series of pipes connected together, it's actually a complex system designed to provide a seal to prevent sewer gases from entering the home, in addition to removing solid wastes and wastewater.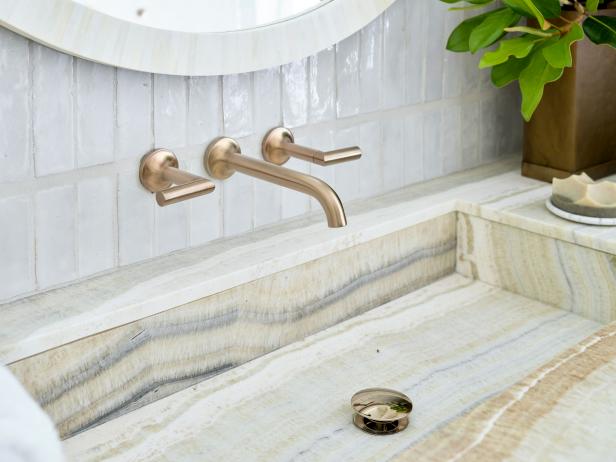 Onyx Sink in Luxurious Master Bathroom
"The onyx on the floor and the vanity countertops [in this master bathroom] is from Ciot," designer Cydney Mitchell says. "We saw and designed around it because it is clearly stunning. The organic, raw and perfect simplicity of the ombré colors reminded us of the varying layers of sediment in the California cliffs. Additionally, slabs are like jewelry, and should make a strong statement."
David Christensen for Southeastern Designer Showhouse & Gardens
In the short term, drains can become blocked by an excessive amount of solid waste, a foreign object that's too large to pass or grease that settles in the trap. Over the long term, clogging can be caused by biofilm or fungal growth in piping, the settling of particulate matter and the buildup of materials such as food and hair. But there are many measures you can take to prevent or fix drain-system problems. Here are some tips for heading off a visit from the plumber:
Don't put grease down the kitchen drain. Pour cooking grease into an empty coffee can or something similar. When it becomes full, toss it in the trash.
Uncooked carrot and potato peels, broccoli stems, corn cobs or husks, asparagus and other fibrous fruits and vegetables are best disposed of in a compost pile or the trash. Don't put them in the garbage disposal.
Don't wash coffee grounds, tea bags or egg shells down the drain. Remove the paper and toss the rest in the compost pile or the trash. (Paper coffee filters and tea bags are fine for garbage disposals.)
Pasta and rice may not pass through the garbage disposal. Add it to the disposal slowly while running water. They, too, are best disposed of in the compost pile or the trash.
Minimize the amount of food put down the kitchen drain. Follow with water to flush the pipes.
Don't put materials that don't decompose down any drain.
Don't allow hair to go down the lavatory drain if possible. Dispose of it in the trash.
Improve the performance of your drain system by regularly applying a mixture of baking soda and vinegar or an organic-type drain cleaner.
Periodically fill the sink with water and then release it to flush your piping.
Don't use harsh drain cleaners. They're poisonous, give off harmful fumes when used and can harm skin and eyes. And they can corrode garbage disposals and brass, steel, "metal" and cast-iron traps and drainpipes.
Clean your drain for a fraction of the cost using pantry staples.
Sinks and Lavatories Equipped With Standard P-Trap Drains
If the drain becomes slow or plugs up easily, apply a mixture of baking soda and vinegar or an organic drain cleaner.
If the cleaner doesn't solve the problem, the J-bend in the P-trap will need to be removed for cleaning or replacement. Place a pan or bowl beneath the J-bend before removal to catch spilled water. After removal, plug the pipe going into the wall so that sewer gases won't enter the home; this can be done with a rag or commercial plug. Also, clean adjoining pipes to prevent future problems.
If an item such as a piece of jewelry is dropped down the drain, turn off the water to prevent loss. Then disassemble the drain and hopefully, your lost item will be sitting in the P-trap.
Clean the toilet bowl regularly with vinegar and baking soda. Spray the sides with vinegar, pour a cup of vinegar into the bowl, sprinkle a brush with baking soda and scrub.
Most foreign objects can't be removed with a plumber's snake. Remove them by hand or remove the toilet.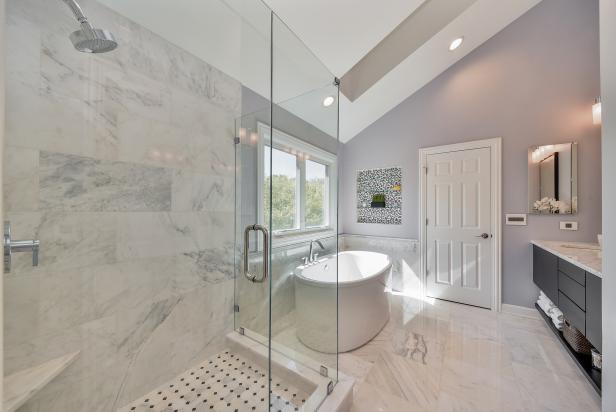 Slanted Roof Contemporary Bathroom With Glass Shower, Free Standing Oval Bathtub and Marble Tile Floor
Gray and white marble tile in the shower compliments the marble tile flooring in this contemporary bathroom. Glass walls keep the shower open to the surrounding free standing bathtub and sleek black vanity base. A window lets in natural light to brighten the room.
Regularly remove hair from the strainer in the shower and dispose of it in the trash.
Treat the drain regularly with baking soda and vinegar.
If the drain becomes slow or plugs up, apply a mixture of baking soda and vinegar or an organic drain cleaner.

Remove the strainer or stopper and remove as much material as possible by fishing it out with a length of wire (such as a clothes hanger) bent to make a small hook on one end.
If you do choose to use chemical drain cleaners for clogs in any of these areas of your drain system, always take these precautions:
Follow the manufacturer's directions.
Don't look down the drain after pouring a chemical. The solution often boils up and gives off toxic fumes.
Don't mix chemicals or follow one brand with another brand without checking for compatibility. Mixing cleaners can cause an explosion.
Wear rubber gloves to prevent the chemical from burning your skin.
Wear safety goggles to protect your eyes.
Never use a plunger if a chemical cleaner is present in the drain; you risk splashing the chemical on yourself.
Never remove a trap with chemicals present; you risk burns to your skin. Call a professional, and make certain to inform him of what chemical you used.
Reprinted with permission from the National Kitchen & Bath Association
All it takes is two ingredients to make this DIY cleaner.