Can I Cover Brick With Stone?
Roll up your sleeves and get ready for a good DIY project. Learn more about the various ways to can resurface brick in your home with stone.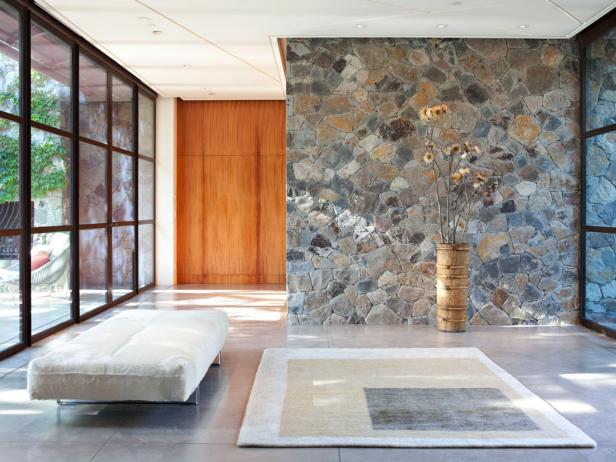 Native Stone Creates Lovely, Natural Foyer
A fieldstone wall continues from the exterior of this contemporary California home to the interior foyer, literally bringing the outside in. The 24-inch walls are built from stones gathered on the site, embracing the home's wine country setting and fulfilling the owners' desire for indoor-outdoor living.
Resurfacing brick with stone around your home indoors and out is an easy way to change the look of your space while modernizing and adding value. We're with you on this – the coloration and style of bricks used in homes through the decades runs a wide gamut, and certain brick looks especially dated and worthy of an aesthetic upgrade. In addition, older homes may struggle with damaged or crumbling bricks, and this is a solution that may help mediate that issue and be less expensive than repairing and replacing the old brick. It's absolutely possible to cover your brick with stone, and we think it's even possible to do it yourself.
How to Install Stone Over Natural Brick
Natural, clean, unfinished brick that is in good condition is the easiest and most accepting of a stone veneer.
When you're installing indoors:
Begin by cleaning your brick to remove dust and particles from the surface. Running a powerful shop vacuum over the surface will help collect this build-up. If the surface is clean, you can apply mixed mortar with a notched trowel directly to the brick. First, apply a nice smooth base layer to fill in some of the joints and divots in the bricks, and promptly top it with a thicker layer of mortar using a notched trowel.
Work in areas similar in size to the stones you're using. Your stones may be loose, in which case, plan ahead so that you don't prepare too much mortar at one time. The stones may be veneers affixed to sheets measuring 6"x24" or 12"x12", making it easier to work in small areas. Butter the back of the stone, and then press the stone firmly into the troweled mortar. Allow it to dry thoroughly before grouting the stones.
If there's concern about whether your brick will adhere properly to the mortar, or if heat fluctuations are a concern, one way to "beef it up" is to screw pieces of metal lath to the surface of the brick, and apply the mortar atop that for extra durability.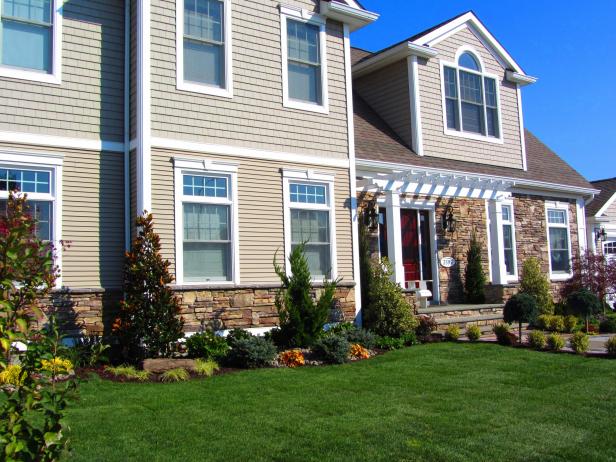 Mix of Siding Dresses Up Facade
Vinyl siding, shake shingles and stacked stone add texture and dimension to the home's exterior.
When you're installing outdoors:
Installing stone over existing brick outdoors does require extra work. Most notably, you'll want to make sure water damage isn't an issue in the future. There are various waterproofing membranes available to make it easy to prevent water from leaching into the brick behind the stone. These products also add flexibility for expected shrinking and expanding of materials during seasonal fluctuations.
Depending on the membrane chosen, you can typically mortar and install stones directly atop the surface. Allow the mortar to dry before grouting.
How to Install Stone Over Damaged Brick
If your brick is crumbling, you won't be able to rely on its strength to hold mortar or stones. It can be expensive to remove and repair damaged bricks, and covering the brick with stone is a recommended, cost-efficient alternative.
To safely and productively cover the brick, you'll need to first install a base layer on top of the damaged stones to create a dependable tiling surface. Cement board or metal lath sheeting (similar to what is shown below) are both commonly used materials that do the job well. They are installed with masonry fasteners to the existing brick. Once anchored, the cement board is immediately ready for installation. Lath requires the extra step of creating a scratch coat on top of the metal to create a bondable surface for the stone.
How to Install Stone Over Painted Brick
While you simply can't reliably install stone atop painted brick (too much barrier will prevent the mortar from adhering), you can attempt to remove the paint or follow the same logic as you would with damaged brick, and apply a new base layer between the painted brick and the mortar and stones – metal lath or cement board.