Can You Wash a Down Comforter in the Washing Machine?
Is your down comforter feeling less than fresh? Learn how to clean it in a washing machine without damaging it.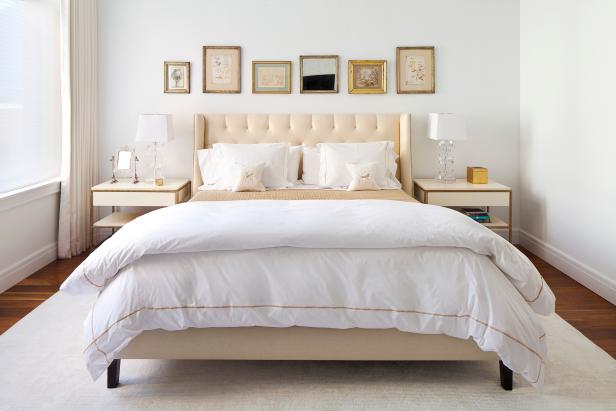 Contemporary Bedroom With Cream Bed
This pretty bedroom uses gold and cream as a color base, then layers in vintage artwork, delicate lamps and soft textiles for a space that soothes the spirit.
There's nothing cozier than a down comforter, which is why many of us pull our duvets out of storage each autumn to prepare for the cold months ahead. By the end of the winter season, however, your favorite piece of bedding may begin to feel not so fresh. When the time comes, many will take their beloved blanket to the dry cleaners and rack up a hefty bill, which often leaves them wondering if it's possible to just toss it in the washing machine. The answer is yes, but it must be done correctly or you could damage your comforter.
To properly wash a down comforter, you will need a few things:
A commercial washer and dryer

Gentle laundry detergent (Woolite is ideal)

Six wool dryer balls or tennis balls
First, load your down comforter into an extra-large front-loading washer. If you don't have one at home, you can find one at your local laundromat. Try to spread the comforter out a bit, and avoid twisting or folding it excessively inside the machine. The more space the comforter has to move around, the better the end result will be. Add a mild detergent, sparingly. Use less than the recommended amount, and whatever you do, do not add bleach.
Expert Tip
Stop wrestling with your duvet once and for all. Learn how to put on a duvet cover the easy way.
Set the washer to the gentlest cycle possible. If there's a delicate setting, that's what you want. Ideally, the wash will be set to warm with an extra or extended cold rinse cycle. The most critical detail here is to make sure there's no detergent residue left after the rinse.
Place the comforter in the largest capacity dryer available with the dryer balls or tennis balls. The balls will move around and agitate the comforter, preventing the down from clumping while it dries. Set the machine to 30 minutes on the lowest setting.
Every half hour, remove the comforter and give it a little shake to help fluff it and distribute the down. Make sure that it doesn't feel too hot. Continue doing this until the comforter is completely dry. When the entire thing feels fluffy, light and "lofty," you'll know it's done. If for any reason you can't wait until you're certain that the comforter is fully dry, you can hang it up in a sunny, warm spot either inside or outside your home until it's ready.
Protecting Your Comforter
Always keep your down comforter inside a cover when you're using it. Under normal circumstances, you should only have to wash the cover every few months, and the comforter itself every other year or so. A high-quality down comforter should last many years, and with proper care, can keep your nights warm and cozy for the long haul.