Style Guide for a Contemporary Kitchen
Clean, simple and uncluttered, this look also remains livable with touches of the traditional.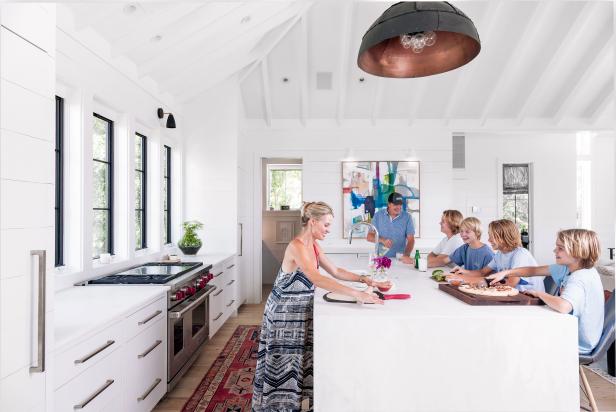 A Family-Scaled Home
With four boys from 12 to 17 (and dog Lucy), downsizing from a 4700 square foot home to a 2600 square foot one, meant that Elizabeth and Curt Nesbitt had to be smart about their space. Their stunning, contemporary Sullivan's Island home on the lush green marsh of the Intracoastal Waterway benefits from an airy, open living room, dining room and kitchen on the home's second floor. Floor to ceiling windows let the light flood in and make the space appear even more expansive. Designer Jenny Keenan worked with the Nesbitts on the smart, chic design of their spacious-feeling home.
The contemporary kitchen borrows high functionality and streamlined surfaces from the modernist design movement, but its style often incorporates traditional ideas as well for a sleek but livable feel.
"Clean and simple is the underlying philosophy for contemporary design," says designer Cameron Austin of Beth Haley Design in Nashville, Tenn. "My approach differs from client to client, but I really love using simple white cabinetry with clean lines and then adding texture and warmth with things like interesting tiles or a dark hardwood floor."
Unlike the term "modern," which refers to an actual historical design movement and has a strict interpretation of what elements can and can't be included, "contemporary" simply means "in the now." Popular contemporary retailers such as Pottery Barn, West Elm and Crate & Barrel carry items that usually sport clean lines but are inspired by a host of design styles: Danish modern, Arts and Crafts, traditional, '50s ranch and modern industrial, for example.
Stainless steel and white appliances make the easiest transition to a contemporary look, Austin says, because they balance so nicely with warm wood tones. "We're steering away from black appliances now," Austin says.
The list of details a contemporary kitchen can accommodate is endless; funky touches are welcome, and you're practically unlimited in color choices. But the one thing that can wreck a contemporary look is clutter, whether visual (too many colors or textures) or physical (countertops covered in knickknacks). Stick to the 60-30-10 rule for colors: Sixty percent of the kitchen should be one dominant color, 30 percent a secondary color and 10 percent an accent color. Store gadgets in drawers or in sleek containers; relegate cooking ingredients to the pantry.
You can achieve a contemporary look in your kitchen with small additions or major changes. Austin offers her ideas for super contemporary updates to ordinary kitchens:
Breathe life into old surfaces with tile. "A small area of gorgeous, handmade tile creates a strong design impact," Austin says. "Unusual sizes, such as 1" x 9", can make a stunning focal point, and I also love penny tiles, which are round mosaic tiles the size of a penny. We recently did a kitchen with a black penny tile backsplash over a white marble countertop. It was stunning." She suggests using tile for the area above your cooktop or the wall over your kitchen desk, if you have one.
Don't forget paint. A bold paint choice can transform a surface from boring and clichéd to contemporary and fresh. "You can bring life to an old island by painting it a high-gloss red or a deep gray color," Austin says.
Let there be light. "Adding modern lighting to a kitchen across your island or peninsula is stylish and smart," Austin says. She suggests pendant lighting for a sharp look.
Rejuvenate plain cabinets with a contemporary material. "Take the center panels out of your recessed cabinet doors and replace them with pieces of remnant 3form," Austin says. 3form is an eco-friendly translucent composite resin material available in a variety of stunning colors and designs; you can order remnants from the company's website.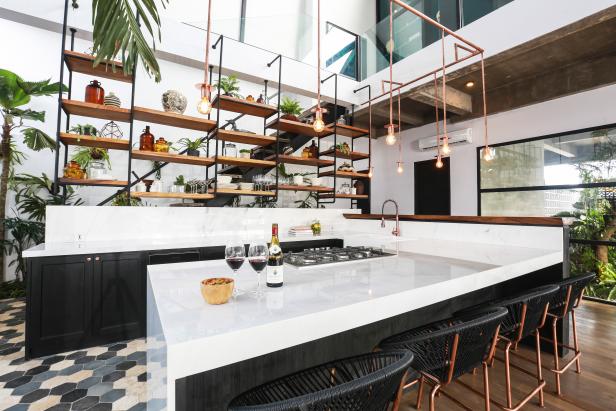 "U"-Shaped Kitchen Provides Counter Space and Casual Seating to the Home
The "U"-shaped kitchen cabinets provide plenty of counter space while giving definition to the kitchen space, separating it from the rest of the first floor. The barstools give the space a casual dining option but are also in close proximity to the dining space, so they could also serve as an extension of the home's dining area.
Put your most prized items on display instead of stacking them in a closed cabinet. Austin recommends suspending 2-inch-thick shelving from floor to ceiling; if you like, cover the wall with inexpensive subway tile to add texture to the background. "You can display pottery collections or store a beautiful assortment of brightly colored mixing bowls and glasses, which creates both visual appeal and functional storage," she says.

Got a big budget? Austin's dream kitchen update is one "where contemporary meets couture," she says. Her material of choice is super-smooth glazed lava stone, or basalt, a naturally occurring rock formed from volcanic eruptions. "Lava stone is the pièce de résistance of countertops," Austin says. "Nothing is more beautiful, but it's rarely used, probably because of its cost per square foot [$210 per square foot and up] and shipping cost. I envision it as a glossy, vibrant yellow or green island countertop in a kitchen with simple white Shaker-style recessed-panel cabinetry, a slab of white statuary marble for a backsplash, and an antique wood floor stained a dark coffee-bean color, laid on the diagonal or in a herringbone pattern." Delicious.